Cardi B's Baby Shower Was As Over-The-Top As Fans Could Hope (& Yes, There Are Photos)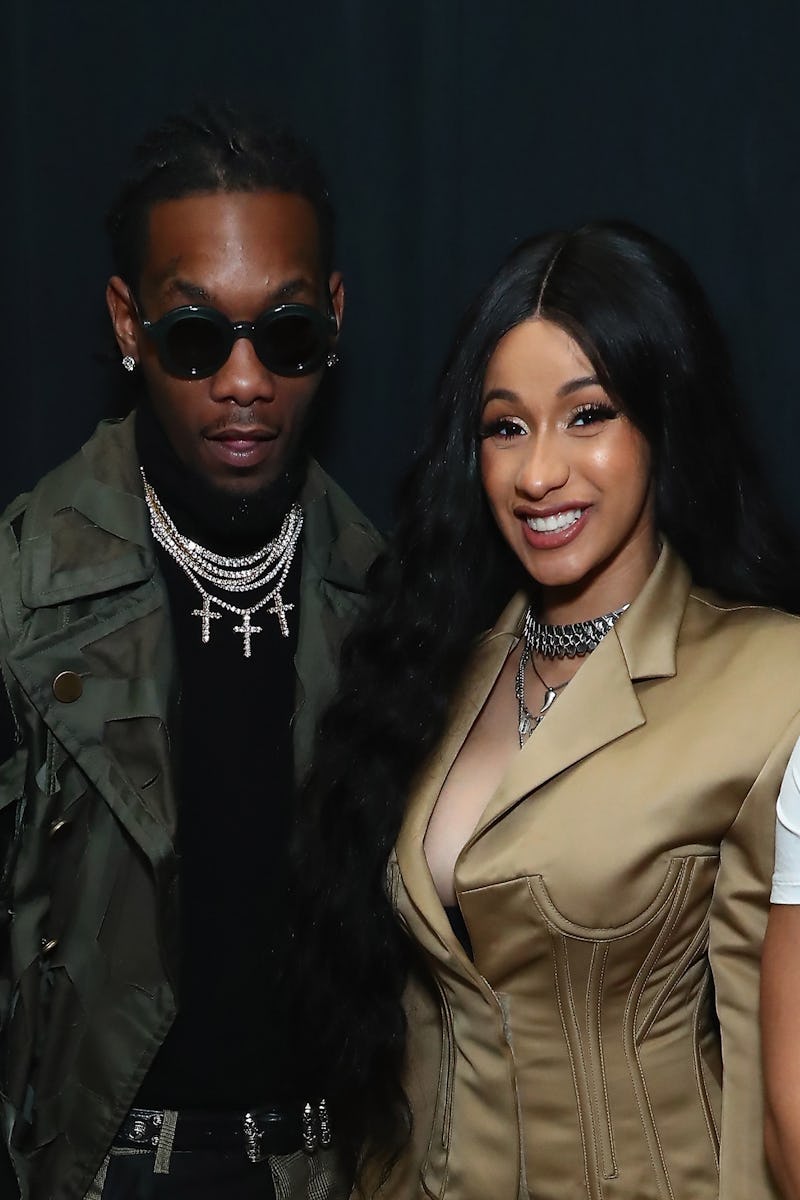 Astrid Stawiarz/Getty Images Entertainment/Getty Images
Cardi B and Offset's baby will be here before you know it, and it looks like the couple is more than ready for their child's upcoming arrival. Cardi B and Offset had their baby shower on Tuesday night, Entertainment Tonight reported, and it looks like the party was quite an extravagant affair.
The baby shower's theme was "A Bronx Fairytale," according to ET. In a photo Cardi B shared on Facebook, she's sporting a glamorous updo and a long, pale pink dress. She didn't caption the photo, but there are some hints it's from a baby shower. A wallpaper in the background is printed with various animals, perfect for a party celebrating the impending arrival of a child. There's also a giraffe (or llama?) made entirely out of flowers behind Offset in the picture.
Offset also shared several photos and videos from the shower on his Instagram Story. According to his pictures, the event was titled "Bardi Shower," which led some to speculate that the rappers might be naming their daughter "Bardi," but as fans know, it's also a nickname for the rapper — so it may not be as big of a name hint as people suspect. Meanwhile, a Cardi B fan account's photos also include a replica of a bodega set up at the shower, which seems to fit the Bronx-inspired theme.
Other guests, including singer Monica Brown, confirmed that the event was a baby shower in their own Instagram posts. Brown shared a photo of herself with the couple, writing in the caption,
"Congratulations @offsetyrn & @iamcardib ... You did this love thing the best way!! YOUR WAY!! May God Bless you & your bundle of joy!!"
Below, you can see some highlights from Offset's Instagram Stories from the shower.
As ET pointed out, Cardi B had previously talked about her dream baby shower during a Rolling Stone interview. She told the magazine that she wanted her baby shower to happen at night. "My baby shower's not starting at no 5:00. My sh*t is going to start at 9 p.m. because that's how I celebrate, that's how Caribbean people celebrate," Cardi B said to Rolling Stone.
Earlier this week, Cardi B and Offset shocked fans by revealing they're already married. Cardi B shared the news in a Notes app message posted on Twitter. In the message, she explained that the decision was a quick one, and the ceremony was super low-key, with just her cousin and the officiant at the event. "I said I do with no dress no makeup and no ring!" Cardi B wrote in the note. She also explained that the two of them kept their marriage to themselves because they were tired of having their private lives be scrutinized by the public.
Cardi B's revelation about why she initially hid her pregnancy was similar in tone, too. According to E! News, Cardi B wrote in an Instagram Story about the pregnancy,
"This is why I did not wanted to say nothing. People be so thirsty to scrutinize and try to destroy something that it suppose to be a blessing."
Her pregnancy and marriage aren't secrets anymore, but Cardi B's statements are a good reminder that celebrities aren't obligated to share every last detail of their lives with their fans. Still, even though Cardi B wants to keep many details about her and Offset's personal lives between them, it looks like she still wants to share some things with her fans.
Cardi B didn't share everything about the shower, but she and Offset did let fans in on some of the evening's highlights through their social media platforms. Just because they're keeping some things private doesn't mean they can't celebrate Cardi's pregnancy — the mama-to-be is glowing in the photos and videos the two of them shared. It looks like they're happier than ever that their child will be here soon, no matter what prying fans may have to say about it.