There's A Good Reason Why You Won't Be Seeing Photos Of Cardi B's Baby Anytime Soon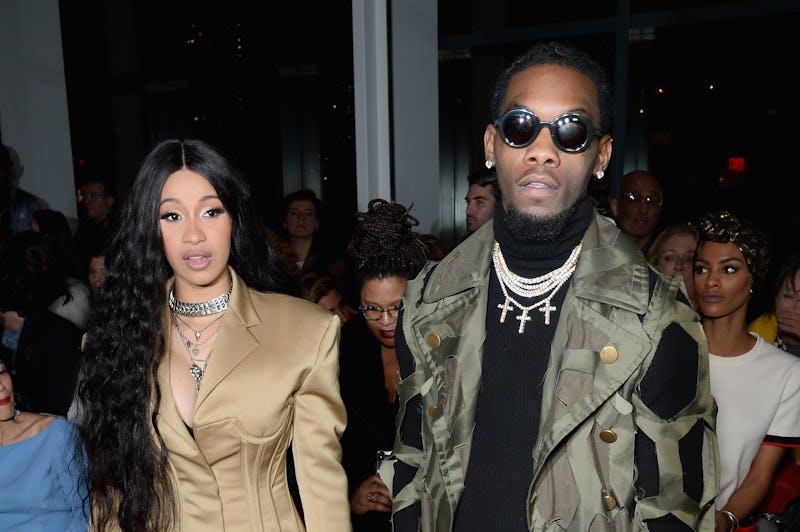 Andrew Toth/Getty Images Entertainment/Getty Images
It was a joyous day when Cardi B and Offset announced the birth of their first child together. But while many details about their daughter's date of birth (Tuesday, July 10) and her full name (Kulture Kiari Cephus) have become public knowledge, Cardi B and Offset have yet to release any baby photos of their newborn — and it turns out that may not happen for quite some time. That may come as a disappointment for some fans, but the reasoning behind it is totally understandable.
As per TMZ, sources close to the singer claim that Cardi B has received numerous photo offers from a wide range of media outlets and agencies that want to be the first to debut photos of baby Kulture. Some offers are even reported to be around $100k or higher. However, each of these offers has supposedly been met with rejection since Cardi B has "no desire" to schedule any type of photo shoot and wants to keep her little one out of the public spotlight, at least for the time being.
In fact, Cardi B and Offset don't want to even consider thinking about any offers until Kulture is at least five or six months old, according to TMZ. Sources also told the outlet that "Cardi just wants to focus on being a mom and bonding with her baby," which is something that she deserves to be commended for above all else.
Obviously, from a mere fan's standpoint, it can feel a little disappointing, especially when others in the entertainment industry, like the Kardashians, are posting a vast array of baby photos almost every day. But it's important to remember that celebrities are people too and deserve privacy, especially when it concerns their family. She's under no obligation to provide us with photos of her baby just because she works in the public eye. She obviously just wants to focus on being a new mom and no one can (or should) fault her for that. Plus, it's not as though she never intends to share pictures of Kulture. It just won't be happening right away, and you know what, good for her.
That's not to say that Cardi B is anything but grateful for the love and support she's received from her fans throughout this entire process. In fact, Cardi B posted an Instagram message to her fans shortly after giving birth to help further show her gratitude, writing:
"Thank you for the congrats we really appreciated. thatnk you to family and friends that's been hitting me up checking on me. It's been a little hard for me to reply back cause this mommy job requires full day, all day, all night attention. I love you guys."
Fan interest in every aspect of Cardi B's life is really a tribute to who she is as a person. You can't help but love her and want to see how she's coping with first-time parenting. (Who wouldn't watch a reality show based on that very premise?) But it's ultimately her decision and she's opting for privacy, which arguably makes her all the more relatable. You can't blame her for not wanting to share her little miracle with the entire world just yet.
Even when she goes back on tour, she plans on keeping Baby Kulture close at all times. "What I envision is my tour bus has my own personal room, and I just want to be with my baby," Cardi B said to Rolling Stone during a recent interview. "Only time I don't have my baby with me is when I'm getting my hair done, makeup done, performing."
So don't worry, even if Baby Kulture isn't seen on magazine covers, you better believe that she is loved.