Cardi B & Offset's Baby Name Already Makes Her Sound Like A Star-In-The-Making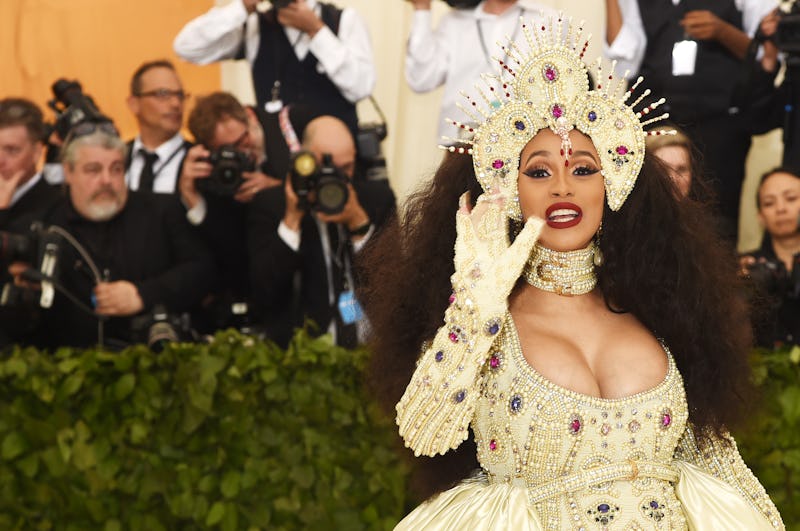 Jamie McCarthy/Getty Images Entertainment/Getty Images
After several months of lingering speculation, Cardi B announced her pregnancy during a performance on SNL on April 7. From that moment, it seemed that the Bronx-born rapper worked non-stop up until the delivery of her baby girl on Tuesday, July 10. With TMZ's announcement that newborn has finally arrived, the name of Cardi B and Offset's baby is just the latest moment that fans of the "Be Careful" rapper get to rejoice in.
The name Kulture Kiari Cephus, which Cardi revealed via Instagram, couldn't be more perfect for the heir of Cardi and Offset's hip-hop empire. During an April 19 episode of The Ellen DeGeneres Show, Cardi revealed it was the Migos rapper who ultimately picked out the child's name. Per People, she explained, "My dude named the baby... I really like the name," but refused to share it with the public during that time. She went on to share that she'd prefer to let her husband "say the name," since he was the one who came up with the moniker.
As arguably one of the hardest working people in the entertainment industry this past year, Cardi revealed at end of April that she would be canceling the rest of her tour dates until after her baby's birth, which was expected sometime around the first week in July. The Invasion of Privacy rapper made the announcement via a now-deleted Instagram video where she explained: "Hey y'all, I just wanna make this a little bit clear," she said. "Broccoli Fest will be my last performance for a little while and everything... because, you know, shorty keep growing!"
Referring to the high-energy performances that she carried out on Saturday Night Live and at Coachella prior to the announcement, Cardi continued:
"You know, I be lookin' like I be moving and everything, but in reality a b*tch barely can breathe."
In the IG video, Cardi also thanked fans for their understanding and shared that she'd be back time for the Bruno Mars 24K Magic Tour which, according to Entertainment Weekly, is scheduled to begin its final run in September. EW pointed out that Cardi's absence meant she would miss solo tour dates in Texas, Florida, Norway, Ireland, and at the Panorama Music Festival in New York City.
Despite the tour break announcement, Cardi continued to make appearances off-stage, hitting the red carpet at the Met Gala and popping-up in several music videos including Jennifer Lopez's "Dinero," Maroon 5's "Girl Like You" and Rita Ora's "Girls" while releasing visuals for songs from her own album at the same time.
Not one to ever fully disappear from her fans' sight, Cardi remained active in the media, conducting interviews and offering hilarious updates about her pregnancy on social media. Cardi confirmed that she Offset were having a baby girl back in May. According to People, she made the announcement during an appearance on The Howard Stern Show. When the host asked her if she knew the sex of her baby, Cardi B replied, "Yes. I'm having a girl."
Among some of the updates that she's shared with fans throughout her pregnancy was this June 3 TMI update where she explained,
"SAD NEWS:I can't see my vagina anymore"
The posted quickly garnered a plethora of likes from fans, which prompted Cardi to hop back on Twitter once again to share some more pregnancy humor with followers.
In a separate June 4 post, she joked:
"SMH 200K likes on this tweet ?I guess ya love when I'm miserable You know how hard it is to shave my vagina? I literally have to put one leg up in the sink while i look in the mirror facefront .I hate all of yaaa"
It goes without saying that Cardi's transparency and authenticity has played a major role in her becoming one of the most relatable and talked about entertainers of current times. With her precious baby girl's name now out in the open, fans can look forward to Cardi getting right back into the swing of things with her music career.