Cardi B Just Wore A TON Of Diamonds In Her Hair, Proving She Was Born To Flex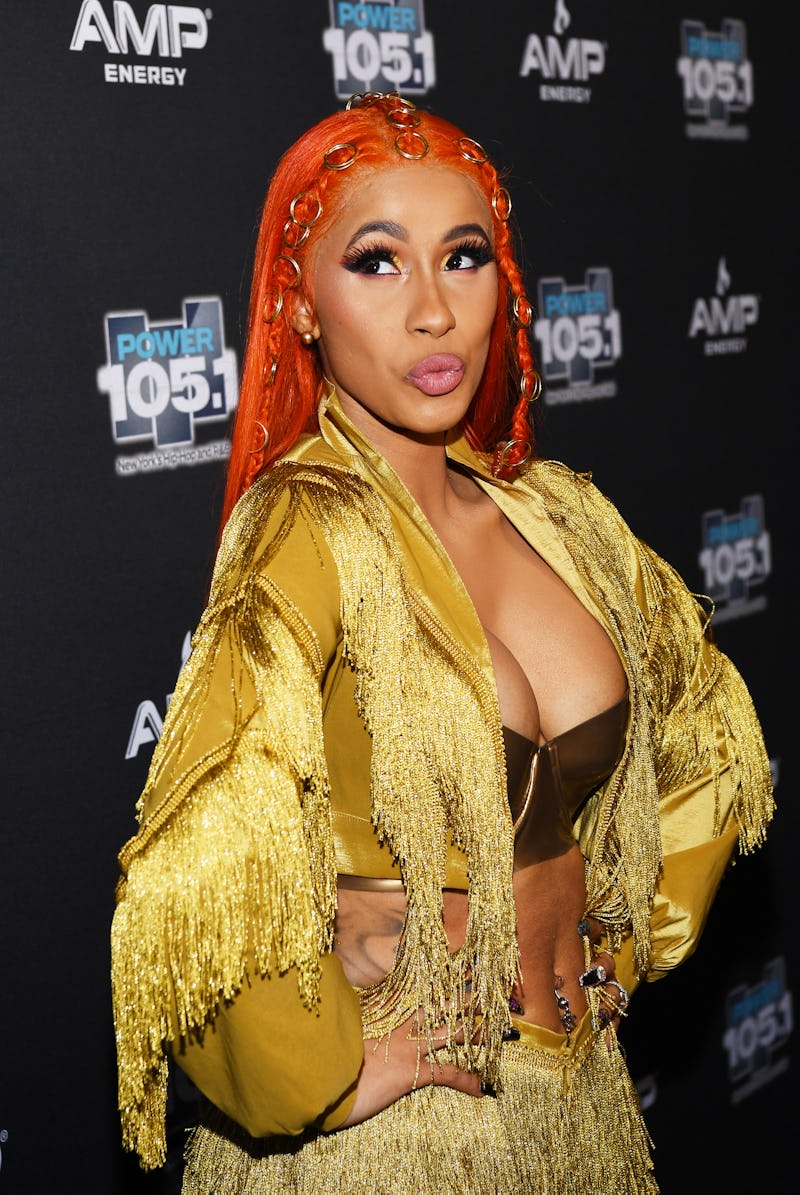 Dave Kotinsky/Getty Images Entertainment/Getty Images
Cardi B is the queen of hair, where she changes up her look almost weekly into creative and playful styles, spanning from mermaid hue locks to platinum blonde bobs. Her newest hair journey has to do with gems, where Cardi B wore diamonds in her hair for her album promo pictures, proving the sparkly accents aren't just for necklaces or rings anymore.
The "Money" rapper is all about opulence, where she isn't afraid to make a bold statement and has become something of a fashion darling. As her song goes, "Ten different looks and my looks all kill." From wearing head to toe leopard print at Milan Fashion Week (including furry leopard sunglasses,) to completely winning the Met Gala red carpet this year with her Jeremy Scott "pregnant Madonna" look, the woman offers up fierce looks everywhere she goes.
For her "Money" single cover art, she enlisted the help of makeup artist Pat McGrath to create a full-on glam look that was just the right amount of extra. The iconic makeup artist shared the finished result on her Instagram, revealing that her Mothership V: Bronze Seduction palette was behind the red smokey eye complete with diamond accents along the crease. But that wasn't the only part that was bedazzled on the rapper.
Wearing a gold encrusted outfit — with what looks like watches and solid gold chains forming the fabric — her hair was also swept up into an Old Hollywood Marilyn Monroe bob, complete with platinum finger waves. But along those waves were trails of diamonds, helping to contour and outline the ripples.
Like a modern day Marie Antoinette, Cardi B just upped the hair game. Now it's no longer enough to put rhinestone pins in your hair, but you need some real life diamonds glued to your strands in order to match her level of luxury. While the look is definitely over the top (in the best possible way,) the hair inspiration makes sense when you look at the lyrics of the new song. "I got bands in the coupe, bustin' out the roof," she sings in the chorus, and she proves that with her iced-out hair.
Cardi B also shared some sneak peek photos of the photo shoot on her own Instagram, giving us a better glimpse of her gold-dipped outfit and platinum bob.
It turns out that her gold bodice is actually arm length sleeves completely made out of gold watches and chains, and her stilettos tie the look together with watch-band straps. Her hair diamonds add to the sparkle, tying in the grandeur.
The Bronx-born artist has always been vocal about how she is trying to make as much money as possible for herself and her family, knowing that celebrity status doesn't always last. In an interview with Beats 1 Radio earlier this summer, she shared, "All of a sudden your popularity is gone, and everybody is against you. I always be like I'm gonna get this bag, get this bag because I don't know if this bag is going to be here tomorrow. That's why I be chasing it."
And there's no better way to show that then wearing a handful of diamonds in your hair.