Cardi B Looks TOTALLY Different With Short Hair At The VMAs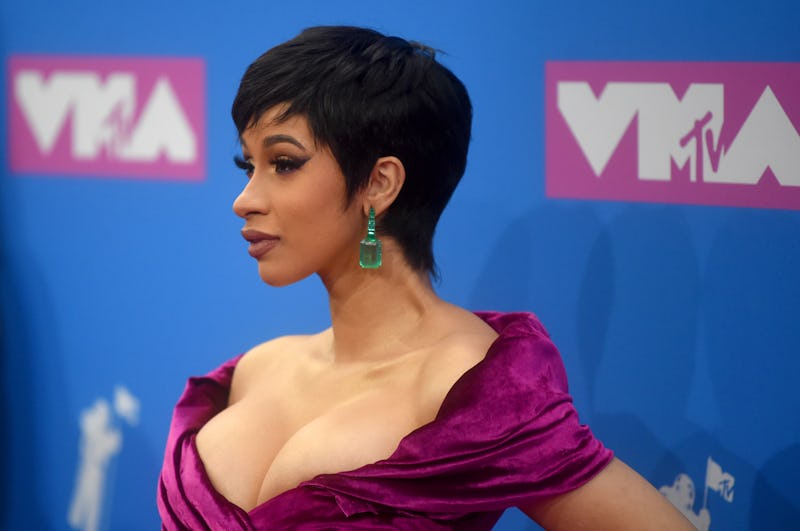 Jamie McCarthy/Getty Images Entertainment/Getty Images
Okurrrrr! The show has already begun and this singer has already stole the show. Cardi B rocked short hair at the MTV Video Music Awards, making for yet another iconic fashion moment. The singer knows how to make a fashion statement, and this time she did it with a bright colored dress and a new 'do.
A year ago, Cardi B was singing Bodak Yellow on the VMAs red carpet, and now she's up for a whopping ten nominations at this year's show. She dressed like a winner, too. The star stepped out wearing an incredible magenta dress that was way more dramatic than anticipated. She swapped out her Fashion Nova fit for something a little more high-end and it paid off.
The star has been switching up her hair lately as well. Although the singer rocked blue hair the week before the event, she is switching it up yet again in time for the event. She opted for the shortest style that she's ever had. The above-ear chop made for the perfect way for her to show off her off-the-shoulder dress, too.
The VMAs are a time for celebrities to go a little out of their comfort zone with their outfits. Cardi B knows it, and she came prepared. From the bright colors to the new chops, she sure does know how to make a statement.
Like mention above, Cardi B is up for a whopping ten nominations at this year's VMAs. She is nominated for best video, editing, song and choreography for "Finess." The singer is also nominated for best Hip Hop Video for "Bartier Cardi," New Artist, and Artist. She's also nominated for two different Best Collaboration awards for "Dinero" and "Finesse."
Basically, it's likely to be a busy night for the celebrity. There's a good chance that you will get a close-up of her incredible outfit again, as she walks across the stage to accept her awards. If not, you're sure to see her getting her dance moves on in the crowd.
This is likely the only outfit that you will see from Cardi B tonight though. She is not on the performance list this year, despite the numerous songs that she has been a part of. Although she didn't make an official statement on why she is not performing, there's a good chance that it's because she just had a baby one month ago.
News of the skipped performance comes right after Cardi B announced that she would not go on tour with Bruno Mars as originally planned. No worries though, because he's bringing Boyz II Men, Ciara, Ella Mai, and Charlie Wilson. Because, yes, it takes a whole group of singers to make up for Cardi B.
No matter how many times that Cardi B is seen tonight, it doesn't take away from her incredible style. The star sure does know how to take an outfit and make it her own, and she never disappoints when she steps onto the red carpet.