Cardi B Shared A Sweet Motherhood Update About Spending As Much Time With Family As Possible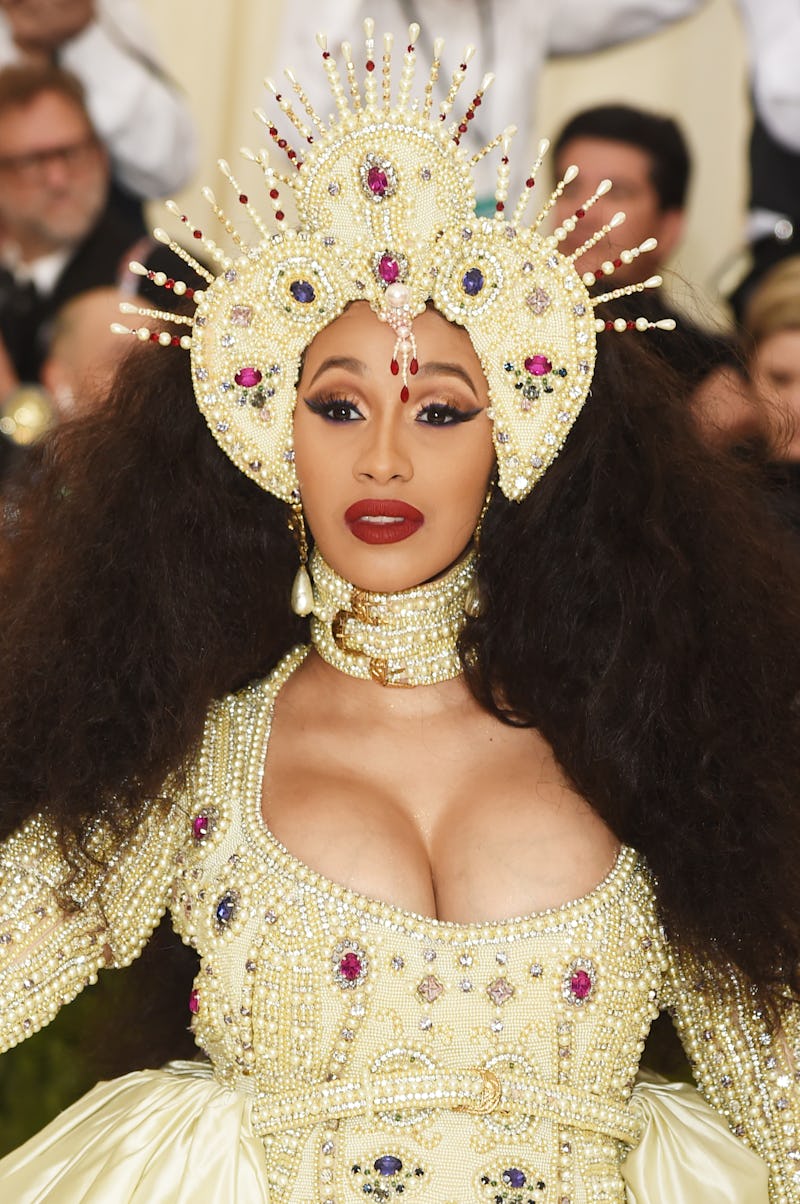 Jamie McCarthy/Getty Images Entertainment/Getty Images
Even though Cardi B is busy adjusting to life as a new mom, that doesn't mean she's taken a complete break from social media. Cardi B posted a video thanking her parents and sister for helping with the baby. Cardi B and her family members are truly living out that classic phrase, "It takes a village to raise a child." Yes, the rapper is at the point in her career when she and husband Offset can afford top notch help, but as of now, she's keeping it all in the family when it comes to taking care of her new daughter Kulture.
On July 17, Cardi B posted a video full of shoutouts for her mom, dad, and sister Hennessy Carolina. The rapper did not appear in the video, other than showing her hand and perfectly manicured pink nails, but she had a lot of sweet sentiments to share.
The 10-time VMA nominee began, "Hey guys. How are you? So like you know, I'm a very blessed person. I know y'all seeing all these blessings that God been giving me in my life." And no, she's not talking about anything career-related, although she's really shining in that area these days. She is just very grateful for her family, especially after giving birth to Kulture.
Cardi B declared, "One thing is that I've been blessed since birth. I've been blessed since I came out of my mom's vagina because of my parents. Those are my biggest blessings, and I'm so thankful and I'm so grateful for them, like you know?"
The new mother detailed just how helpful her family has been: "My mom have not left my sight, not one time. This is her first grandkid. The last time she had a kid was 22 years ago, so this is like all new to her just like it is new to me. My sister not left my sight at all. She's such a good helping hand. And my dad, he running errands for me in New York."
She continued to explain,
"I have not gotten a nanny yet. I just want to like learn how to be a mom, and I want to enjoy every single second of it since you know I'm going back to work. So no, I don't have that extra, extra, extra hand. I'm just really grateful. I'm just sitting here like God, thank you for these great, amazing parents."
Cardi B is all about her family and being as involved as she can be — a route that is not necessarily common for most "celebrity" parents. On July 16, she posted a photo of her and her with Offset in the pediatrician's office with the caption, "Doctors visit with mom & Dad." Baby Kulture was not included in the photo, but the parents have not shared any photos or videos of her yet, so it's not surprising that she's absent from the doctor's office snap.
On July 13, Cardi B emphasized how grateful she was for the support in another Instagram post. The rapper shared a video of Cardi B and Offset impersonators playing with a baby and wrote, "Lmaaaoooo too funny. Thank you everybody for the congrats we really apreciated [sic]. Thank you to family and friends that's been hitting me up checking on me."
She admitted, "It's been a little hard for me to reply back cause this mommy job requires full day, all day, all night attention." She even told her fans, "I'll try to post more often."
The rapper's fans love hearing about her experiences as a new mom, and there's no doubt that they will be diligently checking her social media accounts for updates. The only thing missing is little Kulture herself, who has yet to make her official social media debut.