Cardi B. Just Broke ANOTHER Major Billboard Hot 100 Record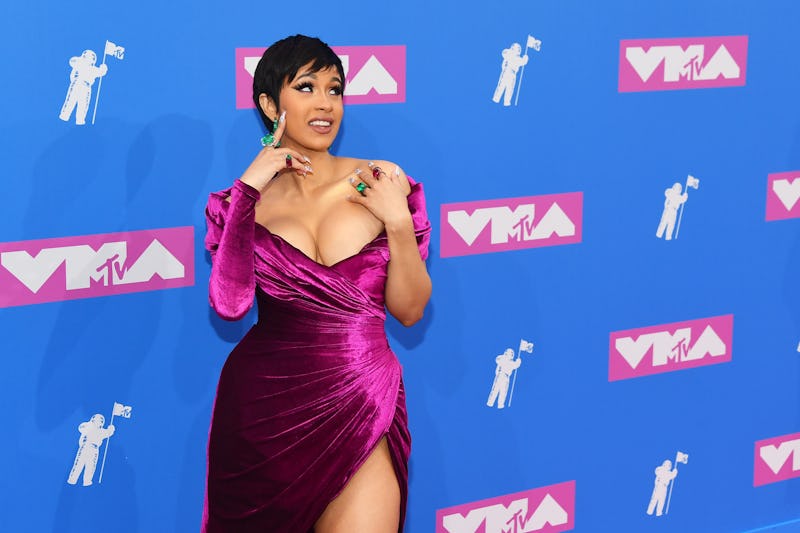 Nicholas Hunt/Getty Images Entertainment/Getty Images
Cardi B just broke a record for female musicians, and this may be the best news that comes out this week. Cardi B is the first female rapper to have three number one hits on the Billboard Hot 100 Chart, according to Chart Data. After Cardi topped the charts with her songs "Bodak Yellow" and "I Like It," she's reached her third number one with Maroon 5's "Girls Like You." In an Instagram video of the Bronx-born rapper, Cardi B claimed that she doesn't care if her third chart-topper happens to be a song that she's featured on rather than her own. "I'm on that sh*t," she said.
Cardi B posted the selfie video on Instagram in the wee hours of Sept. 25, because she's in Paris — so technically it was in the 'oui' hours — but she made sure to thank her fans and tell a personal story about the Maroon 5 song. "My verse almost didn't got approved because I already did two pop records and my team felt like 'yo it's too early in your career to be doing pop pop pop, and you don't really got a lot of urban out like that, and I was like 'yo, trust my judgement, this is a motherf*cking hit.'" Hopefully, that will be the last time that Cardi B's managers question the rapper's judgement.
Not only did Cardi B know that "Girls Like You" was destined for the top of the Billboard Hot 100 Chart, but it also had a sweet meaning for her. On her Instagram video from Paris, Cardi B said the first time she heard the song it made her want to cry, adding, "Maybe because I was pregnant with a girl." Now, that baby girl has arrived into the world as Kulture Kiari Cephus, and "Girls Like You" is number one, so it seems that everything has fully come to fruition.
As Billboard reports, "Girls Like You" remained at number two on the Hot 100 for six weeks. Cardi B referenced that long wait for the top spot, saying: "It took us a while because of that d*mn Drake," while making a hilarious face on Instagram. No matter how long it takes, it seems that Cardi B's music climbs to number one, and members of the rap community are giving the "I Like It" rapper much deserved praise. Even rap royalty Missy Elliott tweeted, "Congratulations on all your success May [sic] more Blessings continue."
Cardi B is no stranger to breaking Billboard Hot 100 records. Before she had three number one songs, her two number one hits broke a record on their own, since Cardi was the first female rapper to have reached that milestone. Even before that, she became the second ever solo female rapper to have a number one song on the Billboard Hot 100 Chart since Ms. Lauryn Hill. Not only that, but Cardi B also became the female artist with the "most simultaneous Billboard U.S. Hot 100 entries," which broke the Guinness World Record that Beyoncé had previously set.
Cardi B has proven that she excels at breaking records just as much as she does at making records. The only question now is which record she'll break next.