Carey Mulligan Called Out This Major Issue For Women In The Film Industry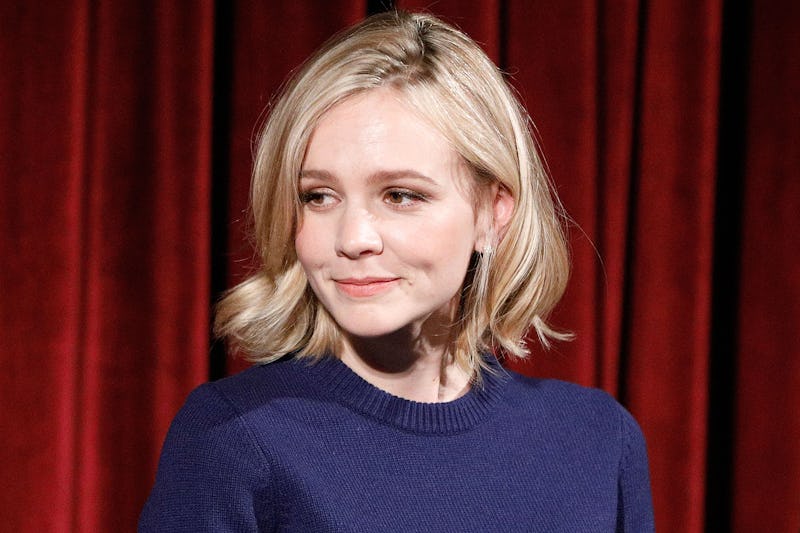 Lars Niki/Getty Images Entertainment/Getty Images
Earlier this year, Carey Mulligan revealed that her second pregnancy was written into the script of Collateral, the BBC drama in which her character, Detective Inspector Kip Glaspie, just happened to be pregnant. Now, the actor has condemned the lack of support for working parents on film and TV sets, saying that arranging childcare puts a significant financial burden on those with young children. Speaking to the Radio Times, Carey Mulligan said film sets should offer childcare to enable members of the cast and crew to "come and do their job."
As the Guardian reports, Mulligan spoke about the progress made in Hollywood since the Harvey Weinstein scandal and the subsequent spread of the #MeToo movement, commending the introduction of on-set codes of conduct. But the industry continues to falter, Mulligan said, when it comes to supporting working mothers. "I don't think being a working mother in our industry has been made that much easier," the actor said. "It's incredibly difficult. Childcare is so expensive."
"I've never, ever been on a set where they have childcare, but I've been on lots of sets where lots of people have very young children," Mulligan told the Radio Times. The actor has two children, 3-year-old Evelyn and 1-year-old Wilfred, and took Evelyn on the set of her recent films Mudbound and Wildlife. "Loads of the crew had kids, but they had to arrange childcare. It's always incredibly complicated," she explained. Offering childcare, she said, "would make it possible for a lot of talented people to come and do their job."
Mulligan was able to accept her role in February's Collateral after the part was altered by writer David Hare to incorporate her second pregnancy, the actor told What's on TV. "He said he didn't see why Kip couldn't be pregnant and only added two references to the pregnancy in the entire show," she said. "We just put a bump in and got on with it, and as my real bump grew we just took away the fake bump."
Hare told IndieWire, "It seemed to me that it was an ideal opportunity to say that there are women who proceed with their jobs and behave in a completely normal way and get on it with it while being pregnant. All I knew was that I didn't want to make a big fuss about it and that it should just be a fact that she is pregnant."
According to Harper's Bazaar, Mulligan said, "Being pregnant had to become part of the story, and what I loved about it was that there was no, 'oh, no goodness me' [mimics back pain], or 'oh, he/she just kicked'." She continued, "No pregnant acting was allowed, and no crying, which was a revelation. So she doesn't cry. She's a working woman, who's working though her pregnancy."
Still, the actor told the Radio Times that her experience on Collateral was an outlier in the film industry. "I don't think we're at the level where it's acceptable across the board yet," she said. "I think if people can hide it, they do."