Carly & Evan Had An On-Air Ultrasound & 'BiP' Fans Ripped The Show Apart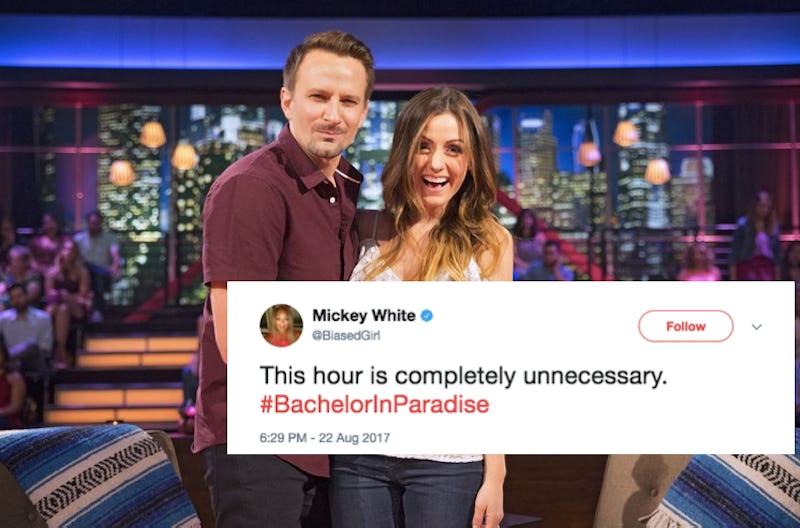 Paul Hebert/ABC
There are a few things that I'm willing to admit — I write about the Bachelor franchise pretty much every week of the year (except when Dancing With The Stars is on), and I recognize that it's mostly silly and funny and not all that realistic. But still, I enjoy it. That being said, what kind of fresh hell is this season of Bachelor In Paradise? I'm not even talking about the sexual misconduct allegations that shut down BiP production in its beginning stages (an investigation conducted into the claims found no wrongdoing and filming resumed). I'm talking about Carly and Evan's on-air Bachelor In Paradise ultrasound that came while fans waited for DeMario's emotional and very serious interview to take place. Say what?
Carly and Evan met on television, and they got married on television, so it doesn't surprise me that they would announce that they're pregnant on television, too. It just goes with the territory. What I didn't expect was that Carly would let a national television audience look inside of her body. But that was what happened, and I was simultaneously horrified and in awe. We as viewers know everything there is to know about the Bachelor Nation contestants we watch on the franchise, but I didn't need to know what the inside of Carly's uterus looked like. At least not without buying her dinner first.
Because Twitter is (sometimes) a hive for smart, like-minded individuals, many agreed with me that Bachelor In Paradise had jumped the shark (again).
Most Didn't See The Point Of The Ultrasound...
Others Were Grossed Out
And Some Were Just Plain Annoyed
The fact of the matter is that because of the production shutdown, Bachelor In Paradise was dealing with less time to film, less footage, and therefore fewer things to air. That has to be why the show is padded with all of these interviews and circus acts, right? Sigh, I miss the fun fantasy of the old Bachelor In Paradise — the one that didn't involve cold jelly or a weird wand on live television.