These Photos From Carly's Pregnancy Will Give You All The Feels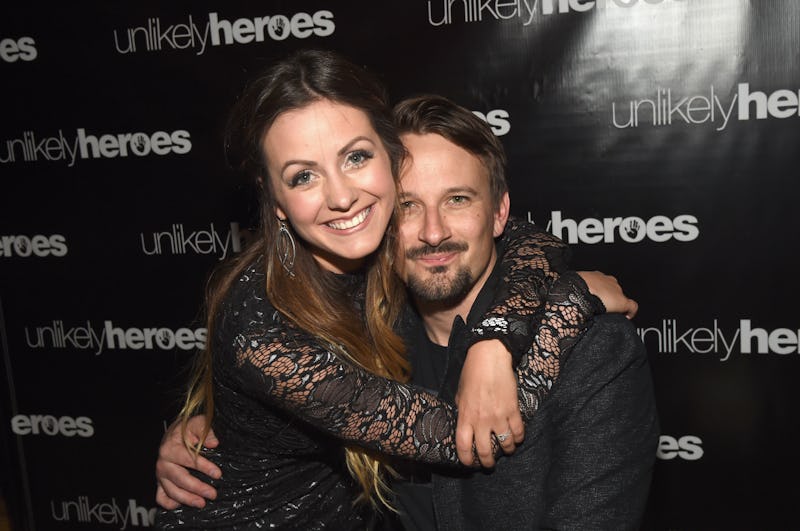 Rick Diamond/Getty Images Entertainment/Getty Images
Carly Waddell and Evan Bass had a fairytale wedding during the latest season of Bachelor in Paradise (producer: Lindsay Liles). The lovebirds exchanged vows on a Mexican beach as their families and Bachelor friends looked on. Shortly after the wedding, the two announced that they were expecting a child together. And, luckily for all of the couple's fans, Carly has posted many cute pregnancy photos of herself on social media.
Carly and Evan had an unlikely road to find love. The two didn't start off their journey on Season 3 of Paradise on the greatest of terms. Carly came back to BiP after her stint on Season 2 of the show where she got her heart broken, and Evan had just finished up a season of The Bachelorette (editor: Debra Light) as the nemesis of the season's villain, Chad Johnson. The two were both genuinely looking for love when they decided to try their hand at finding love on Paradise.
At first, Evan was way more into Carly than she was into him. Their first date included that very long, unfortunate, post-hot-pepper-eating kiss, and it didn't look like things were going to go the way of romance for the pair. But things changed when Evan was rushed to the hospital mid-way through the season and Carly started to see him in a different light.
Now, the two are married and fans of the couple have flocked to their social media pages to keep up with the best couple from Paradise (sorry, Jade and Tanner). Check out some of the best photos of pregnant Carly — she's due very soon. They're all seriously so cute!
It's A Girl!
Carly and Evan posed for this photo alongside Evan's sons, Ensley, Liam, and Nathan, from a previous relationship in order to announce whether the two would be expecting a girl or another boy. Carly was ecstatic about not being the only girl in the fam. She captioned the photo, "This is our professional gender reveal photo! ... IT'S A GIRL!!!! I'm not the only girl anymore! Woo Hoo!!!!" Carly placed her hands, in the shape of a heart over her growing baby bump and the pic honestly couldn't be any cuter.
Showing Off That Baby Bump
Carly always managed to keep it real and be hilarious on BiP. Her social media pics are no exception. Carly posted this image of her baby bump with the caption: "Well, I'm either having a baby or just ate chipotle ... (either way seems I'm winning at life)". Carly's 100 percent right.
Getting Artsy
The former Bachelor in Paradise contestant flaunted her growing baby bump, with an artsy twist. Carly, or possibly Evan, painted on a small face onto her growing bump and said that this means "she's basically art now...right?"
A Babymoon Getaway
Carly went on a "babymoon" with her hubby, where she showed off her growing baby bump in a cute and fashionable swimsuit. She captioned the photo by saying that she and her baby were in their "Happy Place" as they relaxed at the Maui beach.
Hangin' With The Fam
Carly put her bump on display as the "little family" celebrated Turkey Day. She kept things classic in her striped dress for the holiday as she spent the day with her Evan and his three kids.
In The Nursery?
Not only did Carly give fans a glimpse of her baby bump in the above photo, but she also gave a preview of what looks to be the couple's nursery. The couple seems to be going for a nature theme here, with all of the animals adorning the room. And the "I Love You To The Moon & Back" photo in the background is the perfect touch for their sweet nursery.
A Growing Bump
Carly once again showed off her bump in an Instagram post in December 2017 while wearing a Lion King set.
Pretty In Pink
Carly decided to don the color pink in her New Year's Eve outfit, possibly in honor of her baby girl. The former Bachelor star's pregnancy fashion game has been totally on point ever since she announced that she was expecting a little one, and this beautiful outfit is no exception.
"Baby On Baby"
OK, guys, this really is too cute. Carly posed for a photo with her adorable dog, Huck, for this shot. Her two babies, Huck and their little girl (whom they've already named Isabella), are both just chilling with the soon-to-be mother. Does it get any cuter than this? Spoiler alert: nope!
All of Carly's pregnancy photos are bound to make fans excited to see the little one, as well. Until then they'll have to wait and stay tuned to every one of Carly and Evan's adorable social media updates. But, fans may not have to wait long for more news. Evan recently tweeted that his wife was experiencing "fairly intense contractions" on Jan. 29. And since Carly posted on Instagram that her due date is Feb. 16, it's there could be news about baby Isabella's birth anytime now.