Carly & Jade's Daughters Just Met In The Cutest Moment In 'Bachelor In Paradise' History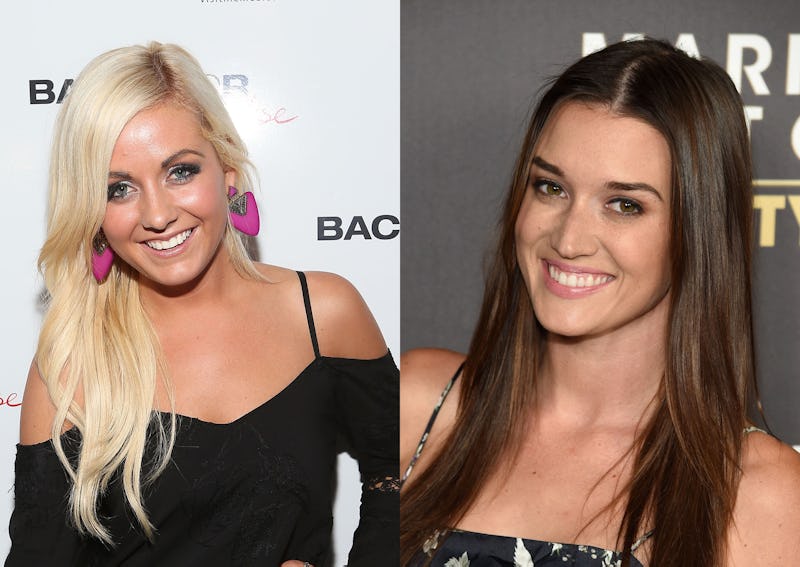 Jesse Grant/Getty Images Entertainment/Getty Images ; Jamie McCarthy/Getty Images Entertainment/Getty Images
There are now two Bachelor in Paradise babies in the world. Carly Waddell's daughter and Jade Tolbert's daughter just met, and they are on track to becoming best friends. This isn't super surprising, though/ Their mothers have been close friends for years, both appearing on Season 19 of The Bachelor and Season 2 of Bachelor in Paradise. It just happened to work out perfectly that Jade and Carly had overlapping pregnancies. Now that Emmy Tolbert and Bella Bass have met, the friendship that their mothers have been planning has officially commenced.
Carly just gave birth to baby Bella in February, so she only waited a month for her first hang out with Emmy. Jade and Emmy visited Carly, her husband, Evan Bass, baby Bella, and the rest of the Bass family in Nashville, Tennessee this past weekend for the monumental play date.
In an February interview with People, Jade discussed introducing her daughter to Carly's daughter. She said, "We'll get to meet her baby and see if they're little besties." Jade also added, "It has been fun being able to relate to her because not a lot of my friends have babies yet."
Days prior to the Nashville visit, Jade tweeted, "Emmy and I are visiting @carlywaddell and Bella this weekend, so don't be surprised if we dress our babies in matching outfits all weekend…" And that is actually what ended up happening.
Right from the jump, the two infants established their best friendship by rocking matching onesies. On March 23, Jade documented their first meeting by uploading a photo of the babies to her Instagram story. She captioned the photo, "Besties already."
That photo may be from the first time Emmy and Bella met, but their friendship was actually a long time in the making. Their parents have been all about it, even before Bella and Emmy were born.
In November 2017, Carly shared a throwback photo from her wedding. She wrote, "I cant believe I'm as far along right now as @jadelizroper was at my wedding!!! (Or close-ish, right Jade?)" She also set the stage for their daughters' friendship when she wrote, "I'm so excited that Emmy is going to be my little girls bestie and Jade can give me all the mommy tips! What a crazy ride it's been and is going to be!" Crazy and adorable. The next generation of Bachelor in Paradise already has close relationships — no rose ceremonies required.
Jade shared similar sentiments about wanting their daughters to be close friends in an interview about Carly's baby shower. Jade told People, "Now my baby and her baby get to be best friends and it's just a really exciting and beautiful thing that's happening." Jade even shared, "Carly and I already have the next 18 years of our daughters' lives planned out together."
Even though the girls just had their first official play date, Emmy did "meet" Bella while she was still inside the womb at Carly's baby shower. They even got their first photo together. Jade shared a picture of Emmy smiling and reaching for Carly's pregnant belly with the caption "Emmy and Bella are literally besties already."
Jade shared another photo from the baby shower with Bella, Carly, and fellow Bachelor Season 19 cast members Kaitlyn Bristowe and Juelia Kinney. Along with this photo she wrote a sweet caption about Emmy and Bella's role models within the Bachelor family: "Proud to say our babies will grow up surrounded by strong women! I admire each one of these ladies. So glad we got together to celebrate @carlywad and baby Bella. That sweet little girl is going to be sooo loved!" Aside from being born into best friendship, it looks like Emmy and Bella will also have some honorary aunts and other friends within Bachelor Nation.
Who would have thought that two girls who aren't even a year old yet could give have such a great history when it comes to their friendship? From baby shower meetings, to matching onesies, the friendship between Bella Bass and Emmy Tolbert only just got started and its bound to get even cuter as time goes on