San Juan's Mayor Said Trump Came To Puerto Rico For Photo Ops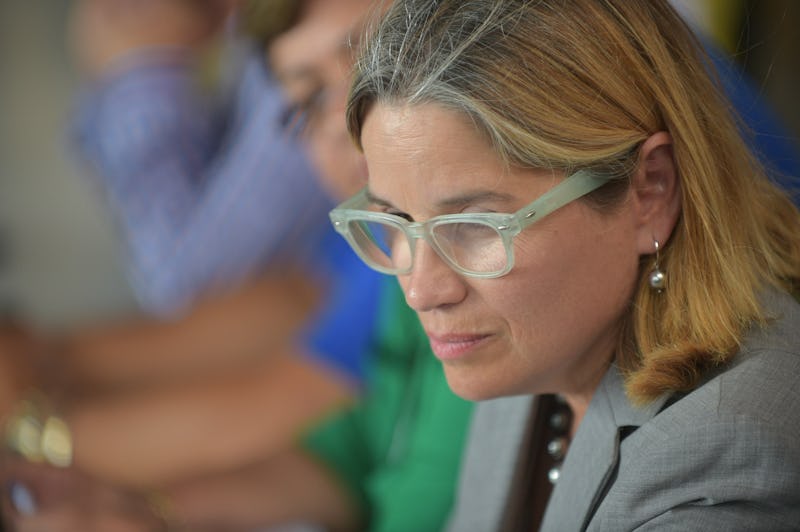 MANDEL NGAN/AFP/Getty Images
Puerto Rico is in the midst of dealing with one of the worst humanitarian crises that has hit any part of the United States in recent memory. Almost all of the island still lacks electricity, two weeks after Hurricane Maria hit the U.S. territory, and a majority of residents don't have running water. President Trump visited the island on Tuesday, and used his brief stay there to laud the success of the recovery effort, but many on the island are still struggling to deal with the scale of the catastrophe. In an interview on MSNBC Tuesday night, San Juan Mayor Carmen Yulín Cruz spoke about Trump's visit to Puerto Rico, calling it a "PR, 17-minute event."
"He minimized our suffering by saying that Katrina was a 'real disaster,'" Cruz told MSNBC on Tuesday night. She added that Trump was "insulting to the people of Puerto Rico" in his visit.
Cruz said that recovery efforts are going better than they had been earlier, making sure to note that Americans from around the country and private organizations have stepped up their giving to help Puerto Rico. She also praised parts of the government's response, saying that FEMA supplies being brought directly into municipalities has helped a lot. But when asked by the host about meeting with Trump, she was nevertheless critical of how the president has spoken of about the crisis.
The spat between the San Juan mayor and Trump started a few days ago when Cruz responded to Elaine Duke, the acting Secretary of Homeland Security, calling the recovery effort a "good news story." Cruz reacted with shock to that comment, calling it instead "a people are dying story." Trump reacted on Twitter on Saturday, accusing Cruz of "such poor leadership."
Trump had already received heavy criticism for his visit to Puerto Rico on Tuesday, where Trump spent his time on the island minimizing the scale of the disaster (he said it was different from a "real catastrophe like Katrina"), complained about its effect on the federal budget, and generally spent much of his time talking about how good of a job his administration was doing and asking other officials for compliments.
Cruz and Trump met only briefly during the president's visit to San Juan. She told him, "It's all about saving lives. It's not about politics."
In one particularly surreal moment, the president threw paper towels into a crowd as if he were shooting baskets.
Cruz expressed disgust at the president throwing paper towels, calling it "terrible and abominable," and saying "it does not embody the spirit of the American nation."
While Cruz was incredibly critical of Trump's time meeting with local officials, referring to it simply as a "PR meeting," but was nevertheless complimentary of the meetings she had with other administration officials to discuss the progress of the recovery efforts. "I really felt that the second part of the meetings today, with the White House staff, were conducive to just sort of bridging the gap between the disconnect of what they say is happening — by the way the Pentagon does not agree with their assessment — and what really is happening. And I think that disconnect, that gap, really got closed a lot more by talking to five mayors that were there. And we were able to also propose solutions to some of the logistical problems and issues that have been brought up."
Cruz's complaints about the administration seem to focus most of all on this disconnect between how the White House is publicly portraying the recovery effort and the horror on the ground in Puerto Rico. "He really has a communication issue," Cruz said of Trump. "He's sort of like miscommunicator in chief. You don't go to another place when people are in peril and suffering and just kind of hover around in a helicopter without having kind words to say."