Caroline Flack's 'Love Island' Final Dress Was Every Bit As Epic As You'd Imagine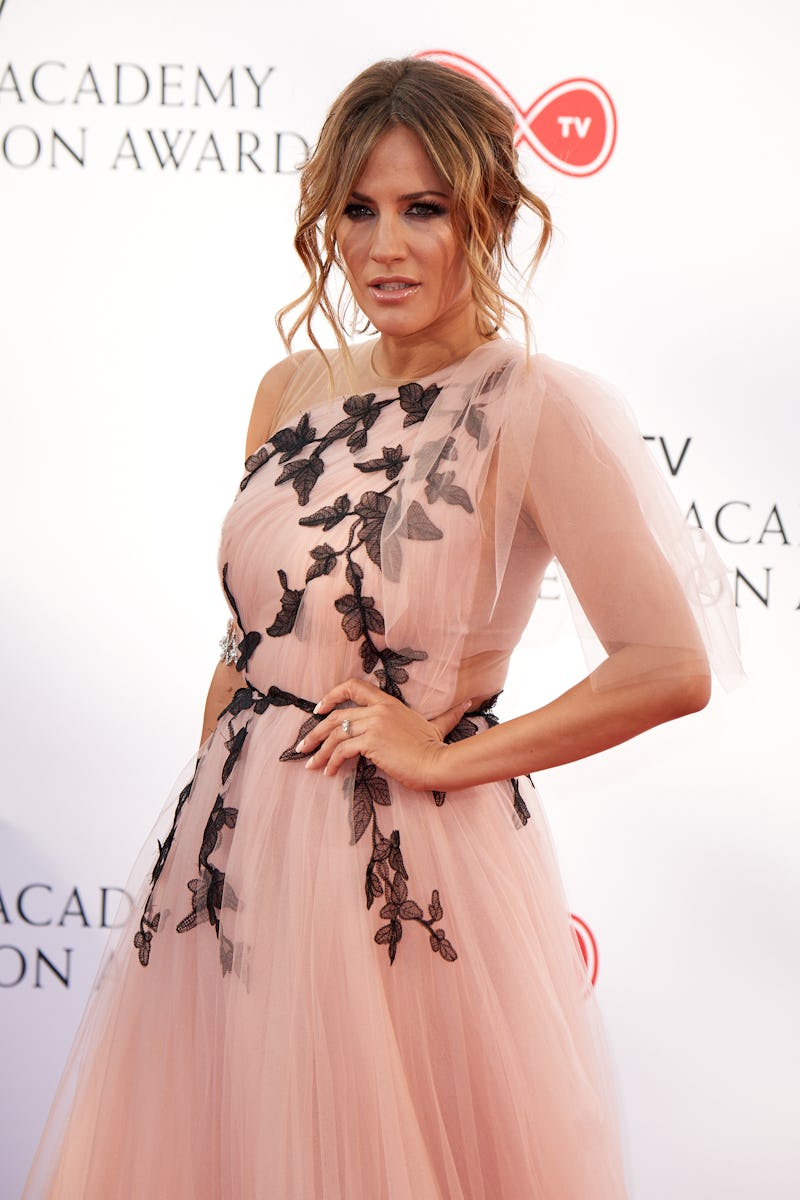 Jeff Spicer/Getty Images Entertainment/Getty Images
What would Love Island be without Caroline Flack? Not very much, that's what. The inimitable presenter has made the show her own with her kind but kinda firm manner, distinctive strut into the villa, and those slaying fashion choices. On the latter, she has the help of stylist Nisha Grewel, who has put her in a series of cracking looks throughout Love Island 2018. So what is Caroline Flack's Love Island final dress?
Well, a little digging around online revealed that it's a dress from a brand called Alice McCall at Oxygen Boutique. Based on Eastcastle Street in Fitzrovia, Flack follows the shop on Instagram, and their stuff has also been worn by Georgia Toffolo and Laura Whitmore. The dress in question, by Alice McCall, is called the Surrealist Dress Nude and Champagne, and retails for £390. It's still available in a few sizes, so hurry now if you want to get your hands on the design.
Aside from the dress, Flack wore her hair down and in a wavy design. Her locks are lighter than they were when the series began, with her seemingly having more blonde highlights added through the course of the last few months. Flack's hair and make-up game courtesy of Christian Vermaak.
Flack has been slaying with her fashion choices all season. As a previous in depth look at her Love Island outfits revealed, many of her looks have been customised for the star. For the last Love Island: Aftersun of the season, Flack chose a bubblegum pink dress from Staud clothing, together with shoes by Lucy Choi. Again, a look around Staud's Instagram suggests this particular dress was altered from this original design just for the presenter. I'm very into that asymmetric hemline.
This series has come during a difficult emotional period for Flack. She began Series 4 engaged to former Celebrity Big Brother contestant Andrew Brady, though they later separated. In a Twitter statement, she wrote: "I'm sad to announce that Andrew and I have decided to part ways. Unfortunately it was not to be. I wish him all the best. At least there's a villa waiting for me. It's back to the ol' grafting."
She addressed their separation at the weekend in an interview with The Sun's Fabulous magazine. When asked about the split, she simply said "I can't, it's just too soon. I just can't. It's too personal and it's too raw." She also added, taking a philosophical tack, "Sometimes it works out, sometimes it doesn't. That's life. I've got nothing negative to say about it. It is what it is." She did, however, speak out on the rampant speculation around their separation, which included plenty of sexist coverage about them going their separate ways. "I just think: 'Why do you care? Why do you care where I am in my life?' So I just ignore it and live life day by day," she told the newspaper.
Earlier today, she posted an inspirational message on Instagram reading "No matter how you feel... Get up. Dress up. Show up. And never give up." She captioned it, "My dad always taught me this. And there has been times this week when I haven't felt like doing this atall. But woke up today thinking HELL! He's right." Good for you, Caroline.