How Caroline Found Out She REALLY Wasn't Meant For Arie After She Was Kicked Off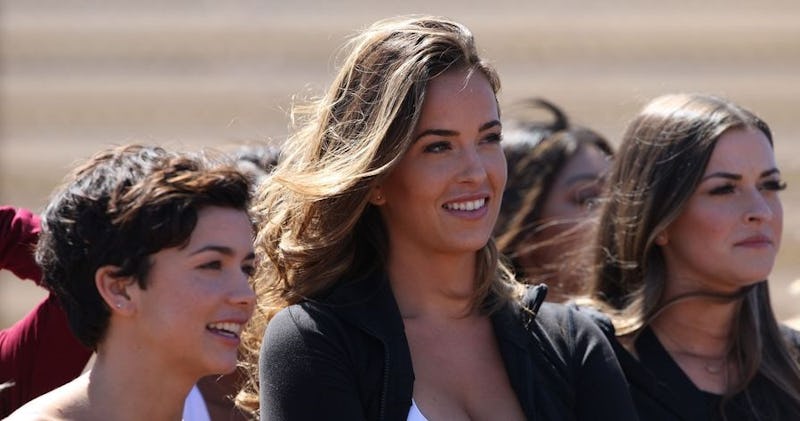 ABC
It was pretty surprising when Arie Luyendyk Jr. eliminated Caroline Lunny during Week 4 of his Bachelor season, but that might be because she was actually meant to be with a different Bachelor. On the Jan. 30 episode of the Whine With Kelly podcast, Caroline said that Bachelor producers cast her as a match for Peter Kraus. (ABC had no comment for Bustle on the matter.) Most people thought that the runner-up from Rachel Lindsay's season of The Bachelorette would be the Bachelor this season. Obviously, that did not happen and many fans were surprised when Arie was announced as the lead. So, it makes perfect sense that some of the contestants would have been originally cast with Peter in mind.
At the 1:05:31 mark of the Whine With Kelly interview, Caroline revealed,
"I didn't watch his season, but I was definitely attracted to him, obviously. And then it was hard because when I got sent home, all the producers were like 'You were our pick. You were our girl. What happened? We literally left casting and we were like, "Oh my gosh. That's Peter's girl."'"
Caroline then stated the obvious: "Well, news flash, guys, you didn't pick him." She continued about whether she thinks she and Peter would be a good match, "There's a couple cooks in the kitchen and in my head who have put out the idea that Peter and I would be good for each other ... They made me think that. I don't know."
Well, they're not the only ones who think that Caroline and Peter could be a good match. Caroline was also brought up during Peter's Jan. 25 appearance on The Morning Breath. At the 41:28 mark of the interview, host Claudia Oshry told Peter, "Do you know the girl Caroline? She's very pretty. She got off this week." Peter confirmed, "Yes. I heard about that."
Then the host revealed, "She actually DM'ed me on Instagram when she found out that you were going on [this] show, and she just wanted you to know that she's available."
Peter replied, "I've actually been talking about her this week. Not, like, in that way, but just who would my top couple of girls be. I think she'd be in the top two." Interesting. She's on his radar and he's on hers, but they haven't met — yet. Peter told the hosts of The Morning Breath, "I only watched those first two episodes. They don't really show everybody."
During Whine With Kelly, Caroline shared what she's seen of Peter on TV. "I think he's very cool and calm," she said. "I didn't watch his season because, honestly, I thought he was going to be the Bachelor so I didn't want to watch. That's a lie. I watched the first episode because I wanted to sneak a peek at the Christmas presents, if you will. I watched him get out of the limo and I was like 'OK, he's a stud.'"
Peter and Caroline do have some mutual curiosity even though they both admit that they didn't keep up with each other's seasons. On one hand, it might be awkward for Peter to watch a show that he almost starred in. At the same time, it would make sense for him to be curious about the women who were cast. (At the very least, it would give him some background information before they slide into his DMs.) For Caroline, it would have been logical to have some background info about the potential Bachelor going into the season, but it sounds like she thought it would be a better tactic to go into that situation with fresh start.
Caroline admitted, "I don't know him, but maybe I would like to." As of this moment, Peter and Caroline are not following each other on Instagram, but that would be a solid first step. Plus, if they got together in real life, it would be a lot less stressful than courting someone by handing out roses every few days.