Carpool Karaoke Takes The Grammys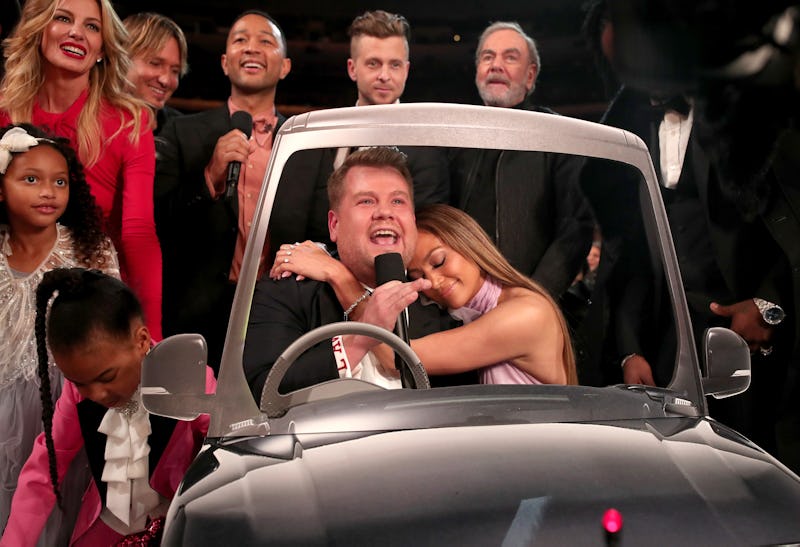 Christopher Polk/Getty Images Entertainment/Getty Images
When he's not hosting the Grammys, James Corden takes the stage on weeknights as the host of CBS' The Late Late Show, which boasts the signature segment "Carpool Karaoke." On Sunday night, he brought that fan favorite to the Staples Center as Corden did "Carpool Karaoke" at the 2017 Grammys with more stars in the car than ever. Actually, he wasn't technically in a car — it was a flat piece of cardboard shaped like a car that he "wore" in the star-studded audience while recruiting some of music's biggest names to sing along with him inside the car, just like on The Late Late Show.
During the bit, Corden got Jennifer Lopez, John Legend, Jason Derulo, Faith Hill, Tim McGraw, Neil Diamond, and Ryan Tedder to sing along to Diamond's big hit "Sweet Caroline." Yep, that many stars fit inside — or at least tried to — the little cardboard car. It was totally reminiscent of Ellen DeGeneres' famous 2014 Oscar selfie retweeted 'round the internet, but this time, done with music inside a fake one-dimensional car. The artists seemed to mostly know the words to "Sweet Caroline," but the true highlight of the segment was when Blue Ivy gave her blessing to "Carpool Karaoke."
That's right — Jay Z and Beyoncé's young daughter made her own way over to the cardboard car and decided she wanted to join in on the fun and sing along, too. The "Carpool Karaoke" squad, of course, welcomed her to the bit with open arms, because she's Blue Ivy and she is just too cute for words.
So it's official — Blue Ivy is a "Carpool Karaoke" fan and that's probably the best endorsement for anything ever.