James Corden's Grammys Opening Will Make You LOL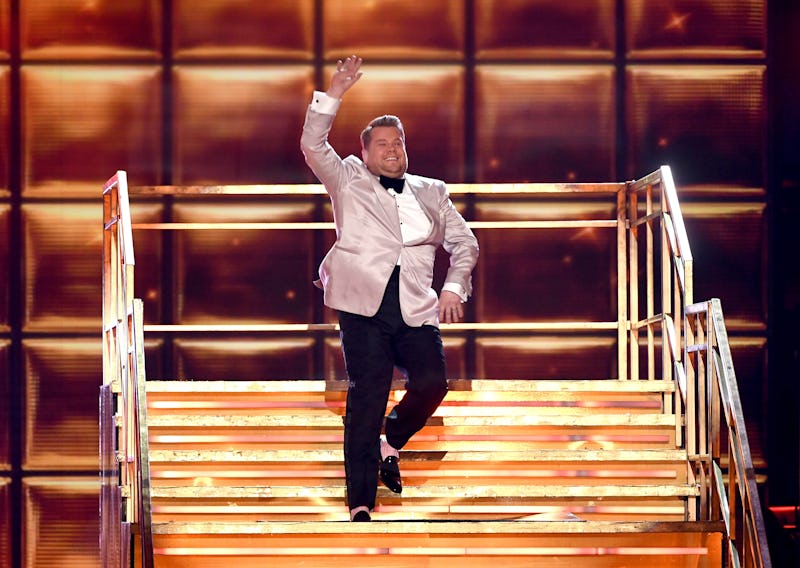 Kevin Winter/Getty Images Entertainment/Getty Images
When it was announced that James Corden would be hosting the 2017 Grammys, I was pleasantly surprised. Considering the Carpool Karaoke host has a history of driving around with celebs and getting them to belt out their favorite ballads, could there be a better pick to hang with the industry's best musicians? I think not. Proving that he's going to keep things interesting, Corden's Grammys opening included him falling down a set of stairs. But don't worry, it was a fakeout and all part of the charming performance.
Corden's on-stage tumble was like the anti-Lady Gaga Super Bowl moment, since she gracefully descended above the stage at halftime. But after picking himself back up (while missing one shoe), Corden began dancing, yelling at those on stage, and then segueing into an epic rap that would make Lin-Manuel Miranda proud. His rap included teasing Drake and Rihanna about their on-again, off-again rumored romance — among ample epic pop culture references.
Prior to the award show, Corden claimed he would leave the singing to the stars — so technically, he delivered on that promise. According to Billboard, he said, "There are a lot of brilliant singers there," he says, "and no one needs to hear me disrupt such beautiful vocals." But hello, he has quite the voice himself. So even though he didn't sing, he did perform to an extent.
Here's hoping that Corden sneaks in a tune or two throughout the night. It's going to be a long, music-filled night. So he might as well lend his pipes to the cause. And hopefully no more spills down stairs. Joke or not, that's gotta hurt.