You Can Celebrate Carrie Fisher & Debbie Reynolds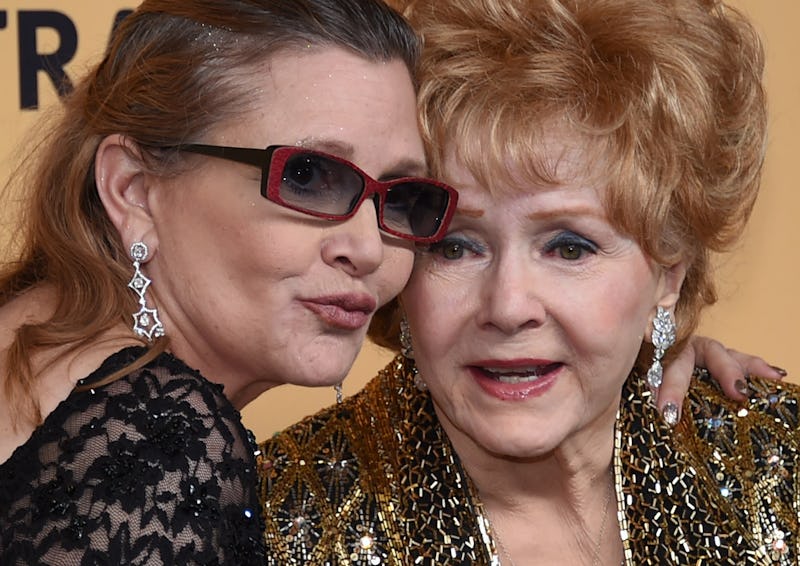 Ethan Miller/Getty Images Entertainment/Getty Images
If you've been sorely missing two of the most talented women in film and you're able to make it to Hollywood in March, then get ready to celebrate their lives. Carrie Fisher and Debbie Reynolds' public memorial was announced on Friday, Jan. 27 by Fisher's brother and Reynolds' son, Todd Fisher, on his Hollywood Motion Picture Experience site. Fisher and Reynolds' memorial will take place on March 25 at the Forest Lawn Hollywood Hills' Freedom Theater. Here's the full announcement:
"We will be celebrating their lives with friends, family members, and the people who loved them, you. The service will begin at 1:00 PM and immediately afterwards, those who want to walk to their final resting place are welcome to do so. There are a limited number of seats available, and it will be on a first come first come, first seated basis, There are no tickets, it is first come, first seated. There will be room for overflow in the huge lobby as well as the outside with screens to watch and hear the service."
While both Reynolds and her daughter Fisher passed away in December 2016, the revealing of Fisher's quirky instructions regarding her passing has meant we're still being reminded why she was so dearly loved in the first place. For instance, Fisher was buried in an urn shaped like a giant Prozac pill on Jan. 6 at the Forest Lawn Memorial Park, which felt appropriate. During her lifetime, Fisher advocated for more discussion surrounding mental health by making her own struggles with bipolar disorder public, via speaking openly about it and even writing a column for The Guardian on the disorder.
And in an April 2010 interview with the Rebel Force Radio podcast, Fisher revealed another unusual hope regarding her passing. When talking to hosts Jimmy McInerney and Jason Swank, Fisher revealed she had a specific request for her Star Wars costar and beloved friend Harrison Ford: "I asked him [at a party] if he would be in my death reel, and if he would sing," Fisher said at the time. "It's just something I want."
Fisher was inspired by an Oscar tribute to the writer-director John Hughes, which boasted a lineup of actors who had starred in his movies. "So, I figured they'll bring out, depending on when it happens, there's a lot of people they can bring out," Fisher said. She joked she wanted to see Ford "sing 'Melancholy Wookiee." ABC News reported that podcast host McInerney is hoping that the Academy will consider granting Fisher's request and said, "That's what she's asking for. You can say she's being flippant and silly, but that's what she said she wants." According to ABC, a spokesperson for the Academy stated that Fisher will "most likely" be included in the Oscars' In Memoriam segment, but there aren't currently any plans afoot for a separate tribute.
This makes it all the more essential that if you're still laboring under some extremely melancholy feelings about Fisher and Reynolds' passing that you find a way to grieve. As such, the public memorial could be the perfect opportunity to channel some of that sadness into a celebration of two extraordinary lives.