Remembering Carrie Fisher's Mental Health Advocacy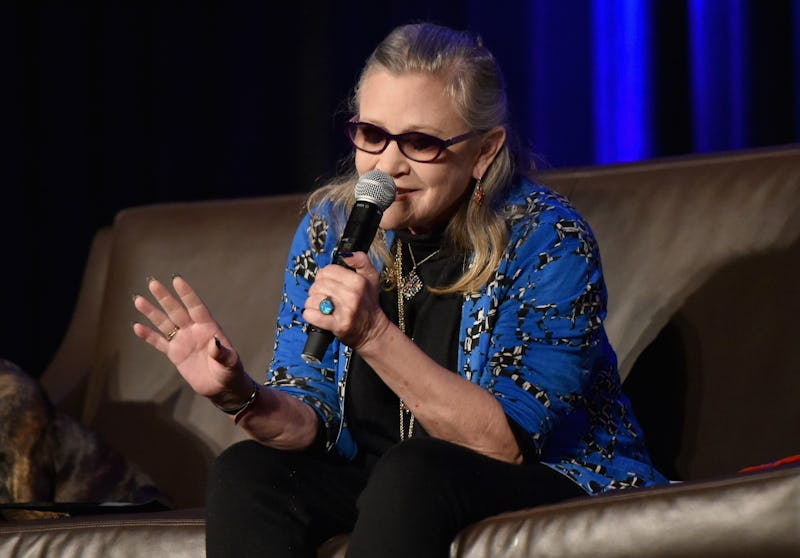 Daniel Boczarski/Getty Images Entertainment/Getty Images
To fans, Carrie Fisher may be best known as Princess Leia, but the actor served an equally important role in her lifetime: Fisher was a major mental health advocate. When news broke on Tuesday that Fisher has died at age 60, Star Wars tributes flooded Twitter. But amongst those movie moments, it's worth remembering Fisher's mental health advocacy as well. This is what made her a multidimensional star, who was unapologetic, brave, and honest. Throughout her career, she played an important role in helping shatter mental health stigma.
Fisher was reportedly diagnosed with bipolar disorder at age 24 — although she admitted it wasn't until five years later that she "accepted" it, according to a Q&A with WebMD Magazine. She had been battling addiction and it detracted from her accepting the diagnosis. In that same interview, Fisher was asked whether it was empowering or unsettling to be the "poster child" of bipolar disorder, to which she responded with a bit of humor and plenty of eloquence:
Well, I am hoping to get the centerfold in Psychology Today. It's a combination of everything. It was out there, anyway; I wanted my version of it out there. Now, it seems every show I watch there's always someone bipolar in it! It's going through the vernacular like "May the force be with you" did. But I define it, rather than it defining me.
That last part is key — bipolar disorder may have been part of her life, but it wasn't her whole life. Still, it did bring her beloved dog, Gary Fisher, into her world. Gary is a therapy dog, who Fisher adopted to help with "vital emotional support and stability," according to People. In 2013, Fisher told the Herald Tribune, "Gary is mental also. My mother says Gary is a hooligan. Gary is like my heart. Gary is very devoted to me and that calms me down. He's anxious when he's away from me." The Instagram famous French bulldog often appeared alongside her on red carpets, proving that Fisher wasn't hiding her illness — if anything, she made a lifelong companion because of it. (It's worth noting that Gary even visited her in the hospital following her heart attack.)
Back in 2000, Fisher told Diane Sawyer in an interview, "I outlasted my problems. I am mentally ill. I can say that. I am not ashamed of that. I survived that, I'm still surviving it, but bring it on. Better me than you." Her honesty was inspiring, as proven again in 2010 when she spoke of the subject to the Los Angeles Times and said she doesn't believe in regrets: "I know they're human and I have them sometimes. But I don't like to hang out with them. The only stuff I regret is any discomfort I caused someone else." That same interview made it clear she was interested in sharing her side, as opposed to others making assumptions. She said,
"It had already come out that I was in a mental hospital, so you kind of do the math with that one, which was under 'Carrie Fisher's Tragic Life.' That was one of my favorite headlines, so to speak. That came out, so I did my version."
The star didn't shy away from being open about her manic episodes, as well as the depressive ones. She also spoke openly about her electroconvulsive therapy, including writing about the treatment in her 2011 book, Shockaholic. Essentially, she didn't hide from the ups and downs in her life — and that's what made her all the more courageous.
On top of all that, Fisher's advocacy and openness have led to some well-deserved recognition. In 2002, she was honored at the Erasing the Stigma Leadership Awards luncheon. Over a decade later, Harvard awarded Fisher with the 2016 Outstanding Lifetime Achievement Award in Cultural Humanism for "her forthright activism and outspokenness about addiction, mental illness, and agnosticism have advanced public discourse on these issues with creativity and empathy."
While many remember Fisher's Star Wars legacy onscreen, her real-life perseverance is equally admirable. She helped fight against mental health stigma and her impact will never be forgotten.