Carrie Fisher Got An Emmy Nomination For Her Final TV Performance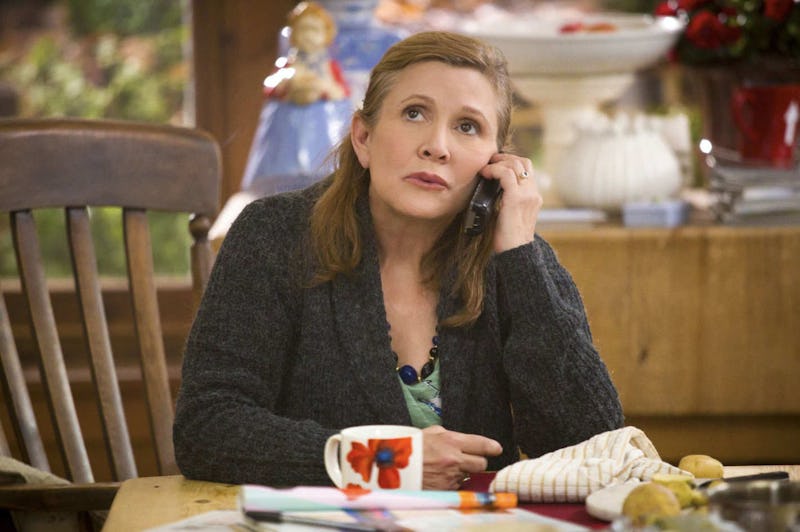 Amazon Studios
Seven months after her tragic passing, Hollywood has bestowed a great honor on the actor best known as the beloved Princess Leia for one of her final roles. Carrie Fisher was nominated for a 2017 Emmy Award for her guest starring role on the Amazon comedy Catastrophe, and the recognition couldn't be more poetic or perfect.
Fisher recurred throughout all three seasons as Mia, the eccentric mother of Rob Delaney's character (also named Rob). Her final appearance on the show came in the Season 3 finale, when she joined Rob and his wife Sharon in England for the funeral of Sharon's father. While there, the struggling alcoholic Rob confessed to his mother that he had started drinking again during what would turn out to be Fisher's last scene for the small screen.
It was an eerie goodbye for a performer who never shied away from discussing her own battles with addiction and substance abuse, including documenting her struggle in the semi-autobiographical novel Postcards From The Edge and the memoir Wishful Drinking. The role came naturally to Fisher, apparently; she "was the only cast member Sharon and I would let improvise," Delaney wrote in a tribute to his departed co-star shortly after her death.
"I revered Carrie until I met her and then I loved her," Delaney concluded his tribute. "I'm smiling thinking about her. I hope you are too." Fisher fans the world over are undoubtedly smiling today, thankful that the actor got one final recognition of her prodigious talents.
Of course, this isn't Fisher's first Emmy nomination. She was previously honored for her guest role as Liz Lemon's childhood idol Rosemary Howard on the Season 2 episode of 30 Rock, "Rosemary's Baby," as well as for her one-woman play adaptation of Wishful Drinking, which aired as a filmed HBO special after its run on Broadway. However, she lost both of those nominations, which would make a win for Catastrophe Fisher's first actual Emmy victory.
Fisher faces steep competition in the category, which includes two Saturday Night Live hosts (Melissa McCarthy and Kristen Wiig), Girls' Becky Ann Baker, Master Of None's Angela Bassett, and black-ish's Wanda Sykes. But sentiment for an icon gone too soon — not to mention the caustic strength of her performance itself — could give Fisher the edge in a tight race.
Regardless of how things turn out for the actor on Emmy night, her fans will have one more chance to observe her talents on the big screen. Catastrophe may have been Fisher's final appearance on television, but the actor still has a feature film in post-production: a little movie you may have heard of called Star Wars: The Last Jedi.
Fisher may sadly be gone… but she's clearly not forgotten.