Carrie Fisher's Honesty Was So Important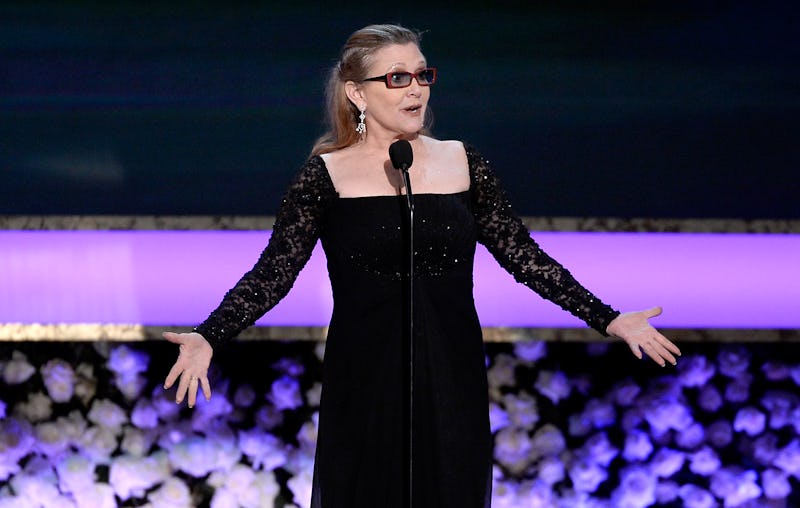 Kevork Djansezian/Getty Images Entertainment/Getty Images
Actress Carrie Fisher, beloved for her portrayal of Princess Leia in the Star Wars franchise, died a few days following a massive heart attack. Although Fisher cemented her much-deserved icon status for her work in the science fiction films, she was also a force behind the scenes as a script doctor and writer. Indeed, some of Fisher's most prolific work came from her storytelling off the set, through her semi-autobiographical Postcards from the Edge and one-woman play and memoir Wishful Drinking. Both of these works tackled Fisher's history with drug addiction and mental illness, an aspect of her life that she was bravely open about.
Fisher was known for her refreshing, unapologetic attitude, and this life philosophy of hers extended to her eventual candidness regarding her struggles with addiction and mental illness. For Fisher, the two were deeply intertwined — her bipolar diagnosis informed her addiction to prescription painkillers and eventual cocaine use on the set of Star Wars.
She was diagnosed with bipolar disorder in her late 20s but was initially hesitant to accept it, thinking that doctors simply didn't want to treat her. She told ABC's Diane Sawyer in a 2000 interview: "I thought they told me I was manic depressive to make me feel better about being a drug addict. It's what you think. If you could just control yourself … You had an indulged childhood … You were a child of privilege … I don't know, that's what I thought. You're just a drug addict."
But Fisher ultimately used her celebrity status to bring awareness to the struggles of addiction and mental illness, something she did with her characteristically funny outlook. In her memoir Wishful Thinking, she again described the duality of addiction and mental illness with the great line:
You know how most illnesses have symptoms you can recognize? Like fever, upset stomach, chills, whatever. Well, with manic depression, it's sexual promiscuity, excessive spending, and substance abuse — and that just sounds like a fantastic weekend in Vegas to me!
For her advocacy, Fisher was awarded a Lifetime Achievement in Cultural Humanism from the Harvard Humanist Hub. The organization said of her award: "...Her forthright activism and outspokenness about addiction, mental illness and agnosticism have advanced public discourse on these issues with creativity and empathy."
Fisher's work with addiction and mental illness provided a needed outlet for these types of discussion, and was particularly important given her most famous role. Not only did she give a voice to these issues through the larger scale of film, but likewise lent her anecdotes and honesty to the more niche science fiction community.
As someone who's part of this fandom community, increasing discussion about these topics — especially for a group that may be more susceptible to illnesses like depression — is always a good thing. Having Princess Leia to thank for those discussions only makes them more worthwhile.