Carrie Underwood's Album Hit No. 1 In A Huge Milestone For A Female Country Music Artist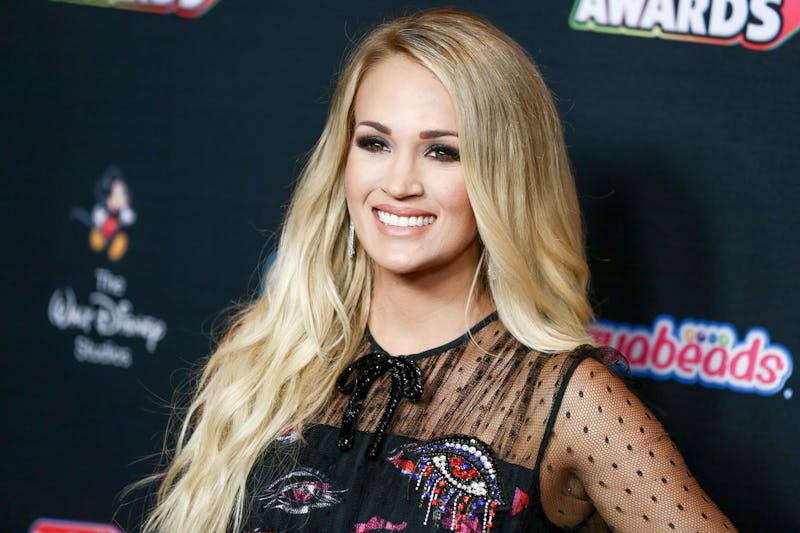 Rich Fury/Getty Images Entertainment/Getty Images
After all these years, it's hard to believe that Carrie Underwood still has any musical firsts to celebrate. But, this week, Underwood's latest album, Cry Pretty hit No. 1 on the Billboard 200 and helped her make history. Underwood is the first female country artist to ever top Billboard's Artist 100 chart, which was established in 2014 to measure an artist's popularity. And while it's clearly a huge accomplishment for her, it's also a huge milestone for women in country as they continue to fight for gender equality on radio. Underwood being one of the loudest voices in this fight.
According to Billboard, Underwood's Cry Pretty is her fourth album to go to No. 1 on the Billboard 200 making her the first woman in country to ever accomplish that feat. She was previously tied with Linda Ronstadt, Faith Hill, and Taylor Swift who've all had three albums hit No. 1 on the Billboard 100 while also reaching the top of the country albums chart.
Based on its sales, Cry Pretty is also the largest country album in more than three years. Billboard reported that Cry Pretty had the "biggest overall week for a country album by a woman since the charts began ranking albums by equivalent album units in late 2014." Not to mention, Underwood's latest release, which sold 266,000 units in its first week, marks the biggest week of the year for any female artist bypassing Cardi B's Invasion of Privacy, which sold 255,000 units in April.
In its first week, Underwood's album has achieved many things, but what stands out most about all of them is that they come after Underwood chose to speak out about the lack of women being played on country radio.
In an interview from earlier this month with the podcast Women Want To More Women, which tackles the idea that female country listeners want to hear male artists on the radio, Underwood called "BS" on this notion saying it just wasn't true. She said:
"Even when I was growing up I wished there was more women on the radio. And I had a lot more than there are today. Think about all of the little girls that are sitting at home saying, 'I want to be a country music singer.' What do you tell them? What do you do? How do you look at them and say, 'Well, just work hard, sweetie, and you can do it.' When that's… not the case right now. 'Cause I see so many girls out there bustin' their rear ends and so many guys out there that it's some new guy out there has a No. 1, and I'm like, 'Good for you, that's great, but who are you?'"
Last year, The Tennessean reported that just 10.4 percent of songs played on country radio, not including duets with men, were by female artists. This was a three percent drop from the year before. Look at Billboard's Country Radio Music chart this week and you'll notice there isn't a single female artist in the Top 10. Maren Morris is the highest female artist popping up at No. 11 with "Rich" a song that's currently climbing the charts. Underwood is at No. 40 and is only one of seven female artists on this entire chart, which lists 60.
This drop in women being played on radio also comes three years after the Tomato-gate controversy in which radio consultant Keith Hill compared women in country radio to tomatoes in a salad. The gist being they're not necessary. "If you want to make ratings in country radio, take females out," Hill said. "I play great female records ... they're just not the lettuce in our salad. The lettuce is Luke Bryan and Blake Shelton, Keith Urban and artists like that. The tomatoes of our salad are the females."
But, what Cry Pretty''s first week success shows is that Underwood isn't a salad add-on, she's the main course. People want to hear her music so much that they're actually paying for it, which is rare in 2018. Her record sales show that country fans want to hear more of her, not less and radio programmers should take note because it's very likely that they want to hear other female artists on the radio, too. Just like Carrie Underwood does.