Catbird Is Launching An Adult Version Of The Charm Bracelets You Had In The '90s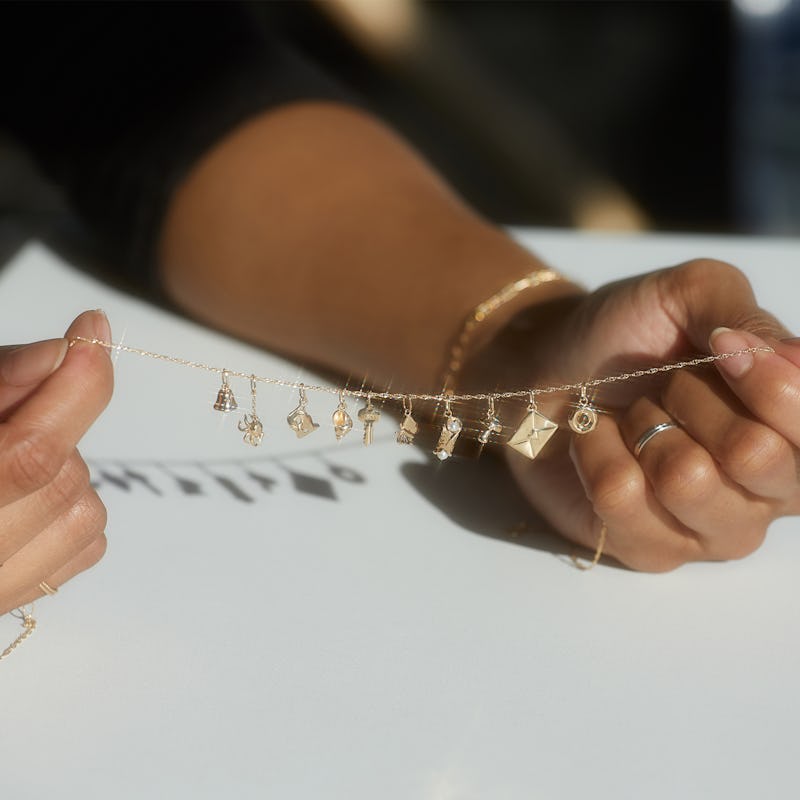 Catbird
Charm bracelets are coming back, but with a grown up makeover. Catbird's The Big Little Charm collection re-invents your favorite childhood jewelry so it feels sophisticated — not kiddish — on your wrist. Charm bracelets were big a part of growing up, whether that was the plastic charms you wore in grade school, the Pandora charms you and your mom collected together, or the Tiffany charm bracelets that were so popular during high school. It's easy to see why the eclectic bracelets keep having a coming back. There's something so fun about designing a piece of jewelry bit by bit, and customizing it to your specific tastes and interests.
But rather than giving you the chunky charms that were so popular with Juicy Couture in the early 2000s, or the oversized charms that Tiffany & Co is known for, Catbird went understated with its designs. Knowing millennials' penchant for minimalist, dainty pieces, The Big Little Charm collection rides on that aesthetic.
To begin building your charm collection, you first have to choose which chain you would like. There are a handful of chain styles to choose from, from long necklaces to chokers to bracelets. But if you want to go with a traditional charm bracelet, then you can pick the 1976 Bracelet, which costs $134.
After your chain is picked, you can move on to choosing your charms. There are a bevvy of different styles to pick from, from mermaid treasure stones to tiny shells to kitten masks. The gold used in the charms is 14k solid recycled gold, with the exception of the jump rings or small pieces of wire which are Fairmined gold. The Fairmined gold is sourced from certified small-scale sustainable mines. Check out some of the charm options below.
Tiniest Key Charm
Holy Cannoli Charm
Better Half Bagel Charm
The Smallest Love Letter Charm
Carry your favorite memories on your wrist, with the help of Catbird's charm bracelets.