A Rodent Study Found That CBD Could Be A Future Treatment For Depression — Here's How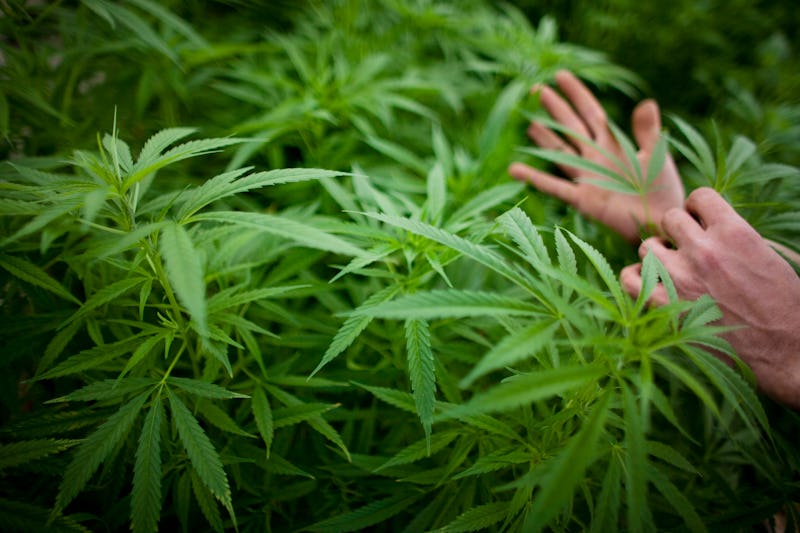 Uriel Sinai/Getty Images News/Getty Images
CBD, the nonpsychoactive chemical found in hemp and marijuana plants, has been the wellness industry's darling for a while. Used for everything from calming muscles to calming nerves, cannabidiol has been popping up in lattes, smoothies, and even body balms. The compound's effects have been shown to be anti-anxiety, anti-inflammatory, anti-convulsant, among other positive effects, but experts suggest that research into the compound, which is often limited by federal regulations around cannabis, can't definitively claim how and why these effects happen. (The exception to this is Epidiolex, a CBD-based medication for treating rare forms of pediatric epilepsy.) More research, however, is beginning to back up these positive effects. A study published in the journal Molecular Neurobiology in June found that CBD may have treatment potential for depression by investigating CBD's properties as an antidepressant in mice.
In the United States, antidepressants are among the top three most commonly utilized classes of therapeutic drugs, according to a report from the National Center for Health Statistics. The drugs can be taken to help treat depression, along with other conditions including anxiety disorders. Nearly 13 percent of people aged 12 and older reported taking an antidepressant within the last month, according to the report that tracked the most recent data available from 2011 to 2014.
CBD is a component of cannabis, derived from THC-free hemp plants. Despite its association with marijuana, CBD doesn't trigger a "high." A 2017 report by the World Health Organization wrote that, for humans, "CBD exhibits no effects indicative of any abuse or dependence potential." The report continued that, to date, there isn't "evidence of recreational use of CBD or any public health related problems associated with the use of pure CBD."
The study assessed if a singular exposure of CBD to the rodents induced similar effects to antidepressants, looking at how these effects, if they occurred, affected the rodents' brains. The rodents had been bred to exhibit depression-like characteristics, and the researchers found that one dose of CBD actually did induce antidepressant-like effects in the rodents, who underwent a "forced swim test" as part of the experiment. As PsyPost reported, the CBD-dosed rodents were linked to a reduction in immobility during the swim test, and the mice exhibited these effects in the short-term (30 minutes post dosage) and long-term (seven days post dosage). The results demonstrated that CBD was linked to acute and sustained antidepressant-like effects, at least for the rodents in this model.
"We showed that CBD increased animal's resilience in stress models of depression, thus indicating an antidepressant-like effect," study co-author Samia Joca told PsyPost. "Moreover, this effect developed rapidly, within one hour, and remained for a week after a single administration, which is not the case for conventional antidepressants."
In a later study also co-authored by Joca, published in Progress in Neuro-Psychopharmacology and Biological Psychiatry in August, the results demonstrated that CBD could potentially enhance the efficacy of conventional antidepressant medications in rodents.
"We showed that small doses of CBD allowed the effect of small doses of serotonergic antidepressants ... to be effective," Joca told PsyPost. Basically, dosing rodents with CBD alongside a more conventional antidepressant in the second study suggested that smaller doses of the conventional antidepressants may be needed for the same effect. This helps "decreas[e] their side effects, without compromising the antidepressant effect," Joca explained, adding, though, that further research is needed.
Of course, an experiment performed on rodents is not directly applicable to humans, and this research is still in its early stages. Further, research into CBD is generally fairly limited because of strict federal guidelines, which considers cannabis to be illegal. But the data does sound promising, highlighting potential for the use of CBD as an alternative treatment with a similar effect to antidepressants.
Readers should note that the regulations and data surrounding marijuana, CBD, and other related products are still developing. As such, the information contained in this post should not be construed as medical or legal advice. Always consult with your doctor before trying any substance or supplement.