Celebs Are Sharing In Beyoncé's Excitement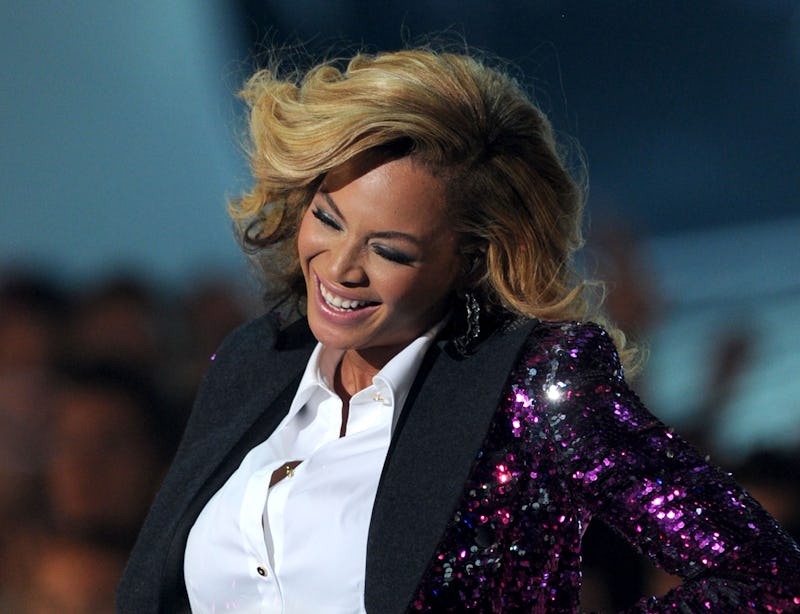 Kevin Winter/Getty Images Entertainment/Getty Images
Queen Bey's royal court is officially expanding. On Wednesday, Beyoncé announced that she's pregnant with twins. "We would like to share our love and happiness. We have been blessed two times over," she wrote on Instagram alongside a photo of her holding her growing belly. "We are incredibly grateful that our family will be growing by two, and we thank you for your well wishes."
We should thank Beyoncé for not letting us down with this epic announcement. Clearly, she has a knack for both dropping surprise albums and surprise baby news. If you remember, back in 2011 when Bey announced she was pregnant with Blue Ivy, she did so by literally dropping the mic after her performance of "Love On Top" at the MTV Video Music Awards. That announcement ended up setting a new record for the most tweets per second ever recorded for a a single event.
Rumors started swirling that Beyoncé was pregnant last week after she didn't attend the Sundance Film Festival with Jay and a video for Ivy Park seemed to reveal a baby bump. False pregnancy rumors are par for the course with Bey and Jay, but after that video was taken down, many started to believe this time they were actually true. Since Beyoncé prefers to get ahead of the news about her, she made sure to post this photo before anyone else could. Let's see what records this image breaks. Fader is already reporting that Beyoncé's pregnancy announcement inspired half a million tweets in 45 minutes.
As the singer probably predicted, other celebrities were quick to congratulate Beyoncé and her husband Jay Z on their big news. Here's what they had to say:
1. Janet Mock
Janet Mock tweeted that Beyoncé's announcement was a nice change of pace with all the recent frustrating news. "Queen came through to give us new life in these dismal ass times," she wrote.
2. Brie Larson
The Oscar winner was crying happy tears over the big news.
3. Millie Bobby Brown
The Stranger Things star sent her heartfelt congratulations alongside a screengrab of Beyoncé from her "If I Were A Boy" video. "Congratulations @beyonce I am so happy!!!!" she wrote, following it up with a slew of smiley face emoji and purple hearts.
4. Tina Lawson
Beyoncé's mom breathed a sigh of relief and told, "WOW. I don't have to keep the secret anymore I am soooo happy." She added, "God is so good❤️ twin blessings."
5. Ashley Benson
The Pretty Little Liars star was so excited about Beyoncé's pregnancy, she even dedicated a blog post to it. "The Knowles-Carter family just grew by TWO!" she tweeted.
6. Hailey Baldwin
Hailey Baldwin managed to tweet the words right out of our mouth: "I feel like I'm more excited for Beyoncé to be pregnant than I will be for my own child." Same.
7. Rihanna
For those who think Rihanna and Beyoncé are feuding, think again. RiRi posted a sweet congratulations to the couple: "So excited about this news!!!! Congratulations to you @Beyoncé and my big brother Jay!!! 👼🏾👼🏾" The baby angel emoji were certainly a nice touch.
8. Robin Thede
The TV writer joked that this was a good sign for February. She also couldn't help but notice an interesting coincidence between Beyoncé and Pharrell. "Pharrell and his wife had triplets, Beyoncé is having twins," she wrote. "BLACK PEOPLE ARE MULTIPLYING TO TAKE OVER THE WORLD!"
9. Zendaya
She only needed two words and a pair of emoji to describe Beyoncé's announcement.
10. Rita Ora
Rita Ora used all the O's to make her point about how good this picture is.
11. Tegan & Sara
"Who run the world?" the Canadian twins asked. "TWINS!"
12. Best Coast
Like so many of us, this happy news offered a chance to step away from reality for a minute.
13. Gabourey Sidibe
In addition to this Instagram, Sidibe also tweeted, "#BlackHistoryMonth is so f*ckin LIT!" with a whole bunch of fire emoji.
14. Bryce Dallas Howard
Yes, Bryce, yes we did.
15. Chrissy Teigen
Beyoncé's got announcements and Chrissy's got jokes.
16. Ellen DeGeneres
Not to be outdone, Ellen had some fun with Photoshop for a photo captioned: "Me too!"
Congrats to Mr. and Mrs. Carter and, of course, to Blue Ivy on being a big sister.