Celebrities Respond To The Explosions At Ariana Grande's Concert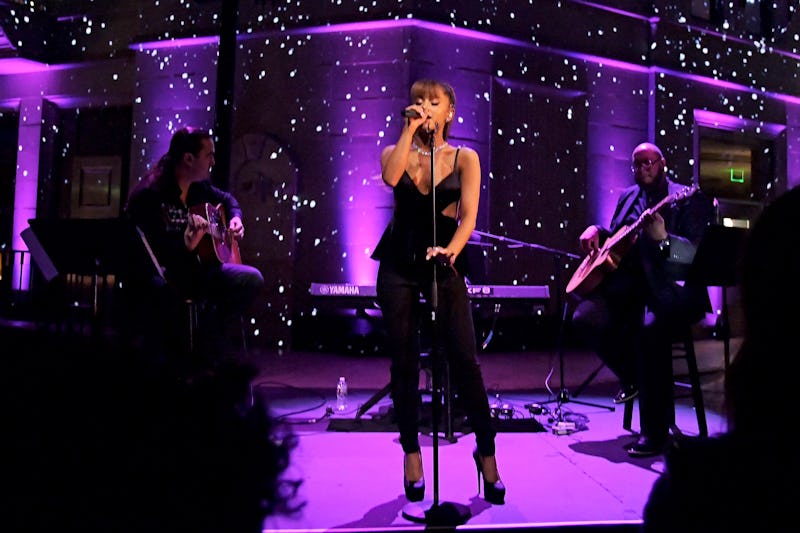 Charley Gallay/Getty Images Entertainment/Getty Images
On Monday evening British police responded to an explosion that took place outside of Ariana Grande's concert in Manchester, England, at the Manchester Arena. While Grande herself has been reported safe, a preliminary death toll has been announced, and authorities are still responding to and investigating the scene.
An explosion took place at 10:30 p.m. just right after Grande's performance ended. Even though the explosion did not happen inside the Manchester Arena, it reportedly took place just outside in a public space near the foyer of the arena, according to The Guardian. The Guardian is also reporting that the explosion has been suspected as a terrorist attack.
Police also confirmed that at least 19 people have been killed with another 50 people injured. The incident is currently being treated as a terrorist incident as the police continue their investigation.
Facebook has activated its "safe check" feature for people who were at the concert or near the scene can let loved ones know they are safe. However, there are still people searching for friends and family who have not been located after the explosion.
A statement from the Greater Manchester Police read:
Emergency services are currently responding to reports of an explosion at Manchester Arena. There are a number of confirmed fatalities and others injured. Please AVOID the area as first responders work tirelessly at the scene.
Several celebrities have already taken to Twitter to express their concern for Grande as well as the victims of the explosion.
Taylor Swift
Kendall Jenner
Lorde
Reese Witherspoon
Anna Kendrick
Harry Styles
Lea Michele
John Legend
Billy Ray Cyrus
Chelsea Handler
Brie Larson
Chrissy Teigen
HAIM
James Charles
Fifth Harmony
Cher
Katy Perry
Ellie Goulding
Ryan Seacrest
One Republic
Demi Lovato
Dwayne Johnson
Billboard has reported that Grande's rep says she is OK while her team is also actively investigating what happened at the end of her show.
Our hearts and prayers go out to all of the innocent victims that had to witness this act of terror.