Lady Gaga, Ariana Grande, Ellen Degeneres & Many More Celebrities Respond To The Las Vegas Tragedy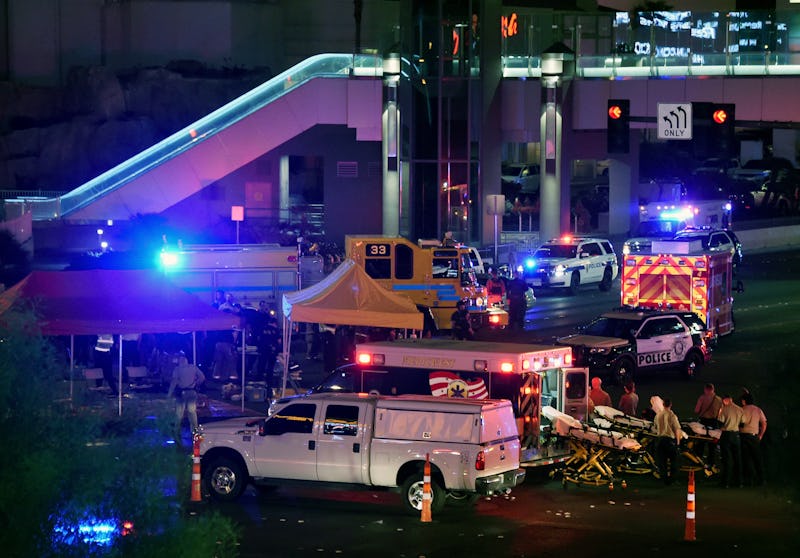 Ethan Miller/Getty Images News/Getty Images
On Sunday, a shooter opened fire on a country music festival at the Mandalay Bay Resort and Casino in Las Vegas. The attack left more than 50 dead and injured over 400 others, making it one of the deadliest mass shootings in United States history. Many people are struggling to make sense of the tragedy, and the internet has become a place to process thoughts or find ways to contribute. Celebrities responding to the Las Vegas shooting have been feeling the effects of the attack as well, taking to Twitter, Facebook, and Instagram to share their condolences for the victims.
Many stars, in addition to condolences and comfort, shared ways to help. If you want to help in the aftermath of the attack, there are a couple things you can do. Share the number that Las Vegas' Sheriff Joe Lombardo created for families and friends to locate loved ones at the event. If you're in the Nevada area, donate blood. The local blood banks are in serious need of contributions to help the victims, but, if you're not in the region, consider donating to a local organization to aid recovery. Contact your local representative and encourage them to support gun control policy. There are so many ways to help.
Here's what celebrities took to social media to share:
1. Lin-Manuel Miranda
Lin-Manuel Miranda offered some suggestions for people who are feeling overwhelmed by the events on Sunday and are looking for ways to do good in the world.
2. Jason Aldean
Jason Aldean was performing when the shooting began, but was able to quickly get off stage to safety. He shared the following message to Instagram:
"Tonight has been beyond horrific. I still dont know what to say but wanted to let everyone know that Me and my Crew are safe. My Thoughts and prayers go out to everyone involved tonight. It hurts my heart that this would happen to anyone who was just coming out to enjoy what should have been a fun night. #heartbroken#stopthehate"
3. Jake Owen
Jake Owen, another artist who performed at the festival, let friends and fans know that he made it to safety. He also encouraged fans to send their prayers and praised the first responders in Las Vegas.
4. Reba McEntire
Country legend Reba McEntire also took to Instagram to share her thoughts on the events, writing:
"My heart goes out to all of our friends, @jasonaldean, our music family and fans in Las Vegas. I'm praying for your healing. I pray God puts his arms around you. This is so sad and devastating. I can't understand it. #prayforvegas#prayforpeace"
5. Taylor Swift
Taylor Swift took to Twitter to share her thoughts on the event that took place on Sunday.
6. John Legend
John Legend also spoke of his heartbreak in the wake of this event.
7. Kate Hudson
Kate Hudson called for the end to the violence, writing: "💔 My thoughts and prayers are with you 💔 #StopThisHate#StopTheViolence 😢"
8. Billy Eichner
Billy Eichner expressed how difficult this event is to comprehend and called for stricter gun control.
9. George Takei
George Takei praised the first responders who saved lives at the event.
10. Missy Elliot
Missy Elliot noted the tragedy that spaces for music and enjoyment have become unsafe.
11. Elizabeth Banks
Elizabeth Banks also sent love to the victims and their families, noting that American support for gun control is overdue.
12. Ariana Grande
Ariana Grande also spoke out, calling for more gun control and for these attacks to be called terrorism.
13. Luke Bryan
More country stars spoke out, including Luke Bryan.
14. Blake Shelton
Blake Shelton sent his sympathies to those affected as he too struggled to make sense of the shooting.
15. Brad Paisley
Brad Paisley posted a message for country music fans online, writing: "I love country music, our fans, and our industry. We are a family. And we are hurting together today. God be with the victims. #prayforvegas"
16. Lady Gaga
Lady Gaga called for bi-partisan support of gun control.
17. Rihanna
Rihanna called the attack what it was — an act of terror.
18. Mariah Carey
Mariah Carey sent prayers to the victims and their families.
19. Harry Styles
Harry Styles also sent his thoughts.
20. Julianne Moore
Julianne Moore called for lawmakers to act against gun violence with stricter gun control policy.
21. Chance the Rapper
Chance the Rapper said it all.
22. Adam Levine
Adam Levine shared a message for those suffering on Instagram.
23. Josh Groban
Josh Groban expressed sadness and anger over what transpired in Las Vegas, and he too called for gun control policy.
24. Ellen Degeneres
Ellen Degeneres encouraged people to process the event emotionally, but continue to be strong because the world needs it.
25. Laura Dern
Laura Dern urged people to join the movement to end gun violence.
26. Haim
Haim sent their love to the people of the Las Vegas and all who were impacted.
27. Trey Songz
Trey Songz, who was in Las Vegas during the shooting but was unharmed, sent prayers.
28. Ruby Rose
Ruby Rose wished the people of Las Vegas to keep safe and expressed disbelief over the attack.
29. Kerry Washington
Kerry Washington also said she was heartbroken.
30. Khloé Kardashian
Khloé Kardashian felt in disbelief over what occurred in Las Vegas and sent prayers to the city.
31. Zendaya
Zendaya also stood in solidarity with Las Vegas and called the attack what it was: domestic terrorism.
32. Karlie Kloss
Karlie Kloss sent love and prayers for the families of the victims.
33. Nick Jonas
Nick Jonas also sent prayers for the victims and their families and friends.
34. Sarah Bareilles
Sarah Bareilles was heartbroken over the event.
35. Christina Perri
Christina Perri was in disbelief over the attack and urged lawmakers to enact better gun laws.
36. Jennifer Lopez
Jennifer Lopez sent her love to the city.
37. Kim Kardashian
Kim K also sent prayers to the people of Las Vegas and urged her fans to join the movement to end gun violence.
There can be no doubt that more and more celebrities will continue to speak out and use their platforms to encourage their fans to take a stand during these horrifying times.