Ryan Thomas' Reunion With His Daughter Post 'CBB' Will Hit You Right In The Feels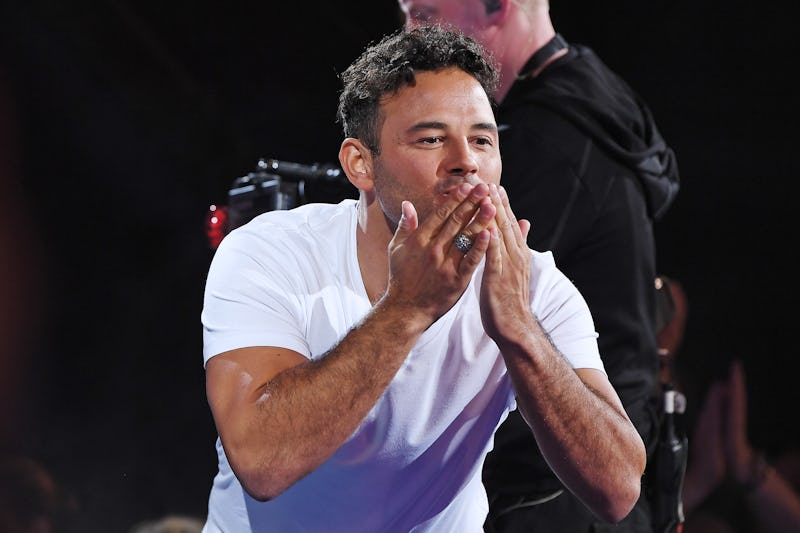 James Gourley/Shutterstock
As soon as Ryan Thomas was announced as the winner of Celebrity Big Brother, I was already reaching for the tissues. Three days later and I'm still being hit squarely in the feels via the actor's Instagram, where he's been sharing all sorts of seriously sweet family reunions after returning from the house. Thankfully someone saved the adorable video of Celebrity Big Brother's Ryan Thomas surprising his daughter at school because it's just too cute for words.
According to The Sun Ryan's girlfriend Lucy Mecklenburgh filmed the reunion, capturing the moment Scarlett sees her beaming dad in the playground. She comes sprinting out of school like there's no tomorrow, before dropping her rucksack and launching herself in to Ryan's arms for a huge daddy-daughter bear hug.
Once the family returned home, Ryan continued his insta story, capturing a precious moment between Scarlett and his three-month-old niece Elise-Rose, captioned with an appropriate red heart emoji. Talk about heartwarming
The former Coronation Street star mentioned this reunion during an interview with Jeremy Vine on Wednesday — his first TV interview outside the Celebrity Big Brother bubble. "I can't wait to get to her. I'm picking her up from school — you're keeping me from my daughter!" he joked. "That's the next leg of the journey, [I'm] so looking forward to getting back to normality."
As per his Instagram, normality for Ryan is being surrounded by his supportive family, who have been backing him ever since he entered the CBB house, especially after "punchgate".
"He's the godfather of the family," Ryan's mother Gail said during an interview with This Morning. "He's always looked after us and now because he's in that situation, we want to look after him. He's got an awful lot of support from his family, friends, the nation when he comes out, that's gonna help him."
The close bond between the Thomas family was further illustrated in Ryan's letter from home, written by his brother Scott and read out during his time in the house. "Honestly bro, you don't know how proud we all are of you," he wrote. "You really have taken yourself out of your comfort zone and, trust me, it's been well worth it."
The actor echoed his brother's sentiments in an interview with Rylan Clarke-Neal on Celebrity Big Brother's Bit On The Side, where he discussed how the experience made him appreciate his family more, and the absolute adoration he has for his siblings. "I can't live without my two brothers, and that's where everything's come into play," he explained.
"I think about them every single day. They're the closest thing to anything I have in my life, and as much as my daughter, my brothers — if anything goes wrong — they're always there for me, and I've never, ever let that go while I was in that house."
Ryan continued: "I am very lucky to have the best girlfriend, the best best friends in the world, and the best family, but my brothers to me keep me going and keep the light on, and that's why I kept going."
The love of a close family is one of the best feelings in the world, and to see Ryan back with the Thomas clan is super uplifting. I can't wait to see what he gets up to in the future (fingers crossed for a reality show featuring the three Thomas bros).