These Quotes From Ryan On Forgiving Roxanne Prove He's The Winner 'CBB' Fans Deserve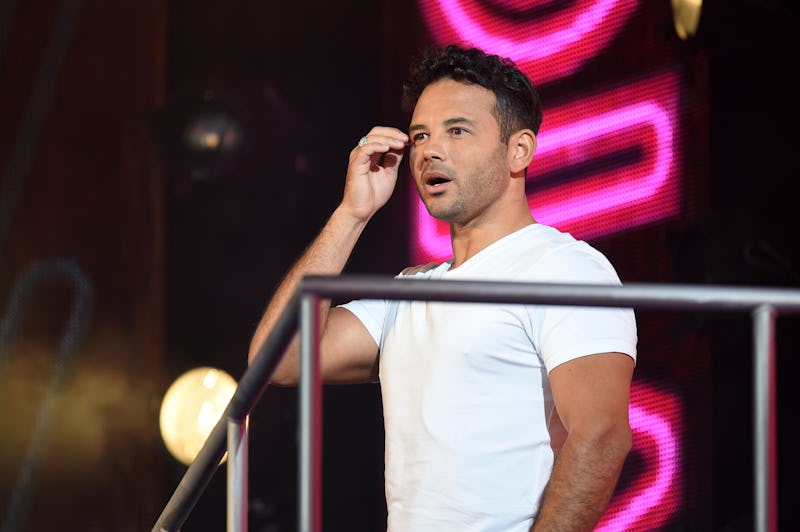 Stuart C. Wilson/Getty Images Entertainment/Getty Images
Things are finally looking up for Ryan Thomas, as the Celebrity Big Brother contestant has just won the Channel 4 series following a major controversy involving his former housemate Roxanne Pallett. While leaving the house is always an emotional moment for contestants, Ryan's had many in tears as his exit interview with Emma Willis was a tough one in which he was finally shown footage of the incident which sparked Roxanne's allegations he had "punched her like a boxer does a bag." However, has Ryan Thomas forgiven Roxanne Pallett for her accusations? During the interview, he still seemed clearly shaken but said that she had been "punished enough" for her actions.
Bustle has reached out to Roxanne's agent for a comment regarding the ex-Coronation Star's win and statement, but we haven't heard back just yet. Ryan and Roxanne were at the centre of the show's biggest upset, during which the Emmerdale actress accused Ryan of "repeatedly punching her" on the reality TV show. Ryan was subsequently issued a warning by Big Brother as they investigated into the issue. Ofcom were issued over 11,215 complaints in regards to the episode according to Sky News and the incident captured headlines all over the nation.
Following his emotional breakdown on the show and Roxanne's eventual backdoor departure, housemate Dan Osborne was later told by Big Brother it was "worth thinking about why Ryan has not been removed from the house" to clear the air within the household.
Roxanne eventually apologised in two televised interviews, one on the Jeremy Vine Show and another on Celebrity Big Brother with Emma Willis. In the first, she said she had "got it wrong" and that she wanted to "massively apologise to Ryan" for her "overreaction to what wasn't a malicious act." In the second, she called herself "the most hated girl in Britain."
After finally departing the house after weeks of isolation, Ryan sat down to speak with the host Emma Willis to talk about his win. Naturally, the conversation gravitated towards the situation with Roxanne Pallett and he was eventually asked about it.
Ryan was asked if he would like to be shown footage of the incident in question, as he had never seen it before. Previously, Celebrity Big Brother's Bit on the Side host Rylan Clark-Neal petitioned for the housemates to be shown the clip but was unsuccessful.
Although Ryan initially hesitated, he later agreed to watch the clip which had edited together the punches, Roxanne asking to speak with Big Brother in the Diary Room, and her eventual accusation in the confessional.
He said that "the game became real life" for him when his housemate Ben Jardine told him "[Roxanne] couldn't stay in the same room as him because she was scared", and that he felt like "a scared little boy." At his lowest point, he believed that he would be taken in by police and talked about how glad he was they had been surveilled 24/7 so that there was video evidence.
However despite that, he told Emma, "If this person has an issue and a misunderstanding, who am I to sit there and judge?"
Even though many of CBB 2018's former housemates returned to cheer the final gang on from the sidelines, Roxanne Pallett was notably missing from the crowd. Ryan addressed her regardless, saying, "Forgiveness is a big thing so if she wants forgiveness and it makes her feel better than I would give her that. I think she's been punished enough by the public."
Since her departure from the show, Roxanne's Twitter account was deleted by her family following "backlash from fans" according to The Sun and she has since stepped down from her presenting job on radio station Minister FM. She will also no longer be playing Cinderella in the Chesterfield panto.
In a statement to The Sun, her spokesperson said, "We and Roxanne have decided today that she will be stepping down from her position at Minster FM, and from her upcoming role as Cinderella in Chesterfield. Roxanne will not be undertaking any more media interviews and will now be taking some time away."
Last Sunday, Roxanne returned to reality television as a contestant on Celebrity Island with Bear Grylls alongside stars including Suits' Eric Roberts and Love Island's Montana Brown. However, she walked out after the first episode when she relived a traumatic childhood experience after smelling the smoke from a campfire. She will also be appearing in a 5Star episode of Celebrity Ghost Hunt: Haunted Holiday on Wednesday, which was recorded prior to the CBB fallout.
Ryan said of his win, "I have no words, no words whatsoever. I've been acting all cool like I'm not bothered… but it's got the better of us, and now I am here I am completely overwhelmed."
He also addressed his fellow castmates, saying, "It's hard to judge a reason for me being here now...we're all winners." Hollywood actress Kirstie Alley was runner-up this series and, after hearing that Ryan had won, planted a great big kiss on him which was very well deserved IMO. It was a return to the real world as ahead of the final, Celebrity Big Brother's Wikipedia page was hacked to state that she was the winner of the series.
Made in Chelsea's Dan Osborne came in third, Nick Leeson in fourth, Sally Morgan in fifth and Love Island's Gabby Allen in sixth place.