When Candy Fell From The Sky At The 2017 Oscars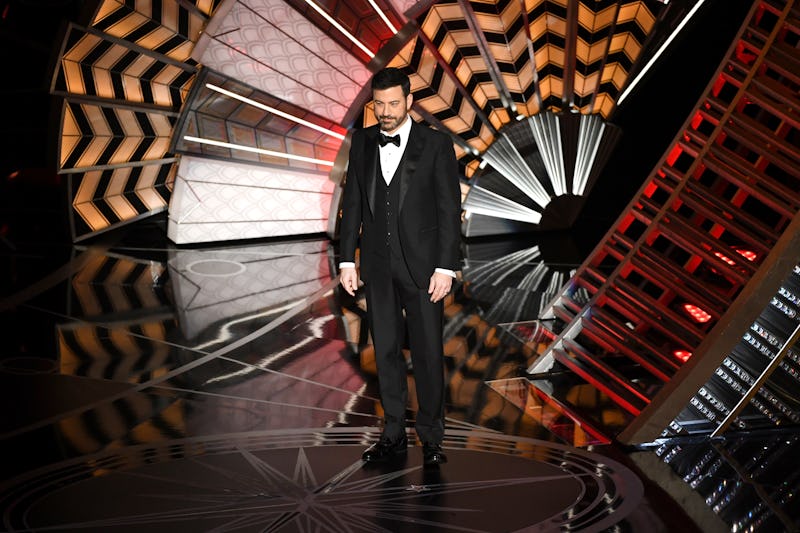 Kevin Winter/Getty Images Entertainment/Getty Images
In addition to those coveted golden statues, the 2017 Oscars distributed another surprise. Jimmy Kimmel had candy drop into the audience on Sunday night via little parachutes and celebs reacted to the 2017 Oscars candy parachutes in the cutest ways. According to Kimmel, inside these cute little packages from above were Red Vines and Junior Mints — you know, the most beloved movie theater snacks there are. And when these cute little parachutes fell from the top of the Dolby Theater, the celebs in the audience couldn't help but look so excited.
I don't blame them at all for finding this magical candy as pretty awesome. I'm sure the Oscars offers up a sophisticated menu of snacks, but would Red Vines and Junior Mints be on that menu? I'm not sure, but thanks to Kimmel, they totally are now. This is also not the first award show food comedy bit that Kimmel has done — while hosting the 2016 Emmys, the comedian and Jimmy Kimmel Live! host handed out peanut butter and jelly sandwiches, which were made by his mother, to the audience. Sure, celebrities enjoy that treat, but they seemed adorably delighted by the Oscars' parachute candy.
Check out the celebrity reactions below.
Taraji P. Henson Caught One!
And the Hidden Figers star is so excited.
Andrew Garfield Just Being Casual
The Hacksaw Ridge star acting like this happens all the time. Look at that sly catch and toss.
Michelle Williams & Busy Philipps Love It
What's better than attending the Oscars with your BFF? Catching candy from the sky with your BFF.
Ryan Gosling Staring Up At The Heavens
He looks so pensive as he considers the candy.
Mel Gibson Takes a Bite
He looks so content with his Red Vines.
Meryl Streep & Her Husband Share Their Candy
Because sharing is caring.
The Candy's Reaction Is Pretty Great, Too
You know, swinging in the air, glowing and achieving their dream of landing in movie stars' laps. Dreams coming true — isn't that what the Oscars are all about?