Céline Dion Shares A Sweet Tribute To Her Husband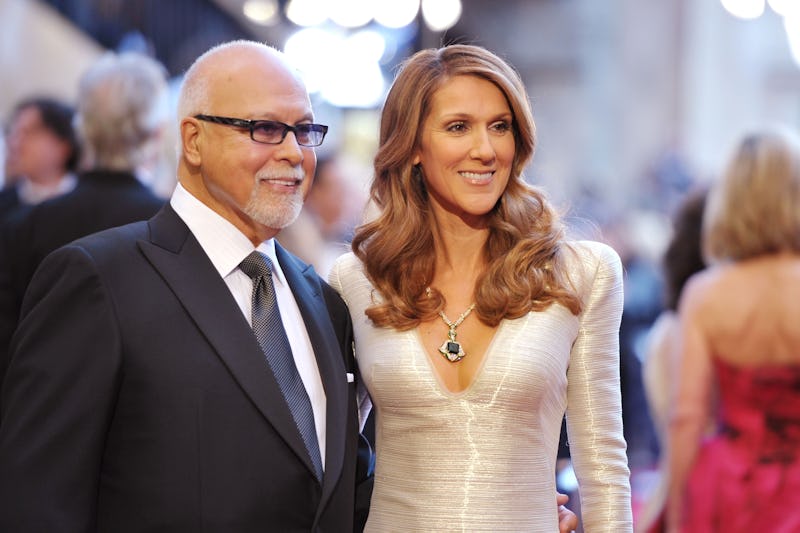 John Shearer/Getty Images Entertainment/Getty Images
Céline Dion's career continues to go from strength to strength, but her personal life got a lot more challenging in 2016 following the death of her husband René Angélil. Now, on the anniversary of his death, Dion has paid tribute to her husband in the most beautiful way. Posted to her Facebook page, the Titanic singer shared a montage featuring her 1994 wedding to Angélil, as well as photos of their children, 6-year-old twins Eddie and Nelson, and 15-year-old René-Charles. Dion's tribute to her late husband is beyond heartbreaking, but she manages to stay positive in the face of great loss.
Angélil was diagnosed with throat cancer in the '90s, and sadly died in Jan. 2016 at the age of 73. The montage shared to Dion's Facebook page marks the one year anniversary of his passing, and it's clear that the singer still has a lot of love for Angélil. In an interview shared by E! on Saturday, Dion discussed the children she has with Angélil at length, remarking how difficult it was for René-Charles, as a teenager, to lose his father. Viewed alongside the montage shared by Dion, it's clear that her family is still recovering from their sad loss, but that they're moving forward as best they can.
Dion's Facebook montage is particularly moving, as it celebrates the richness of Angélil's life and everything he achieved. He was incredibly loved, and despite a year having passed, the "My Heart Will Go On" singer is not going to forget the amazing influence he had on her life, and continues to have through her career and children.
As a prolific recording artist and performer, Dion's career continues to move forward, despite her devastating personal loss. Her residency in Vegas is still going strong, and it's clear that the musician has a long career ahead of her, along with a huge fanbase who wants to see her succeed.