It's Official: Chance The Rapper Is Engaged, & His Announcement Is SO Cute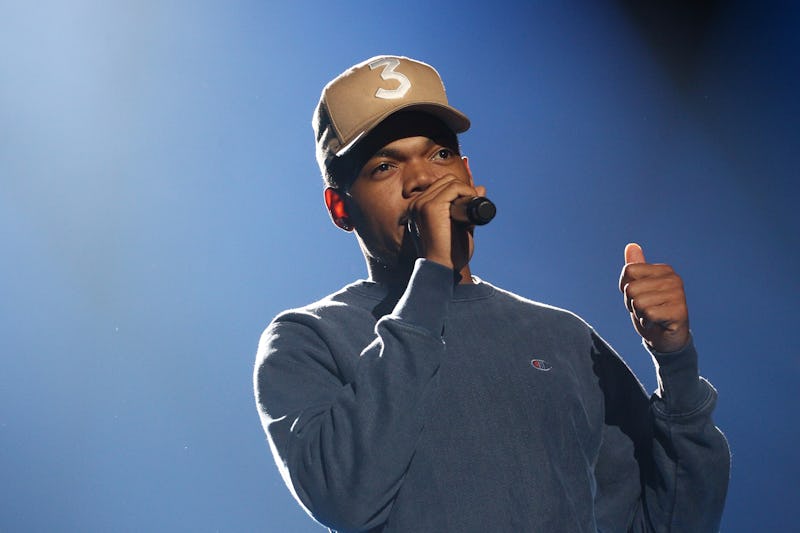 Tommaso Boddi/Getty Images Entertainment/Getty Images
The Fourth of July may be all about patriotism, but one couple was feeling the love on Independence Day. Chance the Rapper is engaged after he proposed to his girlfriend Kirsten Corley on Wednesday. As a video of the proposal shows, the rapper (born Chancelor Jonathan Bennett) got down on one knee in front of their family and friends during a Fourth of July barbecue. The pair was also joined by their 2-year-old daughter Kensli Bennett and Chance the Rapper adorably shared his excitement about the engagement on social media.
Although Chance the Rapper and Corley's relationship hasn't always been very public, they have been dating since 2013. He has referenced his longtime girlfriend in his lyrics and he thanked her and his daughter in his Grammys acceptance speech for Best New Artist in 2017. He has also posts about his fiancée on social media, like when he wished her a happy birthday in May on Instagram. "You are my oldest and best friend. You are responsible for everyone of the most wonderful things in my life," he wrote in his heartfelt post. So it should have come as no surprise that he took their relationship to the next level and proposed to Corley. He announced the happy news on Twitter by simply writing, "She said yes" with the link emoji.
The Shade Room posted a video of Chance the Rapper's proposal on Instagram. As their family and friends cheer, he says, "Kirsten Katrina Corley, will you make me a man and be my wife?" The rapper then picks up their daughter before sealing their engagement with a kiss. The Shade Room also shared a picture of Corley's diamond engagement ring.
While the pair currently is on cloud nine, they have had some issues in their relationship in the past. As The Chicago Tribune reported, Corley filed court documents in 2016 to be named the "sole caretaker" of Kensli. But she withdrew her filing in 2017 when the couple had reconciled and were living together again, according to The Hollywood Reporter. And their engagement indicates how strong their relationship is now.
Corley's Instagram account is private, but Chance the Rapper's brother, Taylor Bennett, posted the above picture with the newly-engaged couple. "Proposed In The Hunninds! @chancetherapper You A Real One! 7-4-18 #BlockBoys," he wrote. And it was only fitting that besides being surrounded by family during this major life moment, Chance the Rapper proposed in his beloved hometown of Chicago.
No news of a wedding date has been announced yet. But as Chance the Rapper is a devout Christian, you can expect that there will be a religious element to the ceremony. He often raps about God and he credits Corley for his faith. As Chance the Rapper wrote in his birthday post to Corley, "I'm forever grateful that God made me find you, and even more grateful that you made me find God." He also wrote, "From the beginning beginning to the end end" and "Forever and ever babe" to highlight his lasting commitment to her.
Based on their long relationship, this couple doesn't need to rush a wedding date. And perhaps fans will even get an album from Chance the Rapper before they say, "I do." His last full-length release was 2016's Coloring Book and, as NME reported, he spoke in April 2018 about creating a collaborative new album.
Considering he wrote lyrics like, "Me and my girl plan to stay to the end/Hope there never come a day where we be better as friends/We in a marathon we could build a marriage on" in his Coloring Book song "Finish Line/Drown," he'll most likely reference their nuptials on new music he makes. But for now, Chance the Rapper and Corley are probably busy making their own music as they bask in the glow of their recent engagement.