Why Teens In Chicago Want To Stop This $95 Million Police Academy From Being Built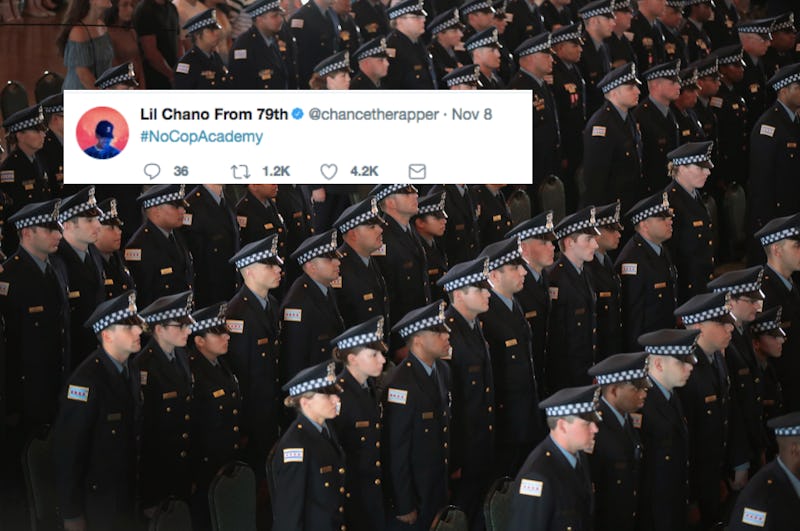 Scott Olson/Getty Images News/Getty Images
On Nov. 8, a Chicago City Hall meeting got an unexpected guest in Chance the Rapper, who argued against a proposed police academy in West Garfield Park — which will reportedly cost the city $95 million. The Grammy-award-winning rapper and other Chicago millennials are protesting the $95 million police academy IRL and with the hashtag #NoCopAcademy, asking why that money isn't being invested in public services like schools or mental health programs.
Jamie, a 16-year-old student who has attended Chicago Public Schools, tells Bustle that she's gone to "a low budget school which was difficult because of the limited learning supplies." She had to switch schools due to her school closing. She wants Mayor Rahm Emanuel "to invest more of his money into schools."
During his surprise appearance, Chance spoke in front of the council, delivering a short speech. "I guess the mayor had to step out when I walked in... but it's fine, I'll just speak to you: what are you doing? I've been asking for money for school[s] for years and now you have $95 [million] for a cop academy?" Twitter user @ForThePeopleChi reported. In addition to speaking at the meeting, Chance took to social media with #NoCopAcademy, alerting his nearly 7 million followers to the city's plans.
Despite activism from Chicago millennials, community members, and celebrities alike, city aldermen voted 48-1 to pay $10 million for 30 acres of vacant land for the academy on Nov. 8.
Mayor Emmanuel spoke specifically about the proposed project in a post-meeting press conference:
"All the aldermen on the West Side voted for this, because they understand — they have felt forgotten from the type of public investments that can spur economic growth. It will have its own value of safety for the entire city. It will have its own value of safety ... to the West Side. And it will be an investment in the kind of economic activity we want to see."
Chance responded to the mayor via Twitter:
Although Chance is one of the most famous people to come out against the Cop Academy, many other Chicago natives, especially young people, have been organizing against the proposed project long before the Nov. 8 City Hall meeting. Community members note that the $95 million that is proposed to go to the police academy could go other services that would directly help community members.
"Common sense isn't common when it comes to Chicago politics and decision making. The [money] can go towards jobs, education, and rebuilding the city's West side," LeMonica, a 25-year-old Chicago native, tells Bustle. LeMonica is also concerned with long-term implications of political decisions on the younger generation. "Chance the Rapper is speaking from experience for generations to come, the ones who have to grow up and live through the decisions of these people. It's a sad situation."
Kofi Ademola, a community organizer from Chicago, echos LeMonica's sentiments: "We are tired of money being spent on mass incarceration instead of community revitalization. We reduce violent crime by investing in mental healthcare, education, youth centers, restorative justice, and economic development. That's what the $95 million should be spent on," Ademola tells Bustle.
Politicians often focus on Chicago's gun violence as a symbol of the need for "law and order." On Nov. 7, Donald Trump falsely claimed that Chicago is a "city with the strongest gun laws in our nation" and it's "a disaster," according to ABC 7 Chicago. Proponents of the police academy believe that better training would help fix some of Chicago's police training inadequacies detailed in a report from the U.S. Justice Department and lead to improved crime statistics. The report found a pattern of of constitutional violations by police against residents.
Alderman Carlos Ramirez-Rosa, the only alderman to vote against the measure to pay $10 million for land for the police academy, rejects the idea that additional training will solve the issue of police brutality in Chicago. Speaking specifically about the officer who killed Laquan McDonald in 2014, Ramirez-Rosa told the Chicago Tribune that the officer needed "to be held accountable for his previous misdeeds. What he needed was the mental health to deal with the racism and the hatred that he felt in his heart."
It is still unclear how the city will find the $95 million to pay for the proposed police academy. What is clear, however, is that community members are making it known that they are not in favor of more money going to police instead of jobs, education, and mental health services.