Chance The Rapper Apparently Bought A Local News Site In Chicago For The Best Reason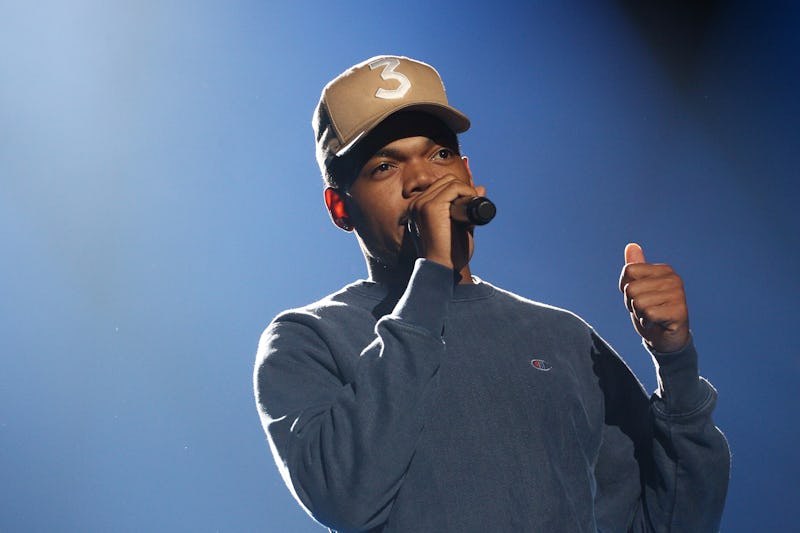 Tommaso Boddi/Getty Images Entertainment/Getty Images
Chance the Rapper revealed a surprise collection of four brand new songs on Thursday, which he dropped online overnight, and one of the songs in particular, "I Might Need Security," contained a major announcement. On one of Chance the Rapper's brand new tracks, he revealed that he has purchased the Chicago-based news site, Chicagoist. The musician broke the news on his song "I Might Need Security," rapping, "I got a hit-list so long I don't know how to finish / I bought the Chicagoist just to run you racist b*tches out of business."
According to The Hollywood Reporter, Chance's Social Media LLC bought Chicagoist from public radio station WNYC, which was part of the consortium that acquired the site, along with sister sites, Gothamist, LAist, and DCist. "I'm extremely excited to be continuing the work of the Chicagoist, an integral local platform for Chicago news, events and entertainment," the musician, who was born and raised in the Windy City, said in a statement, according to THR.
"WNYC's commitment to finding homes for the -ist brands, including Chicagoist, was an essential part of continuing the legacy and integrity of the site," he continued. "I look forward to re-launching it and bringing the people of Chicago an independent media outlet focused on amplifying diverse voices and content."
"We are delighted that the Chicagoist assets are finding a new home in the hands of a proud Chicagoan," Laura Walker president and CEO of New York Public Radio, of which WNYC is a part, said in a statement on Thursday, according to Variety. "WNYC has a strong commitment to local journalism and building community, and we are pleased that these assets will be used to support local coverage in the great city of Chicago."
In an interview with the Chicago Tribune published Monday, Chance said that he would release a new album, the highly anticipated follow-up to 2016's Coloring Book, before his performance at the Special Olympics on Saturday. "I'm excited for everybody to get that," he said. "It's going to come out just in time for the Special Olympics." However, he backtracked on Twitter on Tuesday, letting his followers know that the LP would not be coming out as soon as expected, but that he had been recording, writing, "Sorry no album this week, def been in the stu tho." Instead, Chance dropped a smaller collection of songs, including "I Might Need Security," as well as "Work Out," "Wala Cam," and "65th and Ingleside," and he announced his new venture with Chicagoist.
While the move into online journalism marks new territory for the rapper, his goals for the media outlet are very much in line with his past nonmusical endeavors, as he is an activist and has long used his platform to advocate for various issues. In 2017, he donated $1 million to Chicago public schools after funding was cut severely, stating at the time that "this isn't about politics, this isn't about posturing, this is about taking care of the kids." He also worked with young men of color as part of President Obama's My Brother's Keeper Campaign, a preventative criminal justice initiative. He also has a reputation for speaking up on behalf of minority groups, calling out issues like police brutality, and talking about mental health issues. He was even honored with the Humanitarian Award at the 2017 BET Awards for his efforts.
The rapper credits his interest in social justice to his upbringing, as he comes from a family of activists. "I guess activism is in my blood," he said in an interview with ABC 7 Chicago. "My great-grandmother marched with King, my grandmother had herself and all her children volunteer for Harold Washington. Like I said, it's a lot about responsibility and integrity,"
Though he drops plenty of truth bombs in his music and in interviews, there's no doubt that via an outlet like Chicagoist, Chance can continue to speak out and help tell stories about important issues in new ways.