Chance The Rapper Was Honored For His Activism At The BET Awards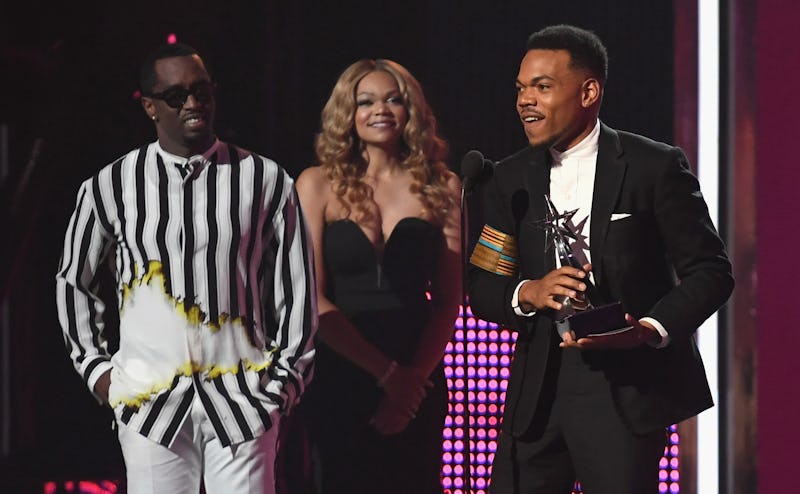 Paras Griffin/Getty Images Entertainment/Getty Images
I already think of him as one of the most lovable celebrities around, so I wasn't surprised that Chance the Rapper's BET Awards speech was thoughtful and upbeat. Honored with the Humanitarian of the Year Award for his impressive work to "positively [impact] both local and national communities," Chance's impromptu speech, which he said he didn't write because he "really wanted to see what would happen if I went up here and [spoke] from my heart," touched on both the work he's done so far and how he's hoping to do more in the future.
Chance has been outspoken about various issues, and has taken concrete action to affect change in different ways. During a press conference in early 2017, he announced that he'd be donating $1 million to Chicago public schools after massive funding cuts, reminding his audience and Illinois' governor, "this isn't about politics, this isn't about posturing, this is about taking care of the kids."
Additionally, Chance worked on President Obama's My Brother's Keeper Challenge, a criminal justice program hoping to reach young men of color. That's just one of many connections between Chance and the Obama family, and when Michelle Obama appeared at the BET Awards to introduce Chance's award, she said "we are so incredibly proud of you Chance. We have known Chance and his family since he was a wee little baby rapper... I am thrilled to celebrate you here tonight and honored to call myself your friend."
But when he's not seriously advocating for communities of color or repping his hometown, Chance can't help but speak up about other issues that touch his life. He's been open about mental health issues, and even something like taking joy in Chance's #OptimisticChallenge is a form of self-care. Even though he's only been famous for a few years, and is still an unsigned, independent artist, Chance has already had a major impact. Instead of talking about what he's already accomplished, though, Chance looked to the future at the BET Awards. "I'm 24, and to be receiving something like this at my age feels a little bit... It feels a little early to receive something like this, but my God doesn't make mistakes," he said.
This is the rapper's first trip to the BET Awards as a nominee or a winner, and in addition to the Humanitarian Award, Chance is nominated for four other awards: Best Male Hip-Hop Artist, Best New Artist (which he won before taking the stage for the Humanitarian of the Year Award), Best Collaboration (for "No Problem"), and Album of the Year (for Coloring Book).
But regardless of how Chance fares during the rest of the night, the BET Awards audience's response to his forward-looking speech shows the network and its audience notices and appreciates all of the great work he is doing to raise awareness and make a difference in the lives of his Chicago neighbors and all those being taken advantage of — he specifically noted that legalizing marijuana should mean letting drug offenders out of prison. In one particularly endearing moment, Chance took in the crowd's cheers, saying "I love black people. Gas me up! Gas me!" and ended his speech with "I'm a good man and I'm going to become a better man. I love you, I love you black people, I love you Mom!"
This recognition of Chance's selfless work was a tribute well-earned by the thoughtful young activist and musician.