Channing Tatum Paid Tribute To His Childhood Friend With A Very Emotional Tweet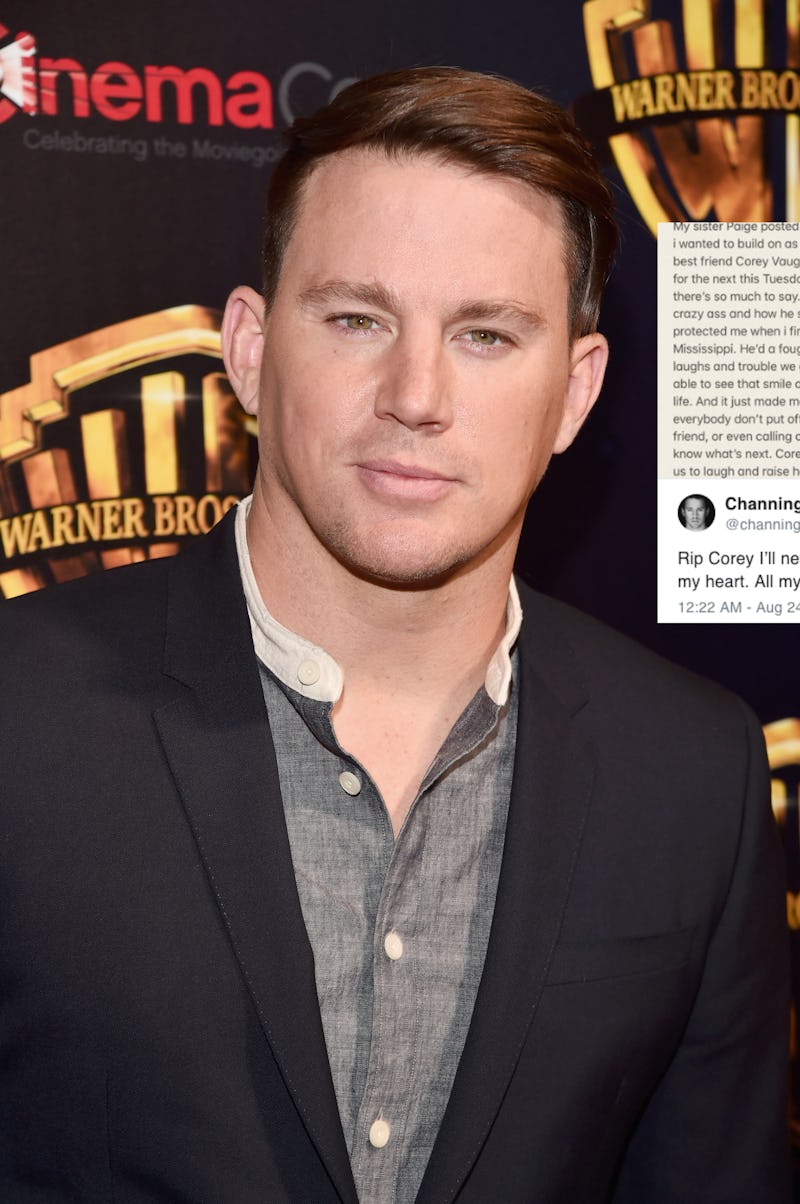 Channing Tatum just shared a beautiful message about his late friend on Twitter, and it might inspire you to give your friends and family a call. Tatum's tribute to his childhood friend is incredibly heartfelt, and it shows just how much the actor's pal meant to him.
In his Twitter message posted early Friday morning, Tatum wrote that his friend Corey Vaughn died on Tuesday. The Magic Mike star called Vaughn his "very first best friend," sharing a photo of the two of them wearing football uniforms as children. He wrote,
I'll never forget his crazy ass and how he stuck up for and protected me when I first moved to Mississippi. He'd a [sic] fought anybody. All the laughs and trouble we go in. I'll never be able to see that smile of his again in this life.
In the rest of his message, which he shared through a Notes app screenshot, Tatum reflected on what Vaughn's death has reminded him. The actor encouraged his followers to reach out to loved ones, because you never know what will happen:
It just made me need to remind everybody don't put off anything. Seeing a friend, or even calling or texting. You never know what's next. Corey would have wanted us to laugh and raise hell in his wake and have as much joy as anyone can make. He sure did. And I'll forever miss ya man. Love ya my brother.
Tatum's message about being in touch with friends and family is a good reminder for anyone. Regardless of what happens in the future, it's always good to be in contact with the people who are most important to you.
"Rip [sic] Corey I'll never forget your crazy ass. I love you with all my heart. All my prayers to your beautiful family," Tatum wrote in his tweet.
Fans replied to his message with stories of their own losses, and it's moving (though also heartbreaking) to see people coming together over their shared grief. "So very sorry for your loss. I lost my dad two months ago today. There's good days and sad days, but we carry on and we carry them with us," one person replied to Tatum's tweet.
"I know how you feel, I had a best friend that died in a car crash Christmas eve [sic] 2013, it hurts," another person wrote.
Other fans offered words of hope, saying that even though Vaughn isn't on earth anymore, Tatum will always have the memories they shared together. "He's not gone as long as you remember him and carry a piece of him in your heart and mind," one fan wrote.
Connection to other people is a huge part of what makes life great. And Tatum's post is a lesson in cherishing those connections. No one knows what the future holds, and it's always good to appreciate those around you. It sounds like Vaughn meant a lot to Tatum, and his message is a powerful reminder for fans to stay connected to their loved ones.