Charges Against Deputy Scot Peterson Focus On His Parkland Shooting Response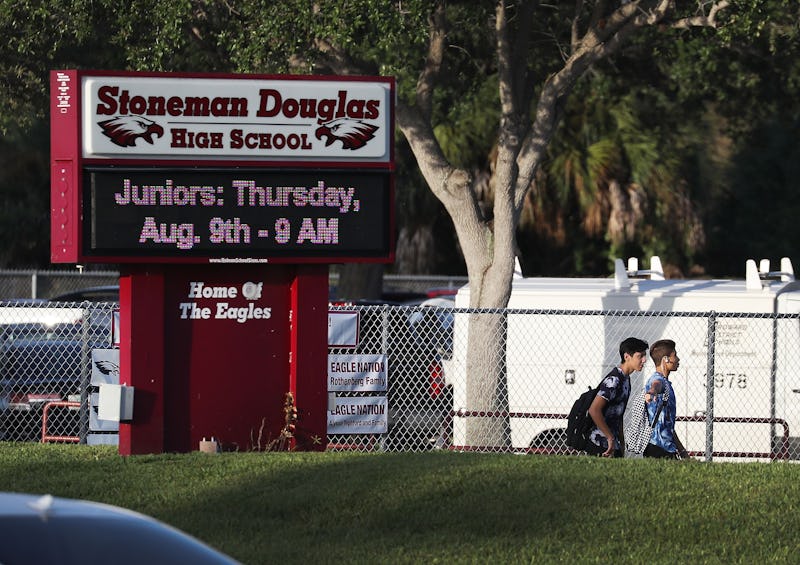 Joe Raedle/Getty Images News/Getty Images
A former sheriff's deputy was arrested on Tuesday in connection to his alleged inaction during the 2018 school shooting in Parkland, Florida, which left 17 dead. There are 11 criminal charges against former Deputy Scot Peterson in total. The charges range, but they all revolve around allegations that Peterson did not enter Marjory Stoneman Douglas High School when shots rang out, even though he was an armed school resource officer at the time, and that his inaction directly impacted the extent of the tragedy.
The charges against Peterson include neglect of a child, culpable negligence, and perjury, according to The New York Times. On Tuesday, Peterson's lawyer, Joseph DiRuzzo III, emailed Bustle a letter addressed to the "South Florida Community & the American Public" demanding the charges be dismissed. In it, he argues that the authorities charging Peterson are taking "unprecedented action." He said in part,
We will vigorously defend against these spurious charges that lack basis in fact and law. Specifically, Mr. Peterson cannot reasonably be prosecuted because he was not a "caregiver" ... Indeed, the definition of "other person responsible for a child's welfare" expressly excludes law enforcement officers acting in an official capacity. Further, Mr. Peterson was not criminally "negligent" in his actions as no police officer has ever been prosecuted for his/her actions in responding to an active shooter incident.
In a statement following Peterson's arrest, Rick Swearingen, the commissioner for the Florida Department of Law Enforcement, said,
The FDLE investigation shows former Deputy Peterson did absolutely nothing to mitigate the MSD shooting that killed 17 children, teachers and staff and injured 17 others. There can be no excuse for his complete inaction and no question that his inaction cost lives.
After the shooting, Peterson announced his retirement. However, new Sheriff Tony Gregory announced Peterson's termination on Tuesday, according to CNN; this could affect Peterson's pension.
In the past, Peterson has given interviews about his role and experience in the Parkland shooting. In an interview with Today in June 2018 (as seen above), he said,
I know I didn't violate any policy or procedure [that day]. I've been with the agency 32 years. I know the policies, I know the procedures. I communicated right on that scene. I did everything that I felt at the time was appropriate.
He also acknowledged how he felt, emotionally, about that day, saying "This will haunt me for the rest of my life...those were my kids. So that's why it hurts the way it does." In response to previous statements made by authorities that Peterson clearly knew a shooter was in the building at the time, Peterson replied, "Not true. It's not true."
Peterson said later on in the interview,
If I knew everything, I would've been in there and engaging that shooter. And you know what... [maybe] I would have shot him [or] he would've shot me. I don't know the 'what ifs', but it's been hard... [but] it's nothing compared to what these families went through. They lost their kids...you know, I'm alive...if you're a police officer, if you're [called] a coward, that's the worst label you could have as a police officer. And it's just not true.
Already, parents of Parkland students killed in the shooting have spoken out amid the news of Peterson's arrest. Per CNN, Ryan Petty, the father of slain student Alaina Petty, said, "Peterson failed in his duty to protect lives that day, standing behind a cement pillar for 48 minutes while students and teachers were slaughtered." He continued, "After a year of in-depth investigation, I am pleased that the (state authorities) have brought formal charges against former deputy Scot Peterson."
This report has been updated.