Here's Why People Are So Angry About 'Charlie Hebdo's Latest Cover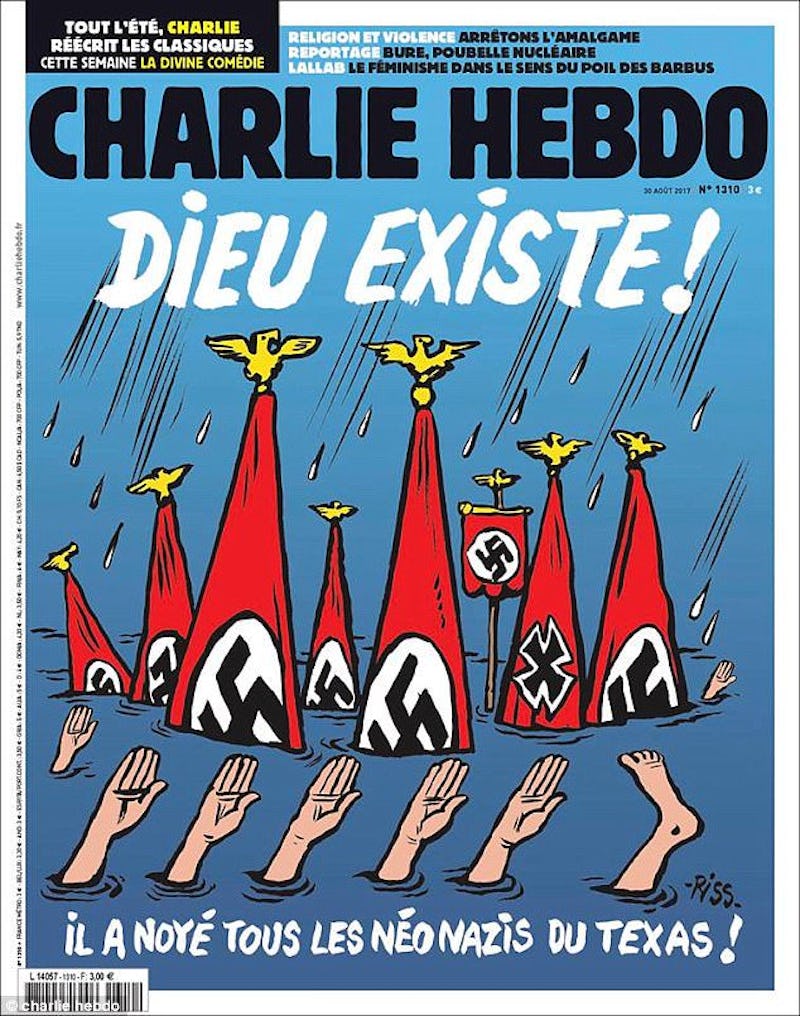 Charlie Hebdo
French satirical magazine Charlie Hebdo is not new to controversy. The publication frequently pokes fun at current events, and when those events are tragic, its writers and cartoonists toe the line between commentary and distasteful ridicule. This week, the new Charlie Hebdo cover depicts Texans as neo-Nazis, appearing to satirize their death by Hurricane Harvey.
The cover is illustrated by partly-submerged swastika flags and people giving the Nazi salute while drowning, and its text reads: "God exists! He drowned all the neo-Nazis of Texas." Obviously, this did not go over well.
At least 38 people died because of Hurricane Harvey so far, according to reports from local authorities. Houston has experienced around 50 inches of rain since Harvey touched down in Corpus Christi, Texas, as a Category 4 hurricane last week. The total destruction of the hurricane will be assessed in the coming months, but due to the level of flooding, many residents will see lasting damage.
People called Charlie Hebdo's cover "evil," "despicable," and called the staff "losers," according to The Washington Post. Piers Morgan said on Twitter, "This Charlie Hebdo cover on the Houston disaster is, even by their standards, absolutely disgusting."
Paul Joseph Watson, Infowars' editor-at-large, called the cover "offensive [and] dumb." However, he and many others also defended Charlie Hebdo's freedom to publish an offensive and dumb illustration. He tweeted, "I fully support their rights to be as offensive [and] dumb as they like."
While many weren't happy about the cover, some implored them to remember how the world came to the newspaper's aid in 2015 when Charlie Hebdo's Paris' office was attacked by gunmen. Two gunmen killed 12 Charlie Hebdo staffers in the attack, including several cartoonists, according to The Hill. The gunmen reportedly carried out the attack because the outlet published a cartoon of Prophet Muhammed, whose human image many Muslims oppose being depicted.
After the attack, Americans took up the slogan "Je suis Charlie," which translates to "I am Charlie," in support of the outlet that regardless of the content they published, they had the right of freedom of speech to publish it. But that doesn't mean they have to agree with it.
Rather than supporting America in this devastating flood, Charlie Hebdo took a stab at the political and racial tensions in the country by suggesting victims of the hurricane are neo-Nazis and celebrating their downfall.
Charlie Hebdo also recently featured a cartoon of British Prime Minister Teresa May decapitated, according to Fox News. The outlet also linked a deadly terrorist attack in Barcelona — in which a man drove a van onto the sidewalk, injuring pedestrians — to Islam.
It's not likely that Charlie Hebdo will tone down the political commentary anytime soon given their history of controversial content, but the response of the communities their words affect shouldn't be ignored.