Charlize Theron Just Debuted Short, Brown Hair At The Oscars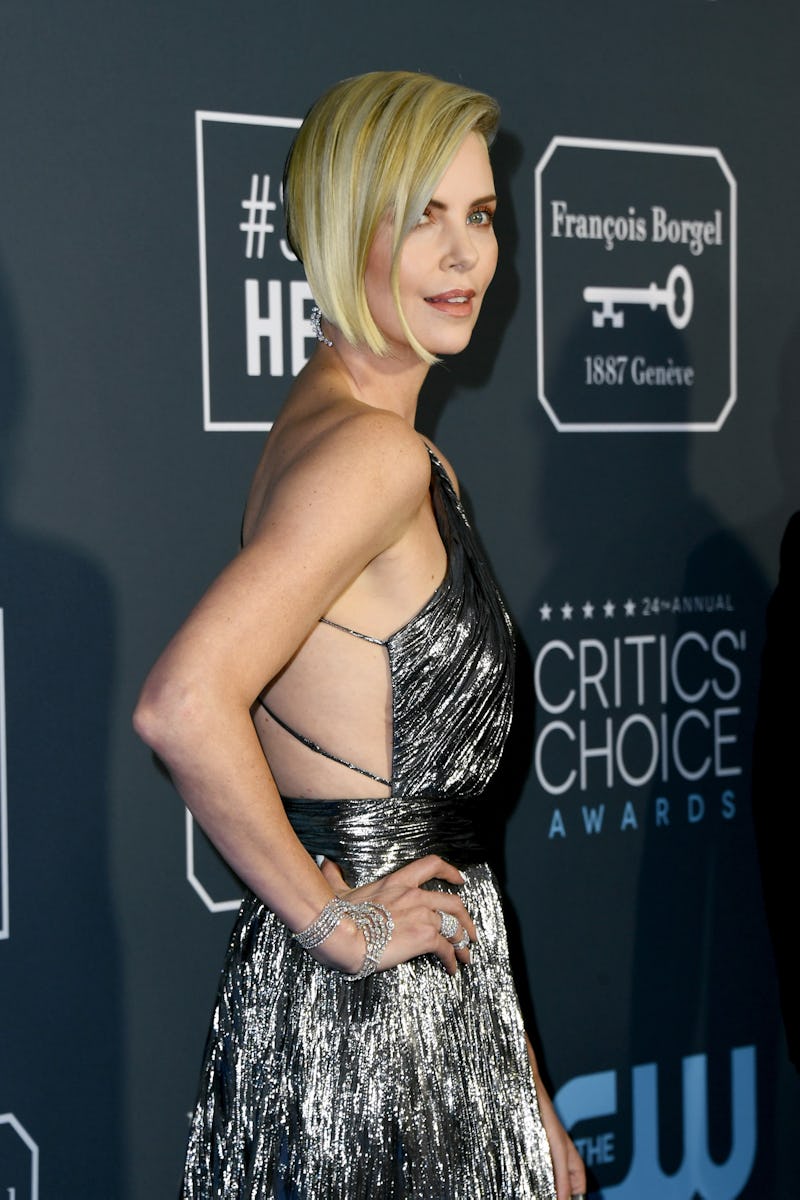 Jon Kopaloff/Getty Images Entertainment/Getty Images
It's been a minute since Charlize Theron drastically changed her hair color. The gorgeous actor has been quite adventurous with her cuts in the past, even rocking a shaved head for her badass role in Max Max: Fury Road. Charlize Theron debuted a short, dark brown bob at the 2019 Oscars and the rich shade looked absolutely amazing on her. The color was an excellent complement to her short, sharp 'do.
Theron, who picked the Academy Award for Best Actress for her work as serial killer Aileen Wournos in Monster back in 2004, looked radiant in a periwinkle blue dress with long sleeves and a straight, column shape.
Her newly-brunette hair was a warm and beautiful contrast to the cool and soft shade of her dress. Theron's chin-length, head-hugging bob was parted in the center, with one side tucked behind her ear and showing off her statement earrings in the process.
Theron has been committed to her signature golden blonde shade for quite some time and was seen with it as recently as the 2019 Critics' Choice Awards. She was rocking a bob with some mini braids at that event. The short length has been familiar but she totally changed things up with the hue.
Her new, chestnut strands will remind you of that time she rocked a black bob as the titular character in Æon Flux.
The dress was simple yet sophisticated, and allowed Theron's snake-like necklace and her brown bob to be the focal points of her look. Her coral lips provided a lovely pop of color, too.
Theron's hair wasn't the only dramatic element of her Oscar look, though. Her gown had a completely open back. The construction provided a "Wowza!" contrast, since she was fully covered up in the front.
Upon closer inspection, Theron's blunt bob had a bit of bend and texture. It was a subtle touch and added a little depth to her chocolate-colored 'do.
Flashback to that time Theron had black hair and and an angled bob.
Theron isn't the only Hollywood A-lister swapping out light strands for dark ones as of late. Emma Stone has been sporting darker locks, while Emma Roberts just went back to brunette. This tress trend is certainly catching on.
Theron's stylist Adir Abergel told US Weekly that his client didn't change her hair for a role, as one might expect. Rather, she did it expressly for the Oscars. He said she is "incredibly fearless" and "willing to experiment" and they opted for this shade because it would be a contrast to her eye color and "pop everything out." He also cut her a hair a bit shorter and so that it hits slightly above the chin.
Theron had fun with her bob at the 2019 Critics Choice Awards in January. The deep side part brought all of the drama.
From this perspective, you can see some silver highlights woven through Theron's hair. Clearly, she has been playing up her coif with lots of cool and unusual flourishes as of late. Here's hoping that the fearless beauty sticks with these brown locks and experiments with new ways to style them.