What Mike Pence's Daughter Said About John Oliver Spoofing Her Book Will Surprise You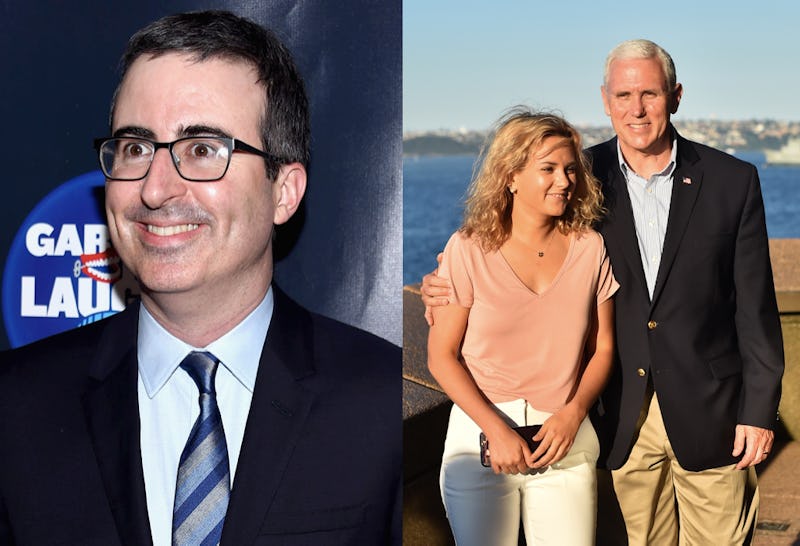 Dimitrios Kambouris/Getty Images Entertainment; Pool/Getty Images News/Getty Images
The Pence family has a pet bunny named Marlon Bundo — or BOTUS, for short — who is currently the subject of two best-selling children's books on Amazon. Vice President Mike Pence's daughter wrote one of them; the other is a parody written by comedian and late show host John Oliver. And Charlotte Pence, Bundo's owner and the author of the original book about the bunny, says she's OK with it.
"I mean, I think, you know, imitation is the most sincere form of flattery in a way," Charlotte told Maria Bartiromo on Fox Business Network on Tuesday. "But also, in all seriousness, his book is contributing to charities that I think we can all get behind. We have two books giving to charities that are about bunnies so I'm all for it really."
As of Tuesday evening, Oliver's book about the BOTUS, Last Week Tonight with John Oliver Presents a Day in the Life of Marlon Bundo, is sitting atop Amazon's best seller list. Charlotte's book, which aims to teach children about the U.S. vice presidency, is currently fourth.
On Sunday, Oliver announced on his show that he would be releasing a children's book about Bundo just a day before Charlotte's was slated to come out. On his show, he suggested that he would have left the book's publication alone, had he not noticed that there was a book tour which included a stop by the Focus on the Family headquarters.
Focus on the Family is an Evangelical policy institute which sells a slew of hyper-conservative Christian media. Like many fundamentalist Christian groups, they believe homosexuality is a sin. On their website, they describe LGBTQ people as "men and women who suffer confusion and struggle with sin with regard to their identity, attractions and behavior."
Oliver's response to all of this was to write a children's book about Bundo that he hoped would irritate Mike Pence. "Small differences between the two books," Oliver said on his show Sunday. "Our story is about Marlon Bundo falling in love with another boy rabbit because our Marlon Bundo is gay, just like the real Marlon Bundo."
Oliver's show included a small preview of the book, shared as a cartoon. It featured the main character, Bundo, and showed him meeting another boy bunny, whom he spends his whole day with. At the end of the day, the two decide that they don't ever want to be apart, and that they want to get married.
Little hearts surround their heads until the leader of their garden, a stink bug with a severe white haircut, tells them that boy bunnies are not allowed to marry other boy bunnies. Bundo and his companion are sad, but reveal that they have concocted a plan with the rest of the animals who live in their garden. Their plan, presumably, is the rest of the story.
"This is a real children's book," Oliver emphasized. "This is a sweet story about Marlon Bundo falling in love." Proceeds from the book will go to The Trevor Project and AIDS United, Oliver explained on his show. The Trevor Project provides counseling to LGBTQ folks in crisis; Aids United fights against AIDS in the United States.
Vice President Pence has a storied history of butting heads with the LGBTQ community, and his beliefs about gayness and gay rights have long been a magnet for criticism. Karen Pence, who illustrated the book, did not say anything when her daughter said she was OK with Oliver's parody.
Focus on the Family's head, Jim Daly, responded to Oliver's segment in a blog post:
In particular, the host took issue with our belief that those with unwanted same-sex attraction should be free to pursue counseling, if that is their desire. Of course, millions of Christians and even non-Christians hold to this standard, but Mr. Oliver disagrees and his seething reaction to our ministry's position was palpable.
Daly also invited Oliver to attend the book tour event, which takes place on Monday, March 6.