I Did A Full Face Of Makeup With $1 Products & The Results Shocked Me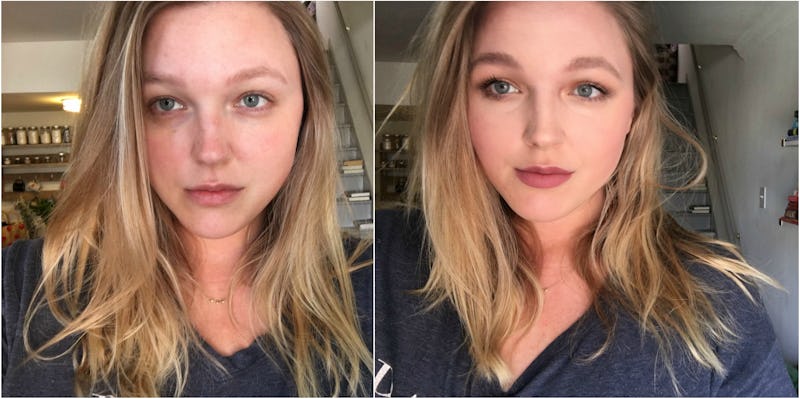 Courtesy Olivia Muenter
Finding a way to save money while shopping for makeup is something that all of us can agree is pretty wonderful. However, when it comes to coating your face in product, sometimes the dirt cheap products can cause some hesitation. [While I'm all for a super low-cost eye shadow or brow pencil, the idea of putting $1 foundation or concealer all over my face was still a little disconcerting when I decided to do a whole face of makeup with $1 products from Miss A. In my mind, a lower cost is associated with lower quality, synthetic ingredients, AKA stuff that isn't as good for your skin as natural ingredients. Still, though, if $1, safe makeup is out there and there's even a small chance it could be good, I figured it was worth a shot.
I went with Miss A as opposed to another brand as the site is known for having a massive selection of products — all of which include 100 percent FDA-approved ingredients and cruelty-free practices.
I decided to recreate my usual everyday full face makeup look including primer, foundation, concealer, setting powder, blush, bronzer, highlighter, eye shadow, brow pencil and gel, lipstick, and lip gloss. Every single thing, including the brushes and the makeup sponge were $1. And while some products were better than others, I was incredibly impressed with the results.
I started with a bare face and the AOA Wonder Skin Poreless Face Primer, which is one of the best selling items on the site. To be honest, this was one of the products I was most afraid of using given that it was going to be in direct contact with my entire face, where as everything else would have a barrier because of the primer (like the foundation) or only be in a few areas (blush, bronzer). I've had some bad experiences with primers of many price points in the past, as well, which added to my hesitation. However, it felt exactly like any other silicone-based primer I've tried. It didn't feel greasy, either, which is always a plus when it comes to primer in my opinion.
Next up was the biggest surprise of this whole experience: The $1 foundation actually worked. Now, I won't say that putting this on my face felt like the most luxurious makeup experience I've ever had, but using a damp makeup sponge from the site (this particular one is actually $1.55, but the proceeds go to charity) the Flawless Liquid Foundation (I used the lightest shade available) actually blended pretty well. While it did sink into my pores a tiny bit, when I added the AOA Wonder Cover Concealer (I used the shade porcelain) and then the AOA Perfect Setting Powder (in translucent), my complexion smoothed. The concealer, while not as creamy or blendable as the foundation, was surprisingly high coverage and absolutely a product I would use again.
Here I am with just primer, foundation, and concealer.
After foundation, concealer, and setting powder I moved on to my usual everyday full-face steps. For bronzer and a light contour, I used the Face + Body Bronzer Highlighter in shade summer time, which is currently sold out (but the site has plenty of similar options available). This little bronzer offered a bit of highlight with every swipe, and a surprising amount of pigment for a $1 palette. Another pleasant surprise. Next up was the Rose Cheek Pop Blush in Amber, which was also quite nice. It was smooth and even more pigmented than the bronzer. The rose design was a nice touch, too. For highlighter, I used the AOA Wonder Baked Highlighter in Cupcake. This option was fine but I had to use a lot to get it to show up on the skin.
Here I am thinking about how I should have chosen a different brow pencil shade.
At this point, things started to go downhill just a tiny bit. The brow pencil and brow gel, though amazing in quality (some of my favorite items in the whole bunch), was a slightly off shade for me. And the smokey shadow trio was just not the level of pigment I needed for blending. In retrospect, I think I could have added some setting spray or water to the pigment and gotten a more saturated color, but in terms of using it as is, it was definitely my least favorite item in the bunch. I did, however, use the lightest shade for extra highlight in the inner corners of my eye, cupid's bow, and brow bones.
Here is my final look, including the wonderful matte lipstick.
While those items weren't my favorite, the AOA Wonder Matte Liquid Lipstick restored my faith in $1 products. This stuff is absolutely mind-blowing and absolutely as good as any other expensive liquid matte lipstick I've tried. It dries quickly without leaving the lips cakey, and doesn't budge for hours. I used the shade tease and was super impressed by the final look. Forget dropping $10 or even $20 or $30 on a matte lipstick. Simply buy this product in every shade, and you'll be set.
Swipe to see the before and after.
I finished the look with a couple swipes of the Amuse Waterproof Mascara, which did the trick. In terms of mascara, I'm personally not very picky, so knowing there is a truly waterproof option that's only $1 is a definite game-changer.
I wore this face of makeup for about five hours, and everything wore well over time. I was hyperaware that I was wearing ingredients and products my skin wasn't used to, though, and I did have some minor breakouts in the days after using the products, to be fair. However, as a beauty editor who is trying products daily, it's hard to say whether this was directly caused by the makeup or something else I tried in the past week. While I won't be swapping out my expensive eye shadow palettes for $1 versions anytime soon, my mind has officially been changed when it comes to lipstick, concealer, and brow products. Affordable makeup doesn't have to be scary — and, in fact, it can be kind of fun.