Chelsea Clinton Is Not OK With Any Woman Being Called A "C*nt" — Including Ivanka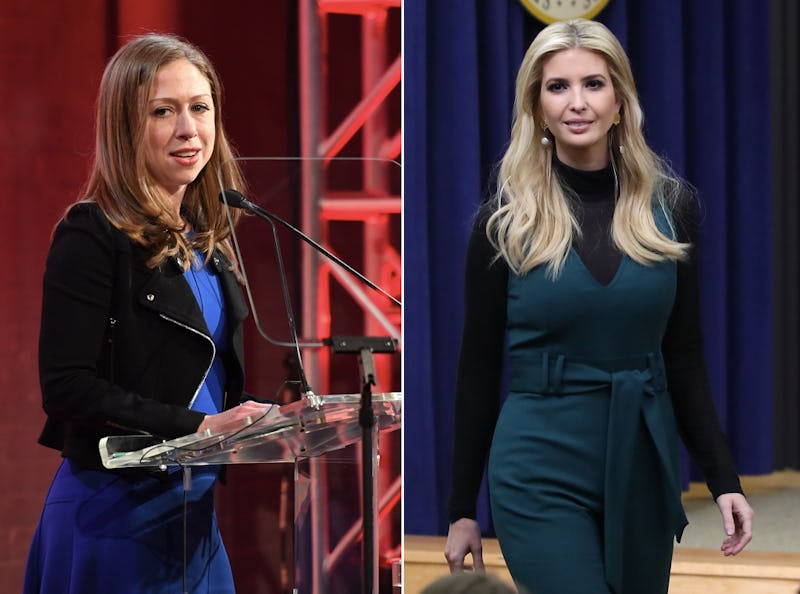 Dimitrios Kambouris/Getty Images Entertainment; Mark Wilson/Getty Images News/Getty Images
For America's former first daughter, no woman should ever be called vulgar names, regardless of her political affiliation. On Thursday, Chelsea Clinton defended Ivanka Trump against Samantha Bee calling her a "c*nt" on her show, tweeting that it was "grossly inappropriate" to talk about any woman that way.
"It's grossly inappropriate and just flat-out wrong to describe or talk about Ivanka Trump or any woman that way," Clinton tweeted, in response to a question from Breitbart's White House correspondent, Charlie Spiering, about the remark.
On Wednesday night, Bee had slammed Trump for tweeting a photo of herself and her toddler amid reports of immigrant children being separated from their parents. "Ivanka Trump, who works at the White House, chose to post the second-most oblivious tweet we've seen this week," Bee said. "You know, Ivanka, that's a beautiful photo of you and your child, but let me just say, one mother to another: Do something about your dad's immigration practices, you feckless c*nt! He listens to you! Put on something tight and low-cut and tell your father to f*ckin' stop it."
The backlash brewed overnight. Conservatives criticized Bee for her comment, including White House Press Secretary Sarah Huckabee Sanders, who called it "vile and vicious."
In a statement on Thursday, Bee apologized. "I would like to sincerely apologize to Ivanka Trump and to my viewers for using an expletive on my show to describe her last night," Bee said. "It was inappropriate and inexcusable." Bustle has reached out to TBS, the network that runs Bee's show, for further comment.
Shortly after Bee's apology went up, TBS followed up with a statement in which the company said, "Samantha Bee has taken the right action in apologizing for the vile and inappropriate language she used about Ivanka Trump last night. Those words should not have been aired. It was our mistake too, and we regret it."
The backlash from conservatives includes some calling on TBS to cancel Bee's show. "The language used by Samantha Bee last night is vile and vicious. The collective silence by the left and its media allies is appalling," Sanders said in her response. "Her disgusting comments and show are not fit for broadcast, and executives at Time Warner and TBS must demonstrate that such explicit profanity about female members of this administration will not be condoned on its network."
It's unclear what Sanders is referring to when she said the "left" but it may presumably be related to the recent criticism leveled at Roseanne Barr for her recent racist tweet. On Tuesday, Barr called former President Barack Obama's senior adviser Valerie Jarrett the child of Muslim Brotherhood and Planet of the Apes.
ABC subsequently canceled Roseanne; its entertainment president Channing Dungey stated, "Roseanne's Twitter statement is abhorrent, repugnant and inconsistent with our values, and we have decided to cancel her show." On social media, thousands of Twitter users condemned Barr's tweet, which she deleted shortly after publishing it.
Later on, Barr tweeted an apology: "I apologize to Valerie Jarrett and to all Americans. I am truly sorry for making a bad joke about her politics and her looks. I should have known better. Forgive me — my joke was in bad taste." Still, Barr has been on a retweet-spree, sharing tweets from people calling her a "phoenix" and shielding her from the apparent "psycho left."
Shocking as it may be to hear a comedian call a White House official a "c*nt," Bee is no stranger to the word itself. As The Daily Beast reported, Bee has been called a "c*nt" by her trolls in the past. But it won't be the first time that Clinton has come to the defense of a Trump daughter or son. In the past, she defended Barron Trump against a Daily Caller article that criticized his clothes. Back then, Clinton tweeted, "It's high time the media and everyone leave Barron Trump alone, and let him have the private childhood he deserves."
With Bee's commentary on Wednesday night, it's no surprise that Clinton is putting political affiliations aside to support the first daughter.