Chelsea Clinton Is Releasing A Picture Book!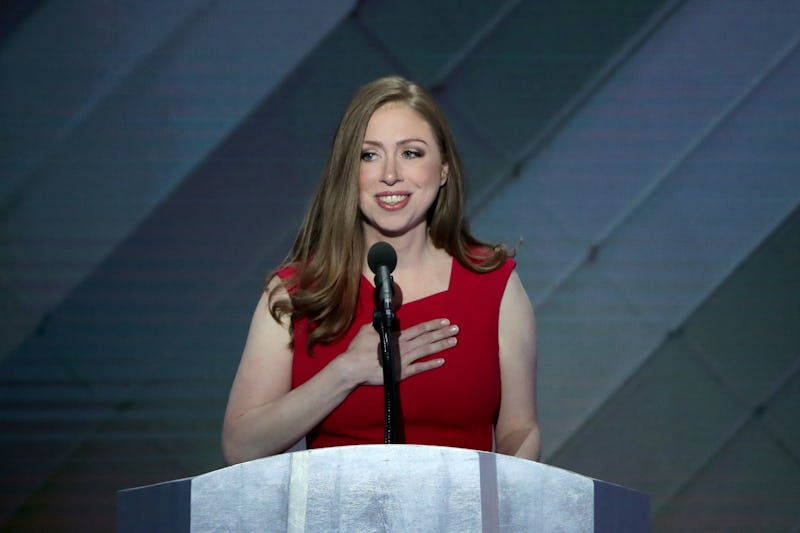 Alex Wong/Getty Images News/Getty Images
It looks like the Clinton family is taking the publishing industry by storm in 2017. While Hillary Clinton set to publish a new book of essays detailing her experience during the 2016 election season, Chelsea Clinton is dropping a new picture book titled She Persisted... and can we just take in that title for a minute? Due out May 30, the book celebrates strong, inspirational women who have embodied the spirit of persistence throughout American history.
"She Persisted" became a rallying cry for women throughout the world back in February 2017 when Senate majority leader Mitch McConnell prevented Elizabeth Warren from finishing a speech in which she invoked the words of Coretta Scott King. McConnell later remarked: ""She was warned. She was given an explanation. Nevertheless, she persisted." Of course, that wasn't the first time a man had spoken out against a strong, passionate, persistent woman and the internet took notice. Memes popped up everywhere juxtaposing the quote with photos of women like Rosa Parks, Malala Yousafzai, and Hillary Clinton...and the Persisterhood was born.
Also inspired by Elizabeth Warren's refusal to be silenced in the Senate, She Persisted introduces burgeoning feminists and activists to thirteen American women including Harriet Tubman, Helen Keller, Ruby Bridges and Sonia Sotomayor—women who never took no for an answer and in doing so changed the course of history.
"I wrote this book for everyone who's ever wanted to speak up but has been told to quiet down—for everyone who's ever been made to feel less than," Chelsea Clinton says. "The thirteen women in She Persisted all overcame adversity to help shape our country—sometimes through speaking out, sometimes by staying seated, sometimes by captivating an audience. With this book, I want to send a message to young readers around the country—and the world—that persistence is power."
The Clinton women have long been examples of hard work, passion and dedication in the face of adversity, so we can think of no one better to pen this book, which will also feature illustrations by celebrated children's book author Alexandra Boiger. We can't wait to grab a copy for some of the awesome kids in our lives...and maybe some for the grown-ups, too.