Jeff Sessions Joked About Family Separation & Chelsea Clinton Shut It Down ASAP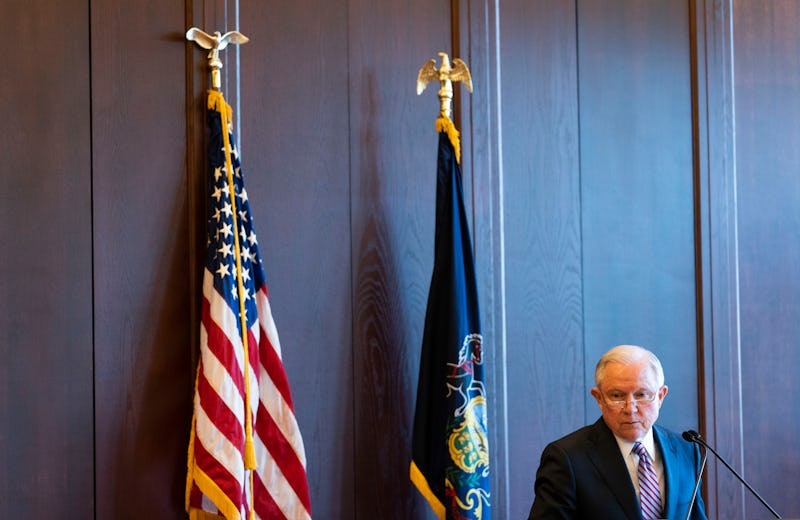 Jessica Kourkounis/Getty Images News/Getty Images
It seems pretty obvious: don't make jokes about situations in which people are suffering. The public usually does not react well to them. Still, these types of gaffes continue to happen on a regular basis. But this time, one instance caught the attention of a former first daughter. On Tuesday, Chelsea Clinton responded to Jeff Sessions' family separation joke during his speech to a Los Angeles group.
Sessions was speaking to a conservative criminal justice organization, according to The Hill, when the 71-year-old attorney general dropped the joke while he was denouncing Democrats for what he perceived to be hypocrisy on border security and immigration policy.
"The rhetoric we hear from the other side on this issue – as on many others – has become radicalized," Sessions said. "We hear views on television today that are on the lunatic fringe, frankly. And what is perhaps more galling is the hypocrisy. These same people live in gated communities, many of them, and are featured at events where you have to have an ID to even come in and hear them speak. They like a little security around themselves."
"And if you try to scale the fence, believe me, they'd be even too happy to have you arrested and separated from your children," he continued, as the crowd laughed and applauded.
Clinton responded with a scathing tweet that characterized his joke as indecent and uncivil, referencing the civility debate that erupted after Trump administration officials had their meals disrupted or service refused by staff. It's a battle that's pitted those who argue we should always be civil (likeThe Washington Post staff) against those who believe the Trump administration should be challenged in all public spaces. Maxine Waters, a senior Democratic lawmaker from California, has even called for public confrontations.
The joke didn't land too well either on Twitter. One reporter pointed out that the joke wasn't a mistake or spur-of-the-moment flub.
The comment was pre-planned and written into Sessions' speech to the Criminal Justice Legal Foundation, according to a Justice Department release. NBC News reported that the speech was made at the Millennium Biltmore Hotel in downtown Los Angeles during the foundation's annual luncheon, which was composed of mostly white, older attendees.
"They want borders in their lives but not yours and not the American people's lives," Sessions said, referring to critics of the Trump administration, according to NBC News. "This is why the American people are sick of the lip service and the hypocrisy. They are sick of the politicians who abandon their promises as soon as the mainstream media criticizes them."
While Sessions appealed to the conservative crowd, a small protest brewed nearby. NBC reported that about two dozen people demonstrated outside of Los Angeles' downtown federal building, just a few streets away from where Sessions was speaking. The protesters, chanting against Sessions as well as President Trump's policies, were eventually arrested after being accused of blocking traffic in what a Los Angeles Police Department officer called an "act of civil disobedience," according to NBC News. The protesters were reportedly cited on a misdemeanor allegation of failing to disperse but were later released.
As of Tuesday, 2,047 children have not yet been reunited with their parents, according to the Department of Health and Human Services, CBS News reported. Health and Human Services officials also would not reveal whether the department was still adding more children to its facilities because of the child separation policy, though at least 552 children have been put back with their parents again since Trump announced his executive order last week, NBC reported. It's a crisis that has prompted anxiety and analysis into the long-term mental health effects of childhood separation, an issue that's certainly no laughing matter.