Chelsea Clinton's Sweden Tweet Comes With Shade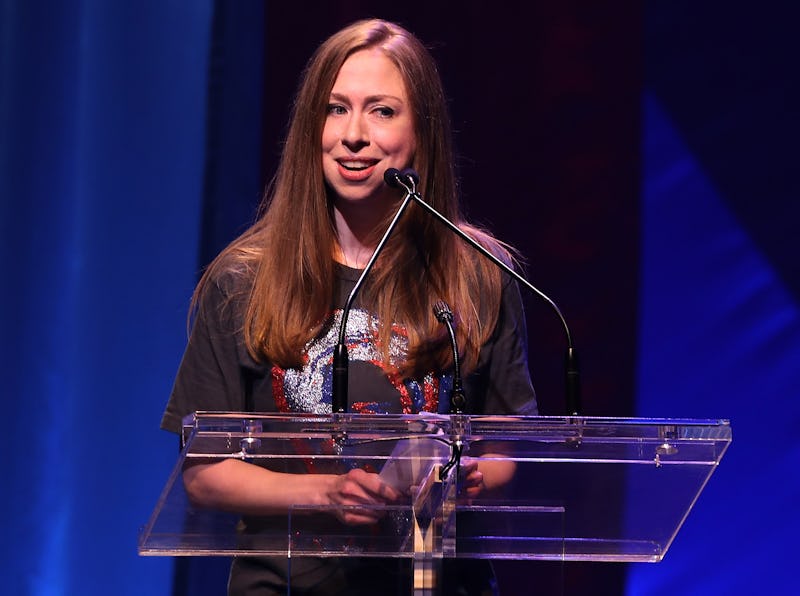 Justin Sullivan/Getty Images News/Getty Images
At a rally in Melbourne, Florida, Saturday, Donald Trump seemed back to his old self from the campaign. In fact, he literally told reporters, "Life is a campaign," before addressing the crowd. He was working to energize his supporters and vilify the press with the end goal of "making America great again." But plenty didn't make sense. Take his remarks on Sweden and what had "happened there" as an example. What was he even talking about? Well, Chelsea Clinton's Sweden tweet was the perfect response to Trump — and on alternative facts in general.
Trump's initial comments about Sweden almost immediately raised eyebrows. Trump was talking about refugees when he brought up our Swedish friends. "You look at what's happening last night in Sweden. Sweden? Who would believe this? Sweden. They took in large numbers. They're having problems like they never thought possible," Trump said. But that caused great confusion, because nothing of note had happened the night before in Sweden.
So, what did Chelsea Clinton have to say? On Sunday, she threw a fair bit of shade at Trump, bringing up another not actually accurate anecdote from a key member of his team, Kellyanne Conway. "What happened in Sweden Friday night? Did they catch the Bowling Green Massacre perpetrators?" Clinton sent out on Twitter early Sunday.
While speaking with MSNBC's Chris Matthews to defend Trump's travel ban earlier this month, Conway said that people may have been unaware that President Obama "had a six-month ban on the Iraqi refugee program after two Iraqis came here to this country were radicalized and they were the masterminds behind the Bowling Green massacre."
The big problem there, just like in Sweden, there was no massacre.
Now, with Bowling Green there were two people arrested for attempting to assist al Qaeda — albeit overseas, not in Bowling Green, and, thankfully, no attack came to fruition (hence no massacre). Literally nothing happened in Sweden, as the county's official Twitter account shared with the world after Trump's rally.
Trump explained later that he was referencing a story that he had seen on Fox News. "My statement as to what's happening in Sweden was in reference to a story that was broadcast on @FoxNews concerning immigrants & Sweden," the president tweeted Sunday night. Not the best explanation.
Clinton's one of the many calling it like it is — and with so many false narratives out on the loose — it's important that people like Clinton are calling Trump and his people out.