Chelsea Clinton Is Clapping Back At Everyone Dragging Donald Trump Jr.'s Kids Into The Drama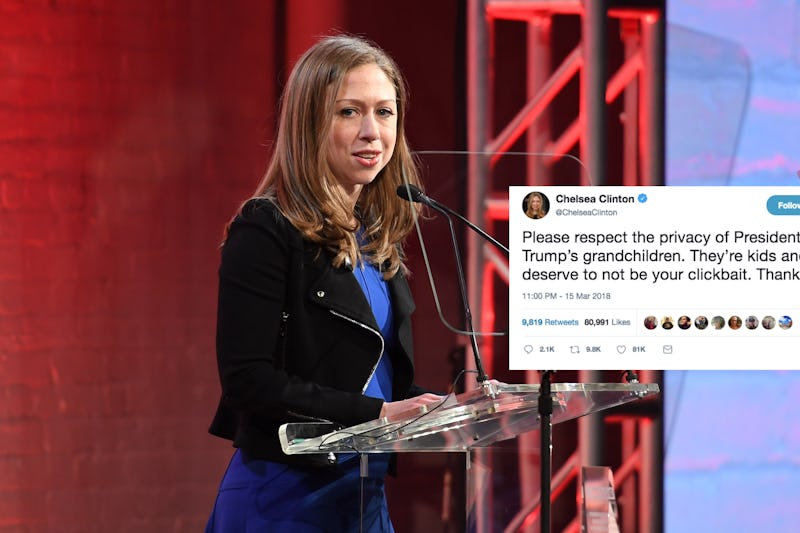 Chelsea Clinton has long been an advocate for first children targeted by the media. She did just that after reports surfaced Thursday that Donald Trump Jr. and his wife, Vanessa, had filed for divorce. In a tweet, Clinton defended the privacy of President Donald Trump's grandchildren.
Responding to rumors that Trump Jr. and his wife were seeking a divorce, Clinton wrote on Twitter, "Please respect the privacy of President Trump's grandchildren. They're kids and deserve to not be your clickbait. Thank you." The couple later confirmed on Thursday they have filed for divorce.
Clinton's immediate focus on keeping children out of the media's sights recalled her reaction to public comments made about President Trump's youngest son, Barron Trump, after his father's inauguration. Following a spate of mean-spirited remarks targeting the then-10-year-old, Clinton had a message on Twitter: "Barron Trump deserves the chance every child does-to be a kid."
Clinton came to Barron's defense a second time, after a writer took aim at the 11-year-old's outfit. At The Daily Caller, Ford Springer criticized Barron's casual attire, writing, "The youngest Trump doesn't have any responsibilities as the president's son, but the least he could do is dress the part when he steps out in public."
Once more, Clinton took to Twitter. "It's high time the media [and] everyone leave Barron Trump alone [and] let him have the private childhood he deserves," she wrote, linking to Springer's article.
Clinton is familiar with the consequences of being a child in the spotlight. While her father, was president, Clinton was the target of an attack by Rush Limbaugh that is widely regarded as one of the cruelest hits on any first child. During a 1992 broadcast of his television program, Limbaugh implied Clinton, at the time just 12 years old, could easily be mistaken for the family's dog. Eric Hananoki and Ben Dimiero outline the segment at Media Matters.
After that segment, Limbaugh retold a story about apologizing to Amy Carter, the daughter of President Jimmy Carter, for calling her "the most unattractive presidential daughter in the history of the country." His crew then put up a picture of Millie, the Clintons' dog, in an intentional mistake — the picture was supposed to be of Clinton. The implication was clear.
Clinton and Barron are not the only presidential children to be hit with media attacks. In 2010, conservative host Glenn Beck mocked Malia Obama's intelligence. She was just 11 years old at the time.
And a congressional staffer resigned after posting a Facebook rant about Malia and Sasha Obama's appearance at the president's 2014 Thanksgiving turkey pardon. Elizabeth Lauten, an aide to GOP representative Stephen Fincher, lambasted the girls' outfits and facial expressions.
"Act like being in the White House matters to you," she wrote. "Dress like you deserve respect, not a spot at a bar. And certainly don't make faces during televised, public events."
In 2001, Joan Walsh attacked Barbara and Jenna Bush, 19 at the time, for underage drinking. She referenced tabloid photos and tales of confiscated IDs, implying the two were "teenage party girls" whose parents did them a disservice by downplaying President George W. Bush's past "alcohol troubles."
In other words, children related to presidents are often subjected to media exploitation, regardless of their age. But one positive trend in recent years is the bipartisan pushback.
Both Clinton and Ivanka Trump came to Malia's defense after a video went viral of her appearing to smoke at a concert. Trump tweeted that Malia should be "OFF limits" as a "young adult and private citizen." Clinton tweeted that the young woman's private life "should not be your clickbait."
Disclosure: Chelsea Clinton's husband Marc Mezvinsky joined Social Capital, an investor in Bustle Digital Group, in mid 2017 and joined the Board of Bustle Digital Group in early 2018.