Why Childish Gambino's Next Album Could Really Be His Last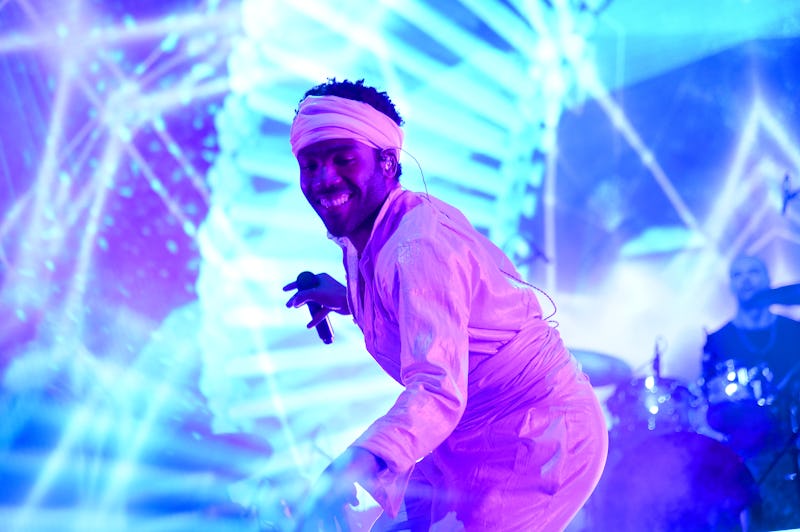 Nicholas Hunt/Getty Images Entertainment/Getty Images
On Sunday, June 4, Childish Gambino, aka Donald Glover, performed his Bootsie Collins reincarnation album, "Awaken, my love!," at the Governor's Ball in New York City. He wrapped the set with "Redbone" while announcing his love for fans and finished with, "I'll see you for the last Gambino album." Whaaat? Glover's next album as Childish Gambino could be his last? I'm not ready to let go, and I'm sure you're not either. But the reason why Gambino's album could be his last makes sense.
The man is busy, you guys. In a matter of five years, the multi-hyphenate star has done stand-up, movies, and even put his home town on the map by releasing the Golden Globe-winning Atlanta. On top of that, he's released a mixtape called STN MTN, that will go down in history as one of my top 10 favorite music releases of all time.
Gambino was able to recreate a sound while making it his very own, starting with his 2011 EP, Camp Side D. Glover, however, seems to be giving his last farewell to music after his next album. We're used to seeing him make blatant career transitions, so the news isn't all that surprising, especially with his thriving career in acting, writing and producing. After all, he's currently writing a Deadpool series for FX with his brother in London — where, by the way, he's filming the Han Solo movie. On top of that, we're all looking forward to the release of Atlanta Season 2, scheduled for 2018. With a full roster of projects on his plate, this won't, by any means, be the last time we see the star.
There's no information about Gambino's upcoming/final album, so the news has fans (me) a little shifty until we get official word. You can watch the performance where he announced his bow out of the music industry, at least as Gambino, below. He breaks the news right at the 5:51 mark.
It seems he has the star power to leave a legacy the first try, as far as Im concerned. But I'm crossing my fingers for a new pseudonym from Glover, not the end of music from him entirely.