China Used One Of Michelle Obama's Most Famous Quotes To Throw Shade At Trump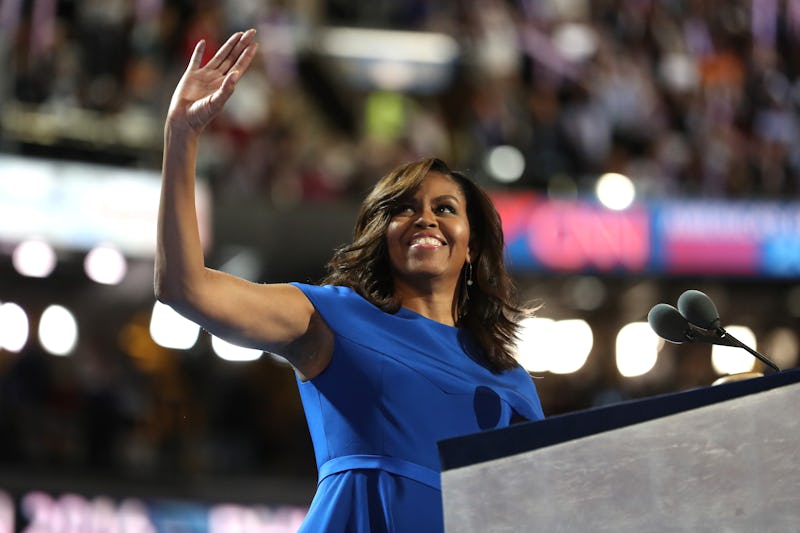 Joe Raedle/Getty Images News/Getty Images
Things have been heating up between the U.S. and China lately, and people are throwing around the phrase "trade war." The Trump administration and China are imposing huge tariffs on each other, and now China is fighting the tariffs with words, with one Chinese official directing a Michelle Obama quote at the Trump administration.
Assistant minister at China's Ministry of Commerce, Li Chenggang, pulled out the trusty phrase "they go low, we go high" as he spoke in Beijing on Wednesday, Bloomberg reported. He was addressing a City of Chicago forum at the time, as he invoked Michelle's slogan, which has become something of a catchphrase among President Donald Trump's opponents.
The quote has some history. It brings us back to the 2016 presidential campaign, when the former First Lady was giving a speech at the Democratic National Convention in Philadelphia, Pennsylvania. During the speech, she addressed how she talked to her daughters about people, such as Trump, who questioned President Barack Obama's citizenship and faith.
"When someone is cruel or acts like a bully, you don't stoop to their level," Michelle said. "No, our motto is, 'When they go low, we go high.'"
Bloomberg pointed out that it's unusual for Chinese officials to make such comments about American domestic politics.
Former secretary of state and presidential candidate Hillary Clinton also used this famous quote during her campaign when Trump brought up allegations of sexual misconduct against her husband Bill Clinton, who has denied those claims. "When I hear something like that," Clinton said during a debate in October, "I am reminded of what my friend Michelle Obama advised us all: When they go low, we go high."
Chenggang's "we go high" jab came after both the U.S. and China — two of the world's largest economies — imposed tariffs on $34 billion of products last week. The U.S. made this move first, and then China came back and said they'd do the same to the U.S., with an added threat of another $16 billion, according to a statement from U.S. Trade Representative Robert Lighthizer.
This caused the president to pump up the tariffs again. Hence, they're calling it a trade war. Officials have said that the tariffs are a response to China's "harmful industrial policies" and bad trading practices, especially regarding intellectual property.
"As a result of China's retaliation and failure to change its practices, the President has ordered USTR to begin the process of imposing tariffs of 10 percent on an additional $200 billion of Chinese imports," Lighthizer said in his official statement. "This is an appropriate response under the authority of Section 301 to obtain the elimination of China's harmful industrial policies. USTR will proceed with a transparent and comprehensive public notice and comment process prior to the imposition of final tariffs, as we have for previous tariffs."
Which brings us back to Chenggang's speech. The Chinese official was apparently feeling the pop culture references as he spoke, because Bloomberg noted that he also referred to the Academy Award-nominated film The Darkest Hour, which details Winston Churchill's fight against Nazi Germany. "The current global trade and investment environment unfortunately is at 'the darkest hour' because of U.S. actions," Chenggang said, according to Bloomberg.
And Chenggang's not the only Chinese official who's bringing in this Michelle Obama nugget of wisdom.
Last week, one of China's major industrialists, Frank Ning, also invoked the words "go high" in a speech about the trade war, as Bloomberg reported.
As tariffs on higher and higher amounts of money are being imposed, bringing in this Michelle Obama quote to seemingly target Trump was a bold move on China's part. But it's just one battle in an ongoing trade war.