Chloe Kim Tweeted About Ice Cream Mid-Competition & Twitter Absolutely Loves It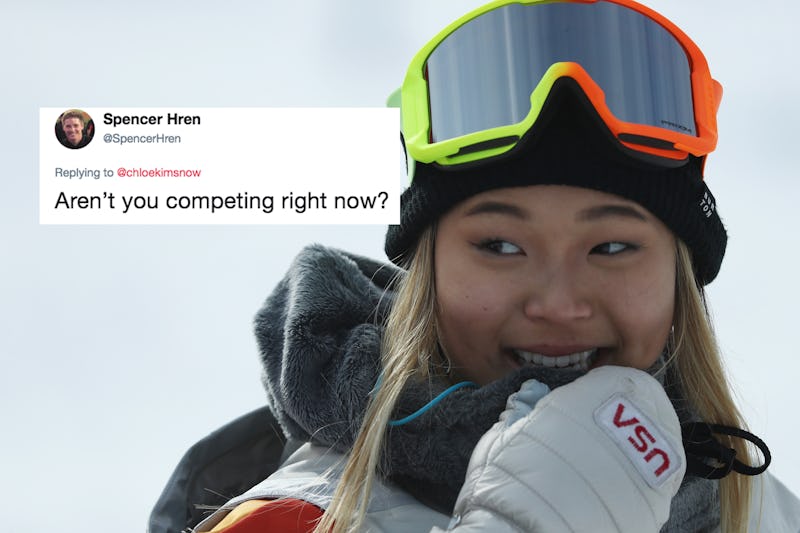 Ryan Pierse/Getty Images Sport/Getty Images
You know that feeling when you're about to compete in the Olympics for the very first time in your life, but all you can think about is ice cream? Me neither, but a young U.S. snowboarding star can relate. When the athlete was competing in her first-ever Olympic event, Chloe Kim tweeted about wanting ice cream, and the internet couldn't handle it.
"Could be down for some ice cream rn," she tweeted around midnight ET on Monday, as she was in the middle of competing in the halfpipe event. One shocked fan noticed the timing of the tweet and decided to comment.
"Aren't you competing right now?" they asked Kim.
"Yes..." Kim replied. She apparently didn't find it odd to get a sweet tooth craving in the middle of one of the most important moments of her career.
One of the reasons Kim could be so relaxed is that she's only 17 and already a snowboarding veteran. She missed out on the Sochi Olympics four years ago because she didn't meet the minimum age requirement, but now she's making her debut and a lot of people expect she'll take home a medal.
After tweeting about wanting ice cream, Kim went on to qualify for the women's snowboarding final. NBD, I guess.
Everyone was very impressed that Kim could remain so calm and cool while competing in the Olympic Games for the first time ever.
Here are some of the best reactions from Twitter.
The GOAT
"17 years old. tweeting this out literally while she's in the middle of her first olympic event," someone tweeted, along with a goat emoji to symbolize the "greatest of all time."
I Can Do This
A lot of people looked at Kim's casual attitude as inspiration. "If chloe kim can tweet about ice cream while casually doing 90+ olympic runs I can go to work tomorrow," someone wrote.
Get Her Some Ice Cream
"Chloe Kim is a national hero," Very Good Light founder David Yi tweeted. "Now get her some DAMN ICE CREAM."
What Kind Of Ice Cream?
NBC decided to do a poll for what kind of ice cream Kim should get after her run, and cookies & cream seems to have won.
Seriously, Get Her Some Ice Cream
"Cookies & Cream is some good stuff," Kim tweeted after NBC ran the poll to find her the ideal ice cream flavor. "If anyone can get me some to the village thatd be dope."
She Earned It
"95.50 on your second run??" the U.S. Olympic Team tweeted after Kim crushed her competition. "Ice cream is on us!"
What A Legend
"[You're] straight up competing and tweeting at the same time, what a legend," someone wrote. "You did great btw."
Ice Cream Curling?
Someone responded with an ice cream-related Olympic GIF which seemed perfect for the moment.
A New Sponsor?
One Twitter user suggested that Kim land an ice cream company as her latest sponsor. Step aside, Nike, Ben & Jerry's might be working with Kim next.
Are You Mental?
A lot of people were surprised Kim was thinking about ice cream just before her run, but even more so that she was thinking about ice cream in freezing temperatures.
Very Punny
One reporter couldn't help but make an ice cream pun. "I mean you're creaming everyone out there on the ice soooo," News 12 Brooklyn's Tony Chau tweeted.
Can We Come?
A lot of people offered to treat Kim to ice cream once she was finished competing in the Olympics.
"I'm Nervous Just Watching"
A lot of people commented that they were nervous just watching the Olympics, let alone competing.
We All Scream For Ice Cream!
Sports Illustrated tweeted out a short video of Kim's fans cheering her on. "I scream, you scream, we all scream for ice cream!" the publication wrote.
"Ice Cream Power Rankings"
We know Kim is a fan of cookies & cream, but some people would be interested to see her official ice cream power rankings.
"She's My Spirit Human"
A lot of people found Kim's tweet about ice cream very relatable.
Attribute Her Talent To Her Diet
"Fellow sports journos," NBC's Audrey Cleo wrote, "feel free to attribute Chloe Kim's snowboarding prowess to her v. traditional Asian diet of churros, ice cream and Chipotle."
Kim had also tweeted about eating two churros before the competition to calm her nerves.
Despite what happens to Kim at the halfpipe finals, it's good to see that her priorities are clearly in the right place.