Chris Blue Left All Four Judges Cheering On 'The Voice'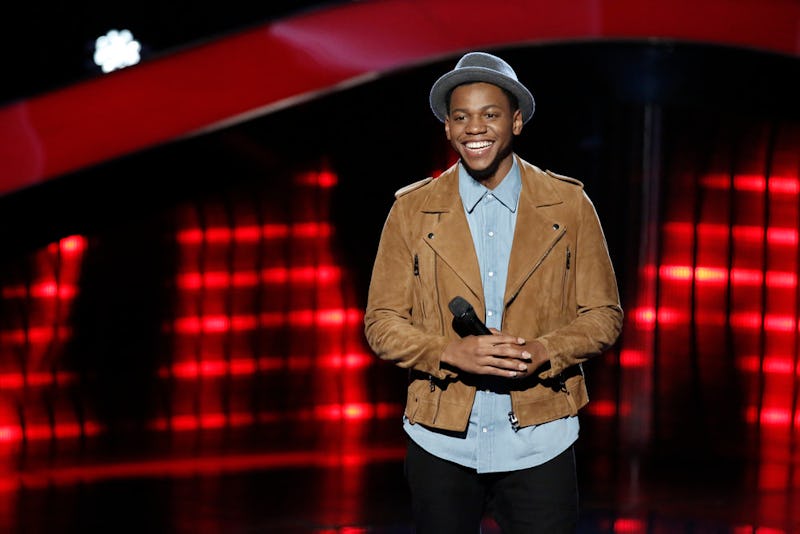 Heart-stopping doesn't even begin to cover the lengths to which Chris Blue went to secure his place in the next round of The Voice on Monday night. Blue's Knockouts performance on The Voice was quite literally a knockout at various moments thanks to his dedication to the song and a readiness to really show what those pipes could do. While Blue voiced some feelings of nervousness at potentially being knocked off by rising Voice star Quizz Swanigan during their Knockout battle, he quickly emerged as the clear-cut winner with his stellar rendition of Stevie Wonder's "Superstition."
Blue was feeling a bit nervous going into Knockouts rehearsals with coach Alicia Keys. He definitely recognized what a fierce competitor he had in Swanigan, but was determined not to be the one knocked out this round. Perhaps that's why he chose such a soulful classic to really convince Keys that he was worthy of being saved.
He brought out some of the vocal acrobatics that would come up later in his live Knockouts performance, but that gave Keys pause. Not because he wasn't absolutely killing it, mind you, but because Keys feared he was getting too lost in the song. She urged him to stay present, not get lost on those vocal runs, and also channel all of that energy into using his body onstage to really help the performance take shape. She also noted that he should bring some rawness to the song to add a contemporary edge, which he later did in masterfully.
And hot diggity dog, did Blue channel that energy or did Blue channel that energy! No shade to Swanigan, but Blue came out of the gate with flames on his feets — he was that hot to trot. For good reason, too: he was singing like his life depended on it and keeping those superstitions about losing Knockouts at bay with his performance.
Every single Voice judge was visibly bowled over and couldn't stop gushing over him. While they commended Swanigan for his great work and ability to keep pace with Blue, they were so effusive in their love for Blue's energetic performance. Blake Shelton couldn't stop himself from predicting he would win The Voice. He definitely did something right because Keys chose Blue to stay on her team for another week.