'O.C.' Fans Are SUPER Excited Chris Carmack Will Be In 'Grey's Anatomy' Season 15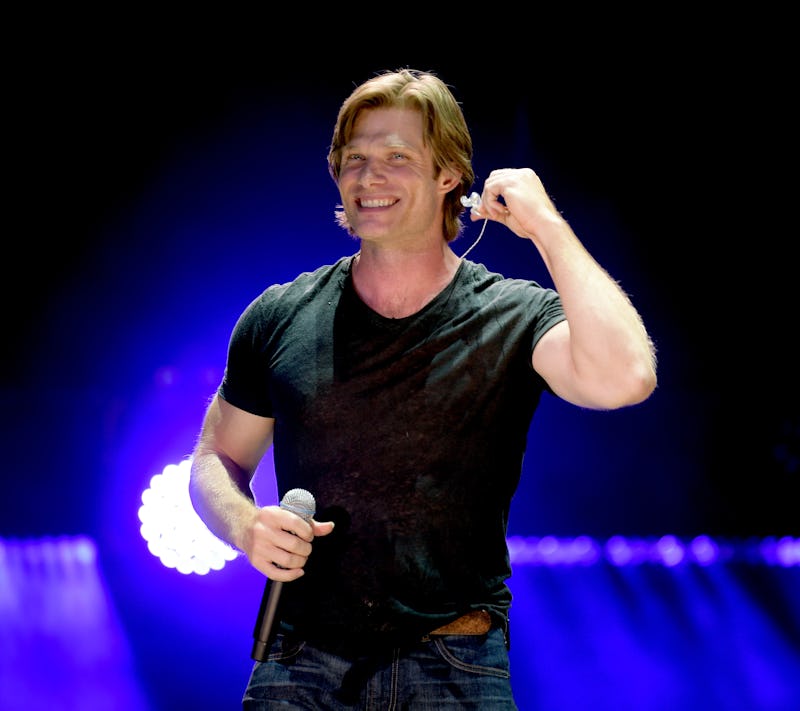 Jason Kempin/Getty Images Entertainment/Getty Images
There's a new "Ortho God" coming to Grey-Sloan Memorial. And his name is — Luke Ward? Well, not exactly. But, after scanning through the handful of reports that cropped up Tuesday afternoon on July 31, unveiling Chris Carmack's Grey's Anatomy Season 15 character, it sounds like veteran fans of The O.C. might have to do a double-take when this new guy makes his Grey's debut sometime during the show's upcoming 15th season. Carmack confirmed the news, retweeting Shondaland's announcement on Twitter with the comment: "Thank you! Can't wait to scrub in!"
Per several of Tuesday's reports (including Deadline), it sounds like ABC is keeping a pretty tight lid on the details of Carmack's newly-minted Grey's character, and exactly when fans can expect to officially meet him. That being said, those morsels of intel that have been released are probably more than enough to make O.C. enthusiasts swear they're back in Newport Beach, circa 2003. So, before fans who've been dying for a resurgence of Orange County's lovable band of privileged kids have a chance to let their imaginations get the better of them, let's go over those details we do know about Carmack's Grey's casting.
And again, so far, it's not much. As THR noted in its report of the casting news, the tidbits of information regarding Carmack's character basically amount to this: first, his role will be a recurring one, which means fans can expect to see him moseying through the lacquered halls of Grey-Sloan Memorial for at least a little while when the show returns for Season 15 this fall; and second, he's apparently known as an "Ortho God."
And, while seasoned Grey's fans know that the "god" distinction — when it comes to the miracle-working surgeons of Grey Sloan Memorial, at least — isn't necessarily a sure-fire indication of haughtiness or ego. (Beyond the basic degree of haughtiness and ego that seems to be a fundamental requirement for most surgeons of the cutting-edge, life-saving variety, that is. Talk about "confidence is key," no?)
In fact, Grey's fans might also remember that Carmack's predecessor in the "Ortho God" department was the widely beloved Dr. Callie Torres, who pretty much exclusively displayed signs of hubris as a means of either self-defense or self-motivation. Plus, it also seems important to note that Carmack's forthcoming Grey's character might not personally identify as an "Ortho God," himself, even if his colleagues refer to him that way. Still, there's something about picturing Carmack donning a pair of scrubs and working his O.R. magic as Grey-Sloan's newest resident "Ortho God" that's bound to elicit some serious memories about a certain Luke Ward.
In a purely superficial sense, that connection might not feel incredibly obvious upon first catching word of Carmack's Grey's character. After all, what could an established orthopedic surgeon possibly have to do with a SoCal-born high school kid? Suffice to say, after taking a minute to think about it, perhaps the two might actually have a few things in common. (Besides the fact that they're both portrayed by Carmack, of course.)
For those who need a quick refresher on Carmack's O.C. character, Luke Ward was the ultra-spoiled, ultra-popular captain of Harbor High's water polo team. He was only around Newport Beach for the series' first two seasons, a sizable chunk of which he spent bullying Seth and cheating on Marissa, before later making a pass at her mom. But, while Luke saw a pretty substantial recurring role on the O.C. during those first two years, fans will probably still remember him best for his now-iconic line from the show's pilot episode. "Welcome to the O.C., b*tch!" he yells, right after beating up then-new-kid in town, Ryan Atwood.
"Grey's has the perfect opportunity to have their characters greet Chris Carmack's by going, 'Welcome to Seattle, b*tch,'" wrote one fan on Twitter, responding to Tuesday's news of Carmack's casting. And, even though we might not know too much about his surgeon character's actual personality just yet, for some inexplicable reason, it just kind of works. As they say, if the shoe fits, right?
So, how many O.C. fans will be tuning in for what might be a sizable dose of early-2000s nostalgia when Grey's Anatomy returns for Season 15? At this point, exactly what Carmack's newly drawn ortho surgeon character is going to be like, and how he'll eventually tie into the series, remains a little murky. Even so, it's still fun to imagine Luke Ward all grown up, living up to his orthopedic deity status as an established surgeon at Grey Sloan Memorial. But who are we kidding? There's no way Harbor High's resident bad boy ever left Orange County.